Obama signs proclamation creating Nevada national monument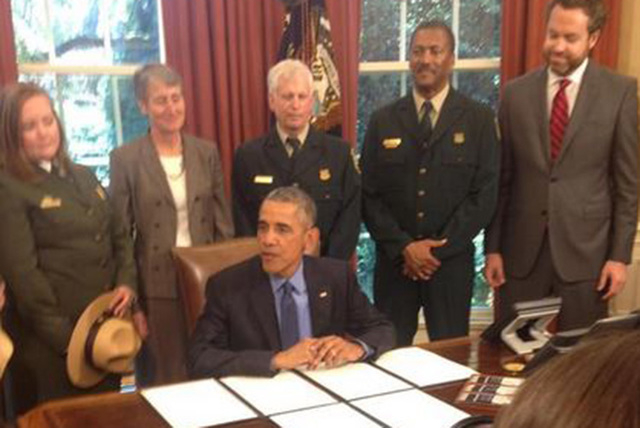 WASHINGTON — With the stroke of a pen, President Barack Obama created more green on the Nevada map Friday when he signed a proclamation designating a 704,000-acre national monument conservation area in the state.
In an Oval Office ceremony, Obama was flanked by Interior Secretary Sally Jewell and officials from the National Park Service and Bureau of Land Management as he formalized the paperwork to establish the Basin and Range National Monument.
Obama said the ribbons of desert valleys and mountain ranges straddling Lincoln and Nye counties was "one of the most undisturbed corners of the Great Basin.
"Its topography is unique," he said. "It is a place that already attracts a large number of visitors because of some of its unique geological aspects and we will be able to make sure that more visitors are aware and take advantage of this incredible landscape."
The Basin and Range National Monument covers Garden Valley and Coal Valley, separated by the Golden Gate Range. The boundaries of the 1,100-square mile area that is almost the size of Rhode Island also include the Mount Irish Range, the Seaman Range and the Worthington Mountains.
In addition to the new conservation area for Nevada, Obama signed a proclamation creating the 331,000-acre Berryessa Snow Mountain National Monument in the inner coastal range of Northern California. Also created was the Waco Mammoth National Monument in a fossil-rich area of central Texas.
Obama now has created or expanded 19 national monuments using authority presidents are granted under the 1906 Antiquities Act to set aside areas "of historic or scientific interest." It was first utilized by President Teddy Roosevelt that year to designate Devils Tower National Monument in Wyoming.
An act of Congress in December created the 22,650-acre Tule Springs Fossil Beds National Monument at the northern edge of the Las Vegas Valley.
After the signing ceremony, Obama swapped congratulations in an Oval Office gathering with Nevadans who had advocated for the conservation area. They included Sen. Harry Reid and Rep, Dina Titus, both D-Nev.; philanthropist Elaine Wynn; Rayette Martin, executive director of Nevadans for Cultural Preservation; and Gracian Uhalde and his wife, Laurel, who are among a small number of ranchers who live within the monument area.
Also at the White House and wearing a string tie made of horsehair was noted sculptor Michael Heizer, who has spent the past several decades in the desert creating a massive earthen artwork known as "City."
The yet-to-be completed complex of sculpted berms and plazas that run a mile-and-a-half long and 900 feet wide provided an impetus for Reid to lobby Obama to invoke the Antiquities Act to provide it as a scenic buffer as well as a broader purpose to preserve valley and mountain landscapes.
"The president said he thought it was the right thing to do to protect this land, not only the natural beauty but the cultural resources including Heizer's 'City' project," Titus said, referring to Obama's statements at the meeting. "He gave Senator Reid a lot of credit. And Senator Reid gave the president a lot of credit and I gave them both a lot of credit."
NOT ALL ARE HAPPY
But while advocates were in a congratulatory mood, critics of the president's action were seeing deepening shades of red as the monument proclamation effectively withdraws a significant area from most economic uses including mining and energy exploration.
Lobbying by "City" patrons had prompted the BLM several years ago to pass over Coal and Garden valleys as potential areas for fast-track solar development.
Angry officials in Lincoln and Nye counties said this week local concerns about setting aside more federal land were disregarded.
Without offering a view whether preservation was merited, leading Republicans said Obama's action effectively short-circuited any discussions over what areas should be blocked away and which should not.
They noted White House consideration of Basin and Range monument took place in secret until a copy of a draft proclamation was leaked in May and made public by Rep. Cresent Hardy, R-Nev.
"While we all share a common goal of preserving our lands for the use and enjoyment of generations to come, I would have preferred a more collaborative process when making such an important designation," said Gov. Brian Sandoval. "I firmly believe our local ranchers, environmentalists, and community stakeholders are the best experts in ensuring Nevada's lands are preserved, protected and accessible."
Criticism of Reid's role in forming the national monument also grew pointed.
Rep. Mark Amodei, R-Nev., called it the "Hairy Berry National Monument," an attempt to play off a combination of Reid's first name with that of "Barry" Obama.
"I guess I missed the Nevada delegation meeting to discuss the second largest conservation withdrawal in the history of the state," Amodei said. He described the monument as "unilateral action by two political pals to carve out the state of Rhode Island from Nevada."
Hardy in a House speech said Basin and Range was "a political favor for one Nevadan. It will be a demonstration that having friends in high places is more important than the political will of the people.
"Legacy-building in the twilight of one's career shouldn't be a driver for our nation's public lands," Hardy said in a reference to Reid's scheduled retirement next year. ,
A FAVOR TO REID?
Reid is a career-long advocate of environmental protection who says he makes no apologies for preserving Nevada natural resources. He predicted this week the Basin and Range monument will prove economically beneficial in the long run.
At the White House press briefing Friday, spokesman Josh Earnest was asked whether Obama designated the Basin and Range National Monument as a favor to Reid.
"In this case both Senator Reid and President Obama recognize the significance of this piece of land and recognize how important it would be to ensure that it can be protected and preserved for future generations of Americans to enjoy," Earnest said.
Amodei said he and Hardy would introduce a bill to roll back the protected area, although aides acknowledged it would go nowhere fast.
Amodei also plans a trip next month for members of Congress to check out the monument area and inspect the "City" sculpture, according to spokesman Brian Baluta.
On the other hand, monument advocates might also tour the region next month but for a different purpose, according to Titus.
"We made plans to go out and see ('City') and have a barbecue out there," Titus said. "Hopefully we will go out in August and have a celebration."
Contact Review-Journal Washington Bureau Chief Steve Tetreault at stetreault@reviewjournal.com or 202-783-1760. Find him on Twitter: @STetreaultDC.