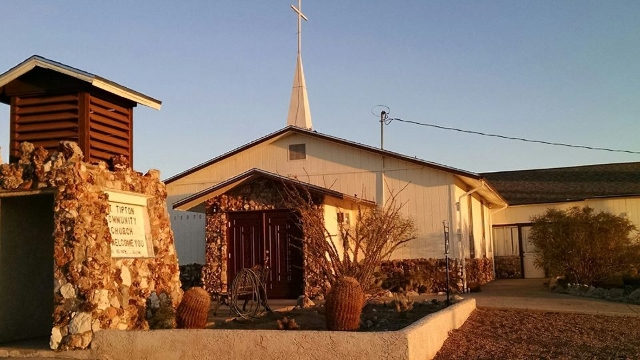 Arson investigators in Dolan Springs are trying to determine what sparked a pair of "suspicious" fires that destroyed one church and "caused heavy damage" to another Saturday night, according to the Kingman Daily Miner.
The Mohave County, Ariz., locations, Dolan Springs Baptist Church and the Mt. Tipton Community Church, are located across the street from each other, about 80 miles southeast of Las Vegas.
Fire crews were called to the simultaneous fires about 7 p.m. to Pierce Ferry Road, the Daily Miner reported Sunday. No one was inside either church at the time of the blaze and no one was injured, but both churches suffered extensive damage.
Officials told the Daily Miner that the fires were "suspicious in nature."
On its Facebook page, the Mt. Tipton church wrote: "We are still a Church family we are The Church and we are Overcomers in Christ!!!! There is still going to be a Mt. Tipton Community Church;we will rebuild! God Bless..".
The Mohave County's Sheriff's Office could not be reached by the Review-Journal for comment Sunday afternoon.
This is a developing story. Check back for updates.
Contact Ricardo Torres at rtorres@reviewjournal.com and 702-383-0381. Find him on Twitter: @rickytwrites