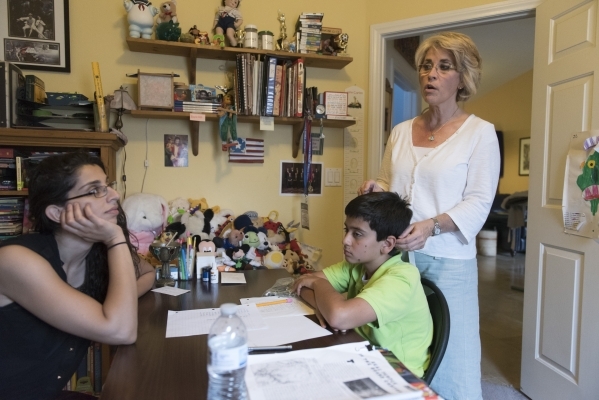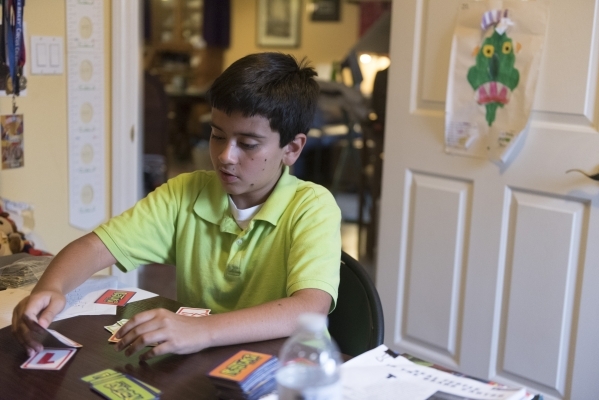 CARSON CITY — Las Vegas High School teacher Stephanie Hill knows firsthand how critical early and intense intervention is for an autistic child to become a productive and functioning adult.
Her son J.C., now 11, has benefited tremendously from the treatment provided by behavioral technicians who frequently work as many as 25 to 40 hours a week with a single child.
But that treatment has been expensive, with Hill already spending about $5,000 out of pocket this year to help in J.C.'s ongoing and successful development.
That's why she is looking forward to a new program to be offered by Nevada Medicaid to provide early intervention services to as many as 1,879 children starting Jan. 1. The program, part of a huge boost in funding for autism services, was sought by Gov. Brian Sandoval and approved by lawmakers this year.
But Hill and others in the autism community are concerned the pay rate being proposed to recruit technicians for the program — $29.61 an hour — is too low. Rates nationally range from $44 to $56 an hour, which cover not only technicians' wages but the supervision of their work by board-certified behavioral analysts who develop the individual treatment plans, she said.
Without a higher rate, there won't be enough providers to offer the services to Medicaid-eligible children, Hill said.
"It is doomed to fail," she said.
Treatment called crucial
The treatment means the difference between helping an autistic child become a functioning adult and long-term institutionalization, Hill said.
"My kid was never a kid," she said. "But by God he will be an adult. He now has the language and social skills that he needs."
Charles Marriott, who provides autism treatment services through his Las Vegas company Autism Care West, agreed, saying he will not be able to offer treatment to Medicaid-eligible children at the $29 rate. It needs to be in the $45 range, he said.
"The whole program is pointless at the current reimbursement rate," Marriott said. "I won't be able to take Medicaid clients at that rate."
Marriott said the job of a technician is challenging. Trying to recruit people to the profession at an hourly rate that could be earned at a less demanding job won't work, he said.
But officials with the state Division of Health Care Financing and Policy, which oversees the Medicaid program, say they are confident the new program will succeed and that the rate is appropriate. Janice Prentice, rates and cost containment manager, said there are providers who will offer the services at the $29.65 rate.
"We are continuing to monitor this," she said. "We will look in six months and see where we are and again in a year. If there is an issue of access we are always open to reevaluating that."
Another public hearing on the program is scheduled Monday, when parents and treatment providers are expected to again question the rate proposed by state officials.
Salary challenge
Tiffany Lewis, a management analyst with the agency, said the process of setting the rate was difficult because little guidance was offered by the Centers for Medicare and Medicaid Services.
With limited payroll information provided by a few Nevada providers who offer the services through private insurance, the base wage rate was set at $17.33 an hour, she said. Then a number of other additions, to account for such things as health care and supervision, were added to get to the final rate, Lewis said.
The $44 to $50 rate cited by autism providers and parents is not an accurate comparison, she said.
The registered behavioral technicians who will work with children in Nevada will be high school graduates with 40 hours of training, which are based on national standards, Lewis said. Some states have higher standards, such as requiring a bachelor's degree, which would require a higher rate, she said.
A $50 hour rate cited in New Mexico by some advocates is based on two payment codes in that state's program, while two other codes have a rate of $29 an hour, Lewis said.
The Nevada rate is not set in a vacuum either, she said. The new program will have multiple payment codes that will allow providers to bill for services on top of the $29.65 rate for the technicians, she said.
Shannon Sprout, a social services program specialist with the agency, said enrollment applications are coming in to provide the services. While some providers are saying it is not feasible for them to enroll, others are taking the steps needed to participate in program, she said.
Panel expressed concern
But Jan Crandy, chairwoman of the Nevada Commission on Autism Spectrum Disorders and a longtime autism treatment advocate, said the panel approved a letter in September expressing concern that the rate is too low.
"Providers say they need $50," she said. "The registered behavioral technician is a new credential. We need more providers and Nevada needs an incentive."
While mindful of keeping costs under control. Crandy said the failure to treat children with autism at an early age likely will mean lifelong care as adults at an even greater cost.
"The cost savings of treating these kids is enormous," she said. "I think $40 is the bottom-line rate. I think the state knows that, too."
Hill said J.C. still has major deficits. Because he does not have great command over his language skills, it can appear he is being rude when that is not the case, she said.
"I am trying to get anything I can," Hill said. "It's not just for us. I know what this journey is and I know there are 1,800 kids who are going to fall through the cracks."
Contact Sean Whaley at swhaley@reviewjournal.com or 775-687-3900. Follow him: @seanw801