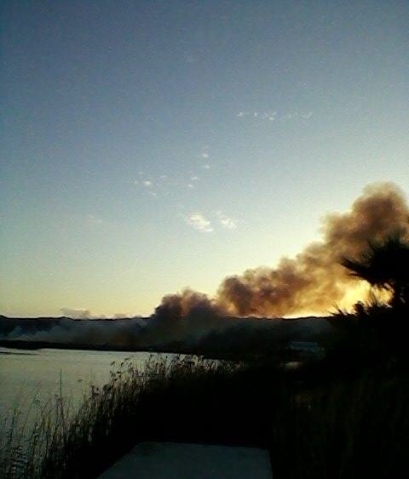 The Federal Aviation Adminstration is investigating a crash in Laughlin that left at least one dead Sunday.
The Clark County Fire Department and Las Vegas police responded to the crash, which occurred about 100 miles south of Las Vegas just before 6 p.m. in Laughlin's Big Bend of the Colorado State Recreation Area, at 4220 Needles Highway.
Flames grew and spread north from the wreckage, consuming surrounding brush. As of 9 p.m., the blaze was 75 percent contained.
No structures or equipment were lost because of the fire, and there were no injuries from it, according to the Clark County Fire Department.
Allen Kenitzer with the FAA said the agency was aware of the crash but didn't have further information, including the circumstances of the crash or what type of aircraft was involved.
The Bullhead City Fire Department, Clark County Fire Department and Metro responded to the crash and fire.
Firefighters initially said a single aircraft was on fire with four people on board, one of whom died on the scene. Three people suffered from burns, and helicopters from Mercy Air and Care Flight transported patients to area hospitals, officials said.
One patient was taken by ambulance to the Valley View Medical Center in Fort Mohave, Ariz., according to spokesman Lance Ross. After being stabilized in the emergency room, the patient was flown to the burn center at University Medical Center in Las Vegas. Another patient was sent to a hospital in Bullhead City, Ariz., in an unknown condition, he said.
The FAA and the National Transportation Safety Board took over the investigation, a Metro spokesman said about 8:30 p.m. Flight plan information that could be used to identify the craft's owner was not released.
Skies in the area were mostly clear, and there were no significant weather conditions at the time of the crash, Clay Morgan of the National Weather Service said.