Politicians hate 'corporate inversions,' but fix elusive
August 27, 2014 - 4:54 pm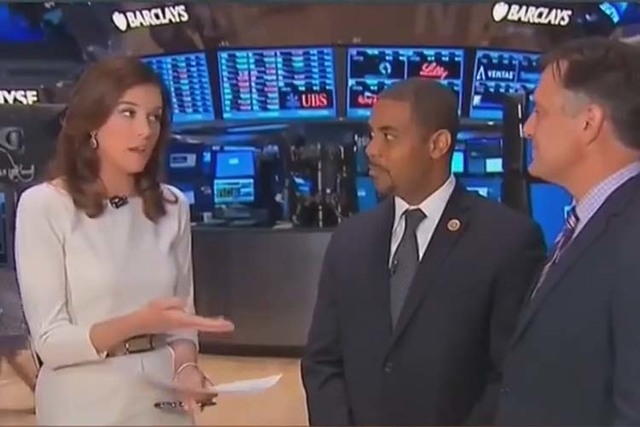 WASHINGTON — Two members of the House Financial Services Committee — a Democrat and Republican — stood on the floor of the New York Stock Exchange on Wednesday and suggested Congress get serious about reforming the nation's corporate tax policies to keep American companies, along with their profits and jobs, in the United States.
Reps. Steve Horsford, D-Nev., and Luke Messer, R-Ind., agreed during a segment of CNBC's "Closing Bell" that changes are needed so that companies such as Burger King won't seek a change of address to lower their tax burden here in the United States. The two freshmen, however, appeared miles apart on a resolution.
"There is bipartisan recognition that this is not a problem we can solve with just one effort. We need to work together in a bipartisan way to do that," Horsford said.
That statement drew an incredulous response from Kelly Evans, the co-anchor of the news program.
"I'll tell you when I hear bipartisanship and comprehensive tax reform I think this is going nowhere and going nowhere fast," she said. "I mean make the case that you can actually get comprehensive tax reform to happen. It seems virtually impossible."
Burger King announced plans to merge with Canadian coffee-and-doughnut chain Tim Hortons and shift its corporate address north of the border. Other American companies have used similar corporate inversions to lower taxes. The United States has the highest corporate tax rate in the world at 35 percent.
For Messer, the focus needs to be on flipping that around by making the U.S. corporate tax rate the lowest in the world rather than the highest. Horsford said that the initial effort needs to be on eliminating deductions and loopholes that "incentivize" companies to ship jobs overseas.
Evans suggested a starting point would be to drop the rate to 22 percent. "Any objections?"
"Without addressing deductions and tax loopholes, that would be a non-starter," Horsford said.
"I would have a much lower tax rate," said Messer. "It needs to be the lowest in the world."
The responses seemed only to solidify Evans' skepticism.
"I don't feel like anything is going to happen," she said.
Horsford offered that reforms are not impossible so long as both sides keep talking.
"The more that we are having the conversation and talking about the need for reform, hopefully we can get to a resolution that the American public and businesses expect," he said.
Contact Stephens Washington Bureau reporter Peter Urban at purban@stephensmedia.com or 202-783-1760.