Politicians, other strangers keep mangling 'Nuh-VAD-uh'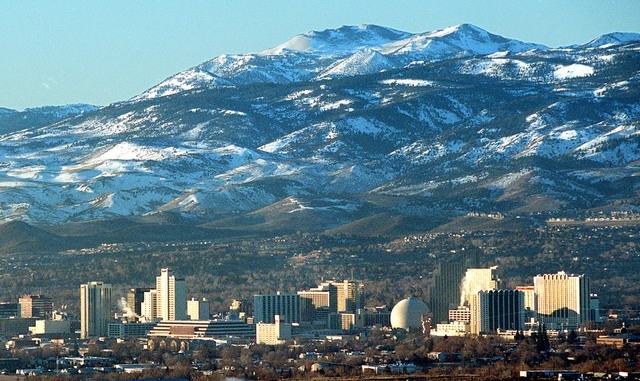 The correct pronunciation is "Nuh-VAD-uh."
It's a Spanish word with an American accent meaning "snowcapped," named after the Sierra Nevada.
"One of the original names that was proposed for Nevada Territory in 1859 was the Territory of Sierra Nevada," said Jeffrey Kintop, state archivist with the Nevada State Library and Archives. "It was introduced in Congress and it didn't pass."
It was later changed to just "Nevada" by the House Committee on Territories.
In 1864, a bill passed through Congress, allowing the territory to become a state, Kintop said.
And when it comes to nicknames, Silver State is not the only Nevada moniker. The state has at least two other nicknames: Battle Born State and Sagebrush State.
The Battle Born State nickname came about because the state was created during the Civil War, Kintop said.
The Sagebrush State nickname is for the big bushes that grow in Northern Nevada. Many people who traveled across the state saw the bushes.
"It's the state's flower," he said. "It has a little tiny flower at the top."
The Silver State is the most used nickname for Nevada, which arose from all the silver discovered in the state and the Comstock Lode in Virginia City.
However, that could soon change.
"The sesquicentennial is coming up, and the slogan is 'Battle Born Nevada Proud,'  " Kintop said. "So Battle Born will probably become very prominent again in the near future."
But no nicknames can replace the original name, which some people tend to mispronounce.
"People in the eastern part of the United States try to use the Spanish pronunciation of Nevada," Kintop said.
Even prominent political figures have mispronounced it, including President George W. Bush in 2003 and 2004 Democratic presidential candidates Howard Dean of Vermont and Joe Lieberman of Connecticut while campaigning in Las Vegas.
U.S. Secretary of State John Kerry also butchered the name in 2004 while campaigning during his presidential campaign.

Celebrating the Silver State