Rally puts Laxalt in defensive stance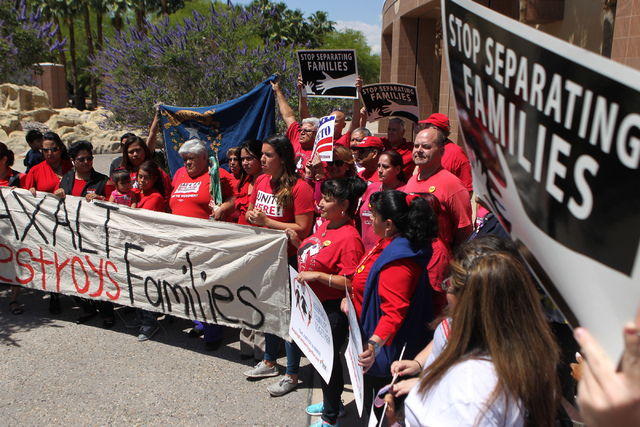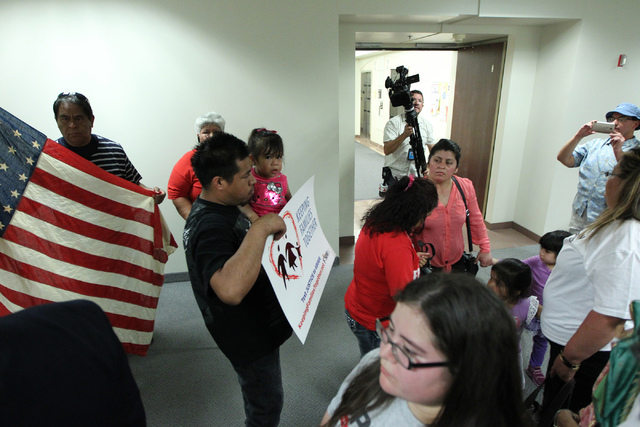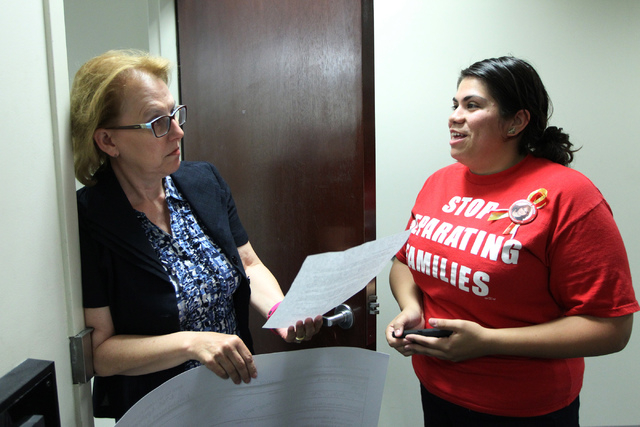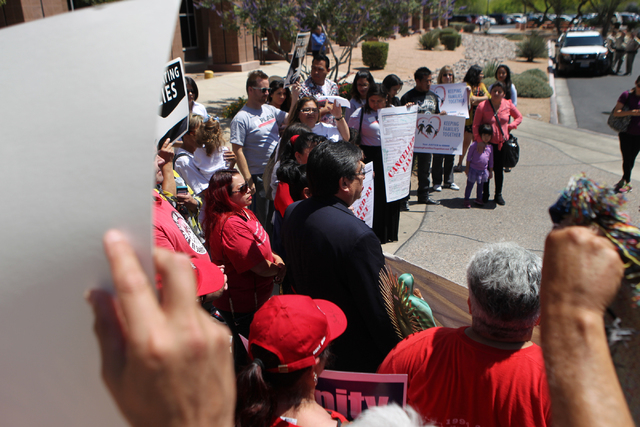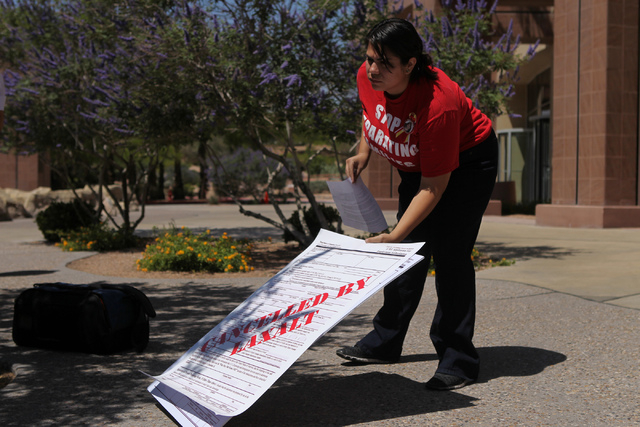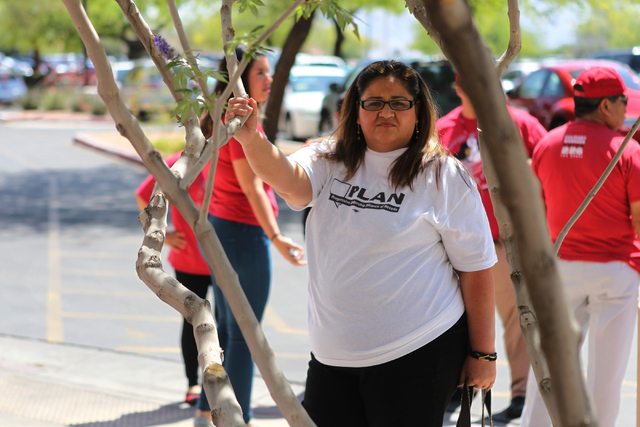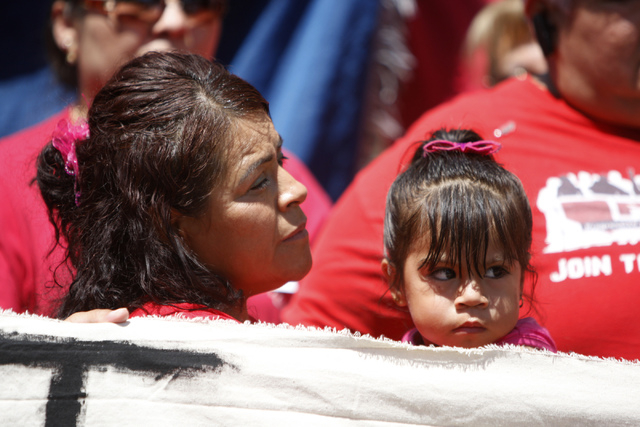 Nevada Attorney General Adam Laxalt scored a real attention-grabber in January, signing the state onto a lawsuit challenging President Barack Obama's executive actions on immigration.
Laxalt declined to discuss joining the Texas v. United States of America lawsuit with Gov. Brian Sandoval prior to making the decision to join more than two dozen other states in blocking the president's decision to prevent the deportation of the parents of children previously protected by the Deferred Action for Childhood Arrivals (DACA) program.
Laxalt surely pleased his conservative benefactors, and he made national headlines just days after taking the oath of office. At the time he reminded skeptics that, "As Nevada's chief legal officer, I am directed by Nevada's Constitution and laws to take legal action whenever necessary 'to protect and secure the interest of the state.' " But, well, he looked more like a political minion than an elected official ready for prime time.
On Tuesday morning outside the Sawyer Building, our activist attorney general received more attention.
Red-shirted members of Culinary Local 226 unfurled a banner reading "Laxalt destroys families" during a pro-immigration reform rally. Union workers were joined by members of the Progressive Leadership Alliance of Nevada and Mi Familia Vota.
Sound like a political rally? It was.
But so was Laxalt's announcement to join a lawsuit that's bound to succeed only in delaying the inevitable. Immigration reform will happen, and Laxalt has placed himself on the wrong side of history. By going on the offensive, he scored points with the very people who helped get him elected. Now he'll have to play a little defense.
Because those who imagine the immigration reform issue is going away are reading yesterday's news.
America is changing before your eyes. Nevada has benefited more than most states from immigrant labor both documented and undocumented. Demographically, according to the U.S. Census Bureau, Latinos represent 27.5 percent of Nevada's population and comprise 46 percent of the state's population growth in the past decade.
When Latinos vote, they wield substantial political power here. And in Nevada Laxalt has made himself a lightning rod for their ire. Their public display Tuesday was largely ceremonial and came on the day the deferred deportation plan was to have taken effect before a Texas judge signed a temporary restraining order preventing the Department of Homeland Security from implementing it.
Laxalt didn't meet with representatives of the pro-reform group, nor did anyone really expect him to. Instead, he responded to them by issuing a statement that read in part, "This nation was founded on the doctrine of the separation of powers, and the president alone cannot make the law," Laxalt scolded. "In January, Nevada joined this lawsuit along with 25 other states in an effort to protect and secure the interests of the state. The objective of the lawsuit is not, as activists have recently publicized, to target any particular group. Instead, Nevada's participation is about protecting the rule of law and our constitutional system, an issue which transcends immigration policy entirely."
Perhaps it's just a coincidence that it fits snugly into a conservative agenda. Trouble is, that strategy is bound to be undermined by his own party as Republican candidates work to improve their standing with Latino voters on the way to the 2016 presidential election.
He's already out of step with a sizable portion of his constituents. It's obvious some folks plan to regularly remind him of that fact.
Standing in the crowd at Tuesday's rally was Gustavo Ramos, a longtime housing authority official and political activist who has pushed for immigration reform most of his adult life.
"I've seen the same struggle going on for years, and yet no one seems to wake up. But that's changing now," Ramos said. "The reason for that is because of the numbers. The numbers are demanding attention. The ball is in the field, and you have a population now that's part of the game. And I think, overall, society is seeing that something has to be done, because they no longer can deny the presence."
Culinary Local 226 political director Yvanna Cancela framed the debate with Laxalt at center stage: "We're here to send a message to Attorney General Laxalt that Nevadans deserve better. Nevada families expect more from him, and that we do not want our wonderful state to be a part of a mean-spirited lawsuit that intends to keep families apart."
One Culinary worker with a family member threatened by the lawsuit, said, "Many families come to this country seeking a better life. We believe that we deserve a voice. And we're going to make it heard."
Volunteer Dulce Valencia said the delay threatens her family, members of which have been Nevada residents longer than the new attorney general.
"We have been working for Nevada," Valencia said. "We love Nevada, and he decides that he wants five seconds of fame over our family. And it frustrates me …"
She'll be taking that frustration out on Attorney General Laxalt, and she won't be alone.
It's just a guess, but I think Nevada's Latino voters have found their whipping boy.
John L. Smith's column appears Sunday, Tuesday, Wednesday, Friday and Saturday. Email him at Smith@reviewjournal.com or call 702-383-0295. Find him on Twitter: @jlnevadasmith