Record snowfall brings sobering flooding assessment for Northern Nevada
Updated April 13, 2017 - 6:14 pm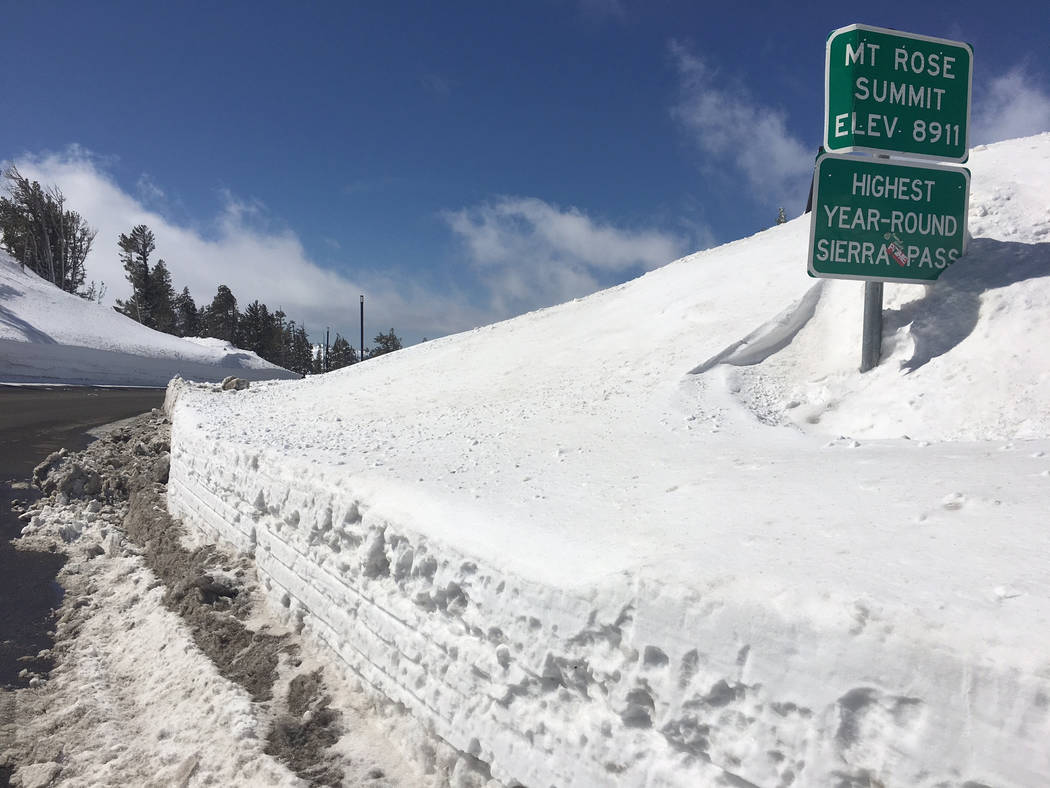 CARSON CITY — Gov. Brian Sandoval received a sobering assessment Thursday on the flood threat facing Northern Nevada after a monster winter that dumped record amounts of snow in the Sierra and regional mountain ranges.
Sandoval summoned water experts and emergency managers for a briefing on flooding concerns and preparations taking place to mitigate what he said "we know is going to happen."
"I can't recall ever seeing this volume of snow up there," Sandoval said.
The region has flooded on and off through the winter as heavy rain and snow pummeled the high desert and mountainous landscape after five years of drought.
Saturated ground has created lakes in places that have not seen standing water in years. Reservoirs are near capacity and rivers are running high, leaving little space for more water when creeks and streams start flowing fast with the spring snowmelt.
Since January, the state has spent roughly $16 million fighting floods.
How much water is in that snow?
Hydrologists estimate the snow in some areas contains 4-6 feet of water, or hundreds of billions of gallons that will be released as the snow melts. The goal, Sandoval said, is to prepare now so the water can be diverted or released where it will cause the least amount of damage.
Flooding concerns are high for the rural agricultural region of Yerington and Mason Valley along the Walker River.
In the Carson Basin, the snowpack is 250 percent of average, creating flooding potential along the Carson River and downstream communities. Fallon in particular, and areas along U.S. Highway 95, are concerns.
The Carson River flows into Lahontan Reservoir, and officials have been releasing water to make room for more. Churchill County and the Truckee-Carson Irrigation District are building a 16-mile channel to get more water away from Fallon, said state engineer Jason King.
The goal is to prevent water from topping Lahontan Reservoir or other dams across the region, which could lead to "catastrophic failure," King said. Much will depend on how fast temperatures rise and the snow melts, and if any more storms come in the meantime.
King said engineers constantly inspect the hundreds of dams around the state, and farmers with surface water rights are being encouraged to take what they need.
Washoe Lake in scenic Washoe Valley is lapping close to the edge of Interstate 580, the main highway connecting Carson City and Reno, with another 44,400 acre-feet of water still to melt.
In Lemmon Valley north of Reno, officials fear more flooding could again swamp Swan Lake, where residents saw their neighborhoods submerged in water for weeks after winter storms earlier this year. State, county and city governments have worked to erect massive barriers and pump water from the residential areas.
A long, slow slog
Sandoval was told the soggy spring misery could last for weeks or months. The melt could begin in earnest by month's end and stretch into June or July.
"It is incredibly concerning to me; this is not a day or two," he said.
Another concern is flooding could bump into fire season.
Sandoval said the state is providing maximum resources and coordinating with local governments and federal agencies to try to mitigate what it knows will happen.
"It is not a question of if," the governor said.
Contact Sandra Chereb at schereb@reviewjournal.com or 775-461-3821. Follow @SandraChereb on Twitter.