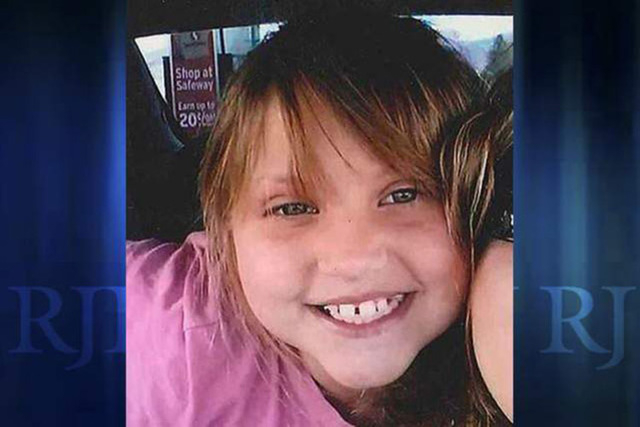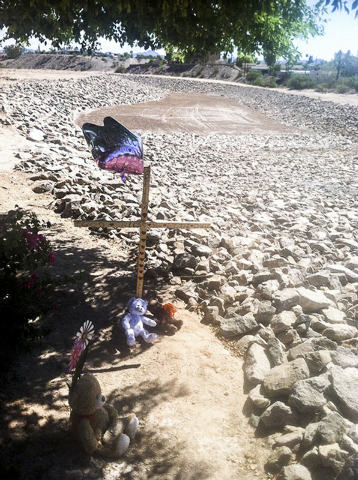 A northwest Arizona man facing murder charges repeatedly told his father he wanted to plead guilty in the fall asphyxiation death of his friend's 8-year-old daughter, according to records obtained Wednesday.
"I'm trying to man up and take responsibility for once," Justin Rector, 26, of Bullhead City, said in a late October phone call to his father, James Rector.
That call came nearly two months after the early September death of Isabella "Bella" Grogan-Cannella. Rector placed the call from the Mohave County jail in Kingman where he is segregated from other inmates while awaiting trial and a possible death sentence if convicted of first-degree murder and other charges.
Computer disc copies of three Rector phone calls recorded at the jail and a postcard he mailed to his father from the same facility were released Wednesday in response to a public records request submitted by the Las Vegas Review Journal.
Two of the calls were placed to James Rector and another to a woman identified only as Ashley.
Rector Sr. and Ashley both pleaded with Rector to follow the advice of defense lawyer Harry Moore and refrain from pleading guilty. The defendant told his father on Oct. 31 that he wanted to plead guilty upfront rather than maintain his innocence and be convicted by evidence at trial.
"It's about accepting responsibility for my actions," Rector said. He asked his father what he would want the responsible parties to do if they killed one of his loved ones.
"Think about it from the victim's side," Rector said. "That's all I keep thinking about is that poor little (expletive) girl that didn't deserve it. That poor little girl."
In the Nov. 6, 2014, call, Ashley asked Rector what evidence could be used against him beyond one or more of his shoe prints police said they lifted from the shallow grave where Bella's partially clad body was found about a half mile from her home.
"They have me on camera at a store throwing the shovel into a dumpster, a garden tool, like a mini shovel," Rector responded.
"I think I liked it better when I just thought that you were in the wrong place at the wrong time," Ashley said. "You wouldn't do something like this. I know you, I think. Or I used to."
Rector rejected Ashley's suggestion that he was accepting blame for someone else. "You can rat people out and it's OK and we'll protect you," she pleaded.
Rector does not indicate any details of the homicide and burial scenario in the disclosed communications, but never denies taking Bella's life.
"Do you remember what happened to that little girl that night," Rector Sr. asked his son.
"Yeah I do. Yeah I do, that's why I got to man the (expletive) up," the defendant replied.
A police affidavit disclosed two weeks after the homicide related Rector's admission that he smoked methamphetamine all day in the same home the same day that Bella was discovered missing. He told his father he was a bit rummy when first questioned by police.
"I was so out of it. I was up for a few days. I drank a bunch of Nyquil and a bunch of beer to come down, to sleep, whatever," Rector told his father. "I went to the hospital because I was 'tripping.' I thought I was hallucinating all of this."
Rector withdrew his previous request to represent himself during a Dec. 9 hearing last year.
Bella's mother, Tania Grogan, Grogan's husband, Ralph Folster, and Folster's mother were arrested on drug-related charges two months after the child was killed.
Rector attempted to distance himself from his father, family and friends in the third phone call that was released.
In the Nov. 14 conversation, he told his father that no one needed to put more money in his jail account to fund further communications.
"I'm not going to call anybody anymore and I'm kicking everyone off the visitation list because it's too much. I'm not going to do this anymore," Rector said. "I don't want to deal with the outside anymore."
RELATED:
Death penalty sought in death of girl, 8
Police: More arrests, twists in slaying of Bullhead City girl
Man indicted in Bullhead City girl's death
Bullhead City girl strangled, medical examiner says
Man charged in killing of 8-year-old Arizona girl
Police: Man who killed Bullhead City girl had been high on meth
Autopsy reveals internal injury in 8-year-old Arizona girl
Bullhead police arrest parents of slain girl on drug charges