Reid eye injury gives rise to rumor and legend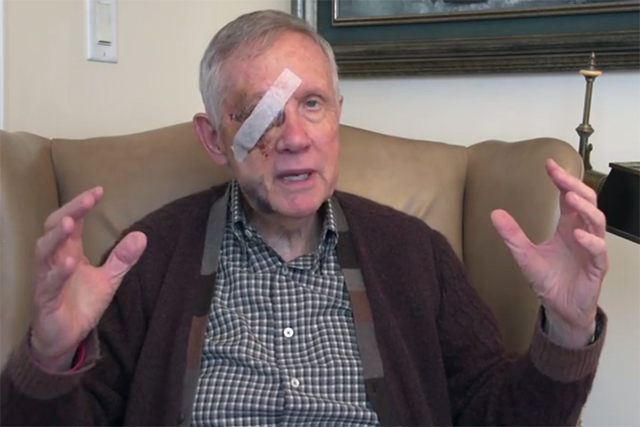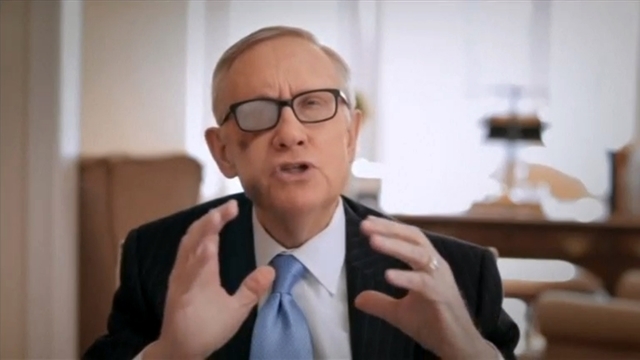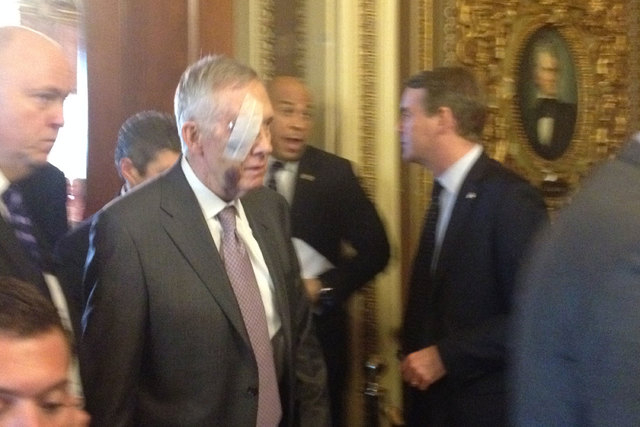 WASHINGTON — To most people it seemed curious but straightforward enough when Sen. Harry Reid said he suffered a serious facial injury while exercising at home on New Year's Day. A few days later he acknowledged the freak accident happened, embarrassingly enough, while he was working out in his bathroom.
But since the Nevada Democrat announced on March 27 he would retire from the Senate when his term expires, the right wing of the Internet and talk radio has had a field day with conjecture about what really must have happened to him in Henderson over the holiday.
Retirement stories that recounted Reid's battles with organized crime while heading the Nevada Gaming Commission in the late 1970s sparked rumors that it was the Mafia who got their long-awaited revenge with a facial beat down.
The arrest of Reid's brother near Boulder City on charges of drunken driving and assaulting a police officer prompted an alternative scenario — Harry Reid, 75, must have been beaten up by Larry Reid, 73, in a New Year's Eve family fight.
"Does anybody believe that Harry Reid really had an accident with his exercise machine?" was the question raised by Rush Limbaugh, who has talked about Reid on several of his shows, most recently Wednesday.
Reid as a Senate leader is under watch by a security detail 24/7, making it implausible that he would be attacked, let alone beaten blind in his right eye and four ribs broken to boot. Asked about the persistent rumors and stories in an interview with John Harwood on CNBC that aired last week, Reid shrugged.
"It shows the credibility of Rush Limbaugh, he's the guy that got all this started," Reid said. "Why in the world would I come up with a story that I got hurt in my own bathroom with my wife standing there? And I think a lot of people, as I read, they kind of don't like me as a person and I think that's unfortunate."
Several days later, Reid told Rachel Maddow on MSNBC: "This was a freak accident."
So what's going on here?
Elissa R. Henken, a folklorist and professor at the University of Georgia, said the Reid tales have the making of contemporary legend. They are narratives that are constructed to fill gaps of knowledge when people feel confused, or when they are called on to respond to the unusual.
"In some ways this is a natural response for people who feel they don't have enough information. Or feel that the dark side of someone or something has not been sufficiently exposed or perhaps in this case because it's just bizarre," Henken said. "How did this guy end up in such a mess? Instead of being sympathetic, it turns into, 'This is just weird. We better come up with some better explanation.'"
Sometime legends can be helpful. In Reid's case the narratives are being constructed by entities whose intent appears not to enlighten or explain but to provoke. "And when you have people who are willing to believe the worst of their opponents, then it's very easy for this type of thing to happen," Henken said.
"One of the things we have seen in our politics, unfortunately, is very much turning our political enemies into monstrous 'others,'" Henken said. "It can't just be a guy who is getting older, or had an accident. It has to be something more."
A story told by Limbaugh last week and recounted online was of a drunken, bloody and disheveled man with a swollen left hand named "Larry" showing up at an Alcoholics Anonymous meeting in Henderson on New Year's Eve ranting that he just fought with a family member and the "Secret Service" was looking for him. People at the meeting recognized him later as Larry Reid when his arrest mugshot was published. The source of the story was a man who used a pseudonym.
"Bottom line, somebody attacked Harry Reid on New Year's Eve or New Year's Day. That much seems clear based on pictures and the nature of his injuries," Limbaugh pronounced at the end of the tale.
The stories were reminiscent of April 2014, where segments of the Internet were ripe with reports that Reid was the hand behind the BLM's bid to round up rancher Cliven Bundy's trespass cattle near Bunkerville. The charge: Reid was attempting to take over that land so it could be given to Chinese companies for the siting of solar panels.
"There's something tempting about these stories that makes them fascinating and we want to think about them or discuss them even if we think they are not true," Henken said of legends.
So if Reid had released more details of the accident, would it have quelled the speculation?
"I suspect that Reid could have had documentary cameras with him throughout and it wouldn't much change certain people's willingness to believe," Henken said in an email following the interview. "After all, camera footage can be faked (as some claim with our moon landings). Or people might wonder why he's bothering to give so much information about a home accident; that must mean he's trying to obscure some much worse truth.
"We seem to be in a situation where nothing this politician says will be accepted by his opponents," Henken said. "This may be where our current national condition of distrust comes in: when a politician is involved, even a simple home accident may become suspect."
The folklorist said it's likely the stories surrounding Reid's injury will persist, kept alive by opponents.
"It's a way to undermine him, to make him a lesser being, not somebody with the authority we normally want to associate with someone who was the majority leader and now the minority leader," she said.
"I would think this one would disappear but it may not until Senator Reid retires," Henken said.
Contact Review-Journal Washington Bureau Chief Steve Tetreault at stetreault@reviewjournal.com or 202-783-1760. Find him on Twitter: @STetreaultDC.