Reid waits to take stand on Syrian refugee moratorium
November 17, 2015 - 4:25 pm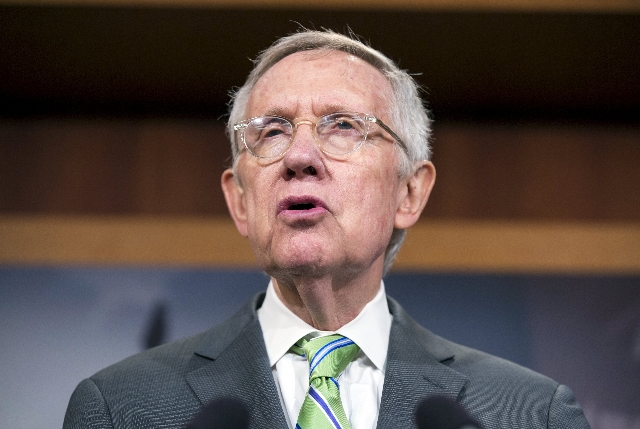 WASHINGTON — Senate Minority Leader Harry Reid is taking a wait-and-see attitude to the growing chorus of Republican leaders seeking a moratorium on Syrian refugees allowed into the United States.
The Nevada Democrat told reporters Tuesday that it is too soon to suggest what should be done until lawmakers receive a thorough and detailed briefing on how the refugees are screened to ensure they pose no threat to national security.
The Obama administration is providing briefings to the House Tuesday evening and Senate Wednesday evening. Concerns about the program have spiked — particularly among Republican governors — since reports alleged that one of the Paris terrorists was a Syrian who passed through a refugee camp in Greece.
Senate Majority Leader Mitch McConnell, R-Ky., and House Speaker Paul Ryan, R-Wis., each called for a "pause" in the program that has brought fewer than 2,000 Syrian refugees to the United States of the millions who have fled the war-torn nation.
"We need a pause or a moratorium because the American people are quite concerned and upset about the possibility of terrorists coming into our country through some kind of refugee program. I for one don't feel particularly comforted by the assertion that our government can vet these refugees," McConnell said.
Reid agreed that everything should be done to strengthen the vetting process but wasn't ready to press a pause button — given that the average Syrian refugee is vetted for 18 to 24 months.
"My personal feeling is wait until tomorrow. I don't think we should be pausing until we get the facts," Reid said.
Sen. Dean Heller, R-Nev., sees every reason for a pause.
On Monday, he sent Nevada Gov. Brian Sandoval a letter urging him to reject Syrian refugees from being relocated to the state until it is clear to Heller that the program effectively protects against terror threats. Heller has also sent a letter to Secretary of State John Kerry and Homeland Security Secretary Jeh Johnson requesting clarification about how the refugee program guarantees American and Nevadan safety.
"Until my questions have been sufficiently answered by DHS and the State Department and I believe that this program no longer presents a threat to Nevadans, I encourage you to reject any further acceptance of Syrian refugees in the State of Nevada," he wrote.
Nevada has taken in eight — a 28-year old and a husband and wife with five children, according to State Department records and news accounts.
Rep. Cresent Hardy, R-Nev., also supports a moratorium.
"I have no doubt in my mind that we need to take a pause on this," he said. "ISIS has not just made a threat, they are following through on their threats. They are moving forward, and our first job in Congress is to look after American citizens."
Hardy said he is just beginning to look into the refugee program and how the refugees are screened, particularly when they arrive with no documentation.
"This is all stuff we are just now beginning to look at, but you don't just race ahead when you are not really sure," he said.
Reps. Dina Titus, D-Nev., Joe Heck, R-Nev., and Mark Amodei, R-Nev., had not responded to requests for comment for this article at publication.
Contact Peter Urban at purban@reviewjournal.com or at 202-783-1760. Find him on Twitter: @PUrbanDC