Reid workout accident happened in his bathroom
January 23, 2015 - 4:22 pm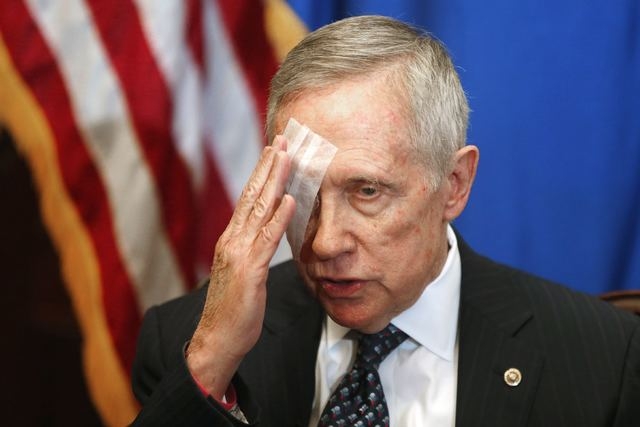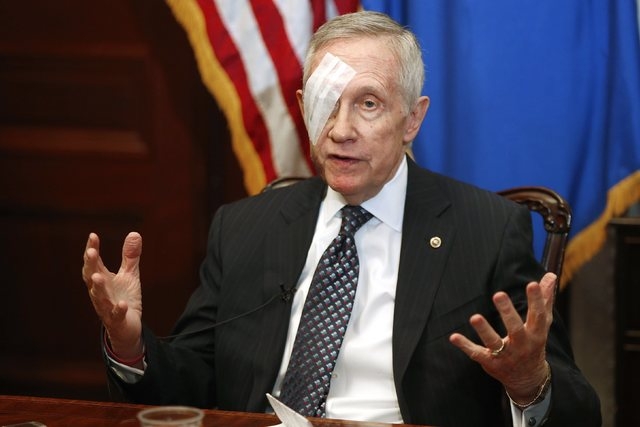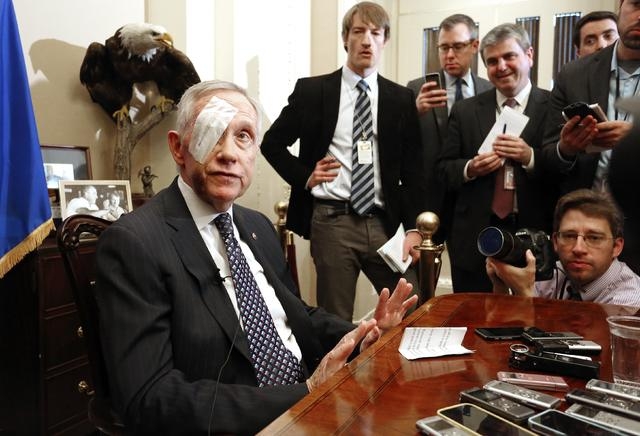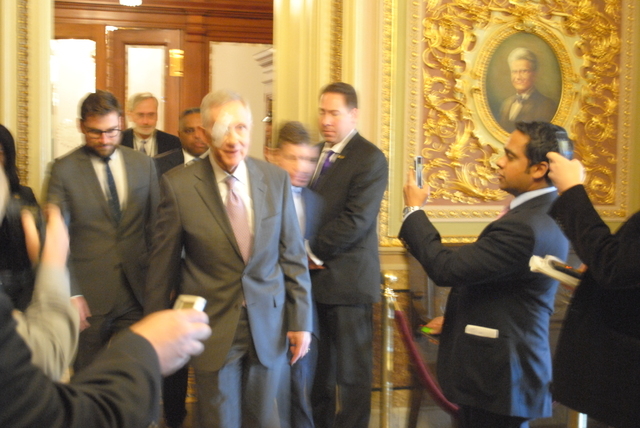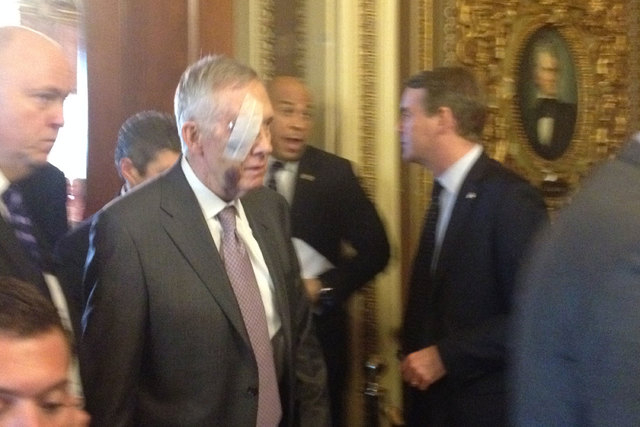 WASHINGTON — The violent accident that has threatened Sen. Harry Reid's vision and marked the first few weeks of his tenure as Senate minority leader took place in the bathroom of his home.
Reid's office declined to comment on an online report in Politico that he was exercising in the bathroom of his new home in Henderson on New Year's Day when a heavy resistance band attached to the door of the shower snapped back at him.
The previously unreported detail independently confirmed by the Review-Journal fills in an account of how the Nevada Democrat suffered broken bones around his right eye, and four broken ribs, injuries that forced him to work from home after Congress reconvened on Jan. 6.
Reid spokeswoman Kristen Orthman said there was "nothing to add or comment" on the Politico story, which also reported on Reid's efforts to wield authority as a Senate leader while largely confined to his Washington condo at the Ritz Carlton.
Reid, 75, has been under doctors orders to restrict his reading and work on screen devices to promote healing in his eye. He started reading again on Wednesday evening.
In recounting the New Year's Day accident, Reid has said he was doing a strengthening routine when the force of the snapped band "catapulted" him backwards and to the side, and into some cabinets. The impact "fortunately missed my temple by just a tiny bit," he said in a Jan. 9 interview on KNPR, Nevada Public Radio.
Reid is scheduled to undergo surgery Monday at George Washington University Hospital in Washington, D.C. In his first meeting this year with reporters, Reid said Thursday doctors will restructure bones around his eye socket and drain blood that gathered in the front and back of the eye.
Reid said he has relied heavily on his aides during his convalescence, but has also been active on the telephone to his leadership deputies, individual senators and officials in the Obama administration.
Reid and his staff have been aggressive in conveying that he still is in charge despite his disability, posting photos of him meeting at home with other senators, and then working in the office when he made his first return on Tuesday.
When Senate Democrats traveled to Baltimore for a retreat on Jan. 14 and 15, Reid did not attend but had a line installed to the meeting room so he could participate.
Reid on Jan. 6 released the first video showing his bruised and bandaged face, which competed for attention that day with the start of the new congressional session and the transfer of Senate power from Democrats to the new majority Republicans.
On Thursday, Reid showed an upbeat side, saying doctors "are confident I will be really quite good" after surgery. He said he expects to return to the Senate full time on Feb. 2, although he was unsure if he will be able to resume full duties right away.
Politico reported one senator who has spoken to Reid said it's possible he might need multiple surgeries. Orthman declined to comment on the possibility.
Reid also sought to convey full speed ahead on a 2016 election race, saying "the doctors have been very supportive of my plans" to run again.
"So everything is on line," he said. "In Nevada, you know we have quite an operation that hasn't lost a step. We're off and running."
Asked if there was anything that might cause him not to seek re-election, Reid said, "No, not at this stage." Asked if he was hedging, Reid said more firmly, "I plan to run."
Contact Stephens Washington Bureau Chief Steve Tetreault at stetreault@stephensmedia.com or 202-783-1760. Find him on Twitter: @STetreaultDC