Reno woman realizing dream of simple, rural life in straw-bale home
February 21, 2016 - 10:23 am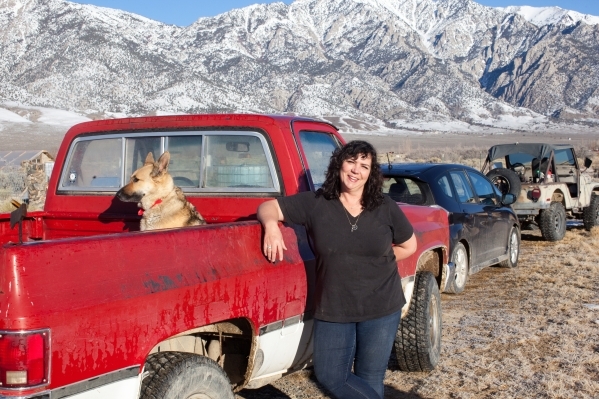 BIG SMOKY VALLEY — Kim Bozarth arrived here a cultural outlier among rough-edged, do-it-yourself men: an outspoken woman espousing liberal politics in a high-desert landscape where conservative thought is king.
The year was 2012, and the divorced mother of four grown children had come to reinvent herself — to abandon her urban life in Reno and build an all-natural house in this sweeping valley surrounded by majestic 11,000-foot mountain peaks. Locals scratched their heads at this city tumbleweed and her half-crazed notion to — now get this — build a home from bales of straw.
Originating in Nebraska, straw-bale homes are known for their natural integrity and insulation. For Bozarth, 55, the idea fit her long-held philosophy to live more simply: "I wanted to haul my own water, grow and make my own food. I wanted to work at living."
Bozarth comes from self-determined roots: Her mother rode wild mules as a girl and became one of Reno's first female blackjack dealers. Bozarth is a retired Army sergeant who served as a Russian transcriber in Europe.
She knew all about handling recalcitrant men and getting back to the land. She taught courses in the burgeoning field of permaculture — agricultural designs based on natural ecosystems — and had supervised the building of several other straw-bale structures.
In the end, Bozarth's central Nevada adventure tested her resolve to adapt to often-harsh natural conditions. It also led to a complete and welcome surprise: romance.
The first building disaster was quick in coming.
On Labor Day weekend in 2012, two dozen friends pitched tents among the sagebrush to wage an old-fashioned Amish-style barn raising — helping erect the frameless load-bearing structure and cutting and assembling the 450 bales of straw Bozarth had shipped in for $1,300.
When the work was done, they collected their compost within a structure made of straw bales, placed tarps around the unfinished house and went home; Bozarth returned to Reno.
A few weeks later, she was on the phone with a crusty rancher named Chuck.
"You know, the cows ate your home," he said matter of factly.
"Excuse me?" she gasped.
She hung up the phone and thought: Old Chuck was not the kind who engaged in hyperbole.
She hurried to the site to find two local men standing there, beers in hand, watching as a dozen range cattle munched on her dream home. She was living the child's fable "The Three Little Pigs."
Bozarth already knew the man named Jesse Johnson, a slow-speaking neighbor with a gray beard and bib overalls who had used his yellow backhoe to lay her home's rock foundation. She had called for weeks before she got him on the phone to explain his role in her vision.
"Yup," he said in his gravelly voice. "I can do that."
But when Bozarth later arrived with several workers, Johnson admitted he had left his backhoe parked 10 miles away. "That's great," Bozarth fumed. "I'm here, just like I said I'd be, with a crew I'm paying by the hour. And now I'm waiting on you."
Jesse quickly got his backhoe and was soon doing other heavy-construction jobs — working for an hourly rate and 12-packs of Budweiser, which were hard to come by in the isolated Big Smoky Valley.
Now, after the call from rancher Chuck, here was Johnson, calmly watching the cattle eat Bozarth's beloved home. She wanted to cry. Instead she barked, "Ya think you might run those cows off?"
Once again, Johnson fetched his backhoe and dug trenches for postholes for a fence to keep out the animal invaders. Meanwhile, Bozarth drove to a bar in nearby Carvers and announced, "I need men who can build a fence, and I need them now. I'll pay $15 an hour." A few raised their hands.
Weeks later, 130-mile winds severely tilted the straw-bale home, nearly toppling the roof. "My house looked like a parallelogram," Bozarth said.
Well, you guessed it, Johnson and his backhoe came to the rescue, setting the house plumb again. Among locals, he's known as a "peach skinner": His dexterity with his machine could peel the skin off a piece of fruit.
Johnson was impressed with this newcomer. "I'm like her," the 57-year-old Minnesota native said. "I've been known to take leaps into the wilderness."
Bozarth soon began stopping by Johnson's shop for a cold beer after a day's work. She played pool near the sign that said, "Danger: Men Drinking," ignoring the girlie posters on the wall. It was a respite from her life with no running water, sleeping inside a shipping container. She began calling the valley "the hood," and the shop boys, after laughing at her, soon adopted the phrase.
She had come to be accepted, avoiding her nightmare of being dismissed as a "ridiculous joke."
One night, Bozarth awoke in her container to hear Johnson's croak: "Are you in there?"
The two pulled up chairs to watch a lightning storm that lit up the night sky. He was a longtime bachelor who cared for his elderly mother. She hadn't even had a cup of coffee with an eligible man in 11 years.
"Can I ask you a favor?" Johnson eventually said. "Can I go into your container and just hold you?"
Bozarth's inner voice screamed, "No!" But she relented. "It was the most human thing anyone had ever said to me."
The next day Bozarth worried the innocent episode would ruin their budding friendship. After a week away, she went to check on him.
That's when Johnson asked her to tour his nearby mining claim. Later they stood together on a hillside, watching the sunset. Johnson, of course, had another question: "Can I put my arm around you?"
"He was like an eighth-grader, so I said, 'Sure,'" Bozarth said.
Johnson confessed he had fallen for the strong-willed woman who simply would not let her dream die, no matter what nature threw at her. All those months, as he worked atop his backhoe, he said, "I was sittin' there, eye-ballin' you."
Then he added, "I'm sorry, but with your head there on my shoulder, I forgot what I was gonna say."
From that moment on, Bozarth said, "We were two cooked gooses." The pair soon got married.
And so life intervened on Bozarth's straw-bale building dream: She helped care for Johnson's mother, who later died. She and Johnson staked a claim at a nearby gold mine and have poured their energies into striking it rich together.
They spent days in her Jeep roaming the trails with a cooler full of beer. But the groom also took time to build his new bride an underground greenhouse near the straw-bale house, where the couple sleep. Bozarth has vowed to complete her project in the next year, finishing the inside floor and walls with natural mud.
She denies she's behind schedule. "I needed this time to fall madly in love."
Nowadays, Bozarth blogs about her Big Smoky Valley adventures at www.kimbozarth.com. She also has a new project: a book called, "The Cows Ate My House."
Johnson is a main character.