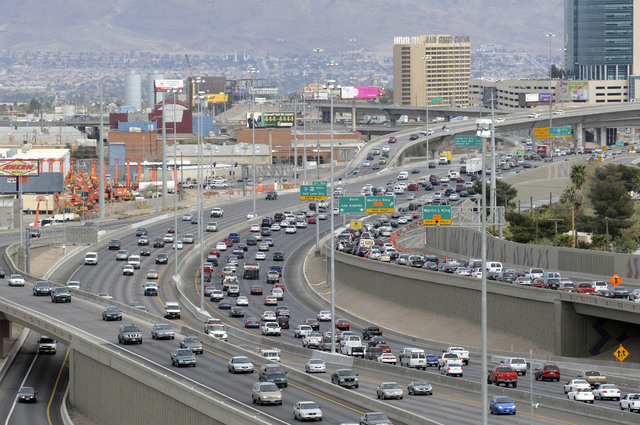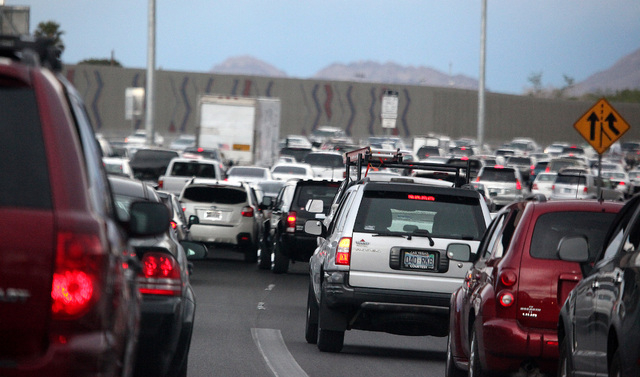 CARSON CITY — Nevada drivers will have to live with increasing road congestion and multiyear delays to critical highway projects if Congress does not act by September to address a looming federal highway funding shortfall, state officials were told Monday.
The project delays could mean the loss of 6,000 jobs in Nevada that would have been created with the scheduled road projects, according to a report approved by the state Transportation Department Board of Directors.
"That's 6,000 people that are providing for their families; it's part of our transportation infrastructure," Gov. Brian Sandoval said after the presentation. Sandoval is chairman of the transportation board.
Nevada's congressional delegation is aware of the consequences to state road funding should there be a failure to act, he said. But the board will send a new letter highlighting the concerns.
Project Neon, which is a major Interstate 15 widening project, and the Boulder City bypass, are not expected to be affected if Congress fails to approve a new transportation funding bill.
But many other projects scheduled to see construction beginning in 2015 would be postponed until 2016 or 2017. Others scheduled for construction in 2016 would be put off until 2018 or 2019. Others would be taken off the list completely until funding became available.
Projects such as $36 million in improvements to U.S. Highway 95 from Durango Drive to Kyle Canyon Road would be pushed out from 2016 to 2018. Improvements to State Route 160 ending at Mountain Springs at a cost of $47 million would be pushed from 2018 off the list entirely.
John Terry, assistant director of engineering for the state Transportation Department, said there are two elements involved in the funding issue, both of which could be addressed with action by Congress.
The first is that the spending of the federal highway fund has exceeded revenues over the past several years, and without action the balance will go below zero later this year.
To restore the balance, there would be no new spending allowed from the fund for federal fiscal year 2015, which begins Oct. 1 of this year. This would cost the state about $325 million for the one year, Terry said.
Once the fund was solvent again, allocations in future years beginning in 2016 would amount only to about 70 percent of what previously had been made available, he said.
Sandoval and others noted during the meeting, however, that the issue still could be resolved by Congress with no impact to the road construction schedule.
"It's a moving target between now and August and through September," he said.
Contact Capital Bureau reporter Sean Whaley at swhaley@reviewjournal.com or 775-687-3900. Follow him on Twitter @seanw801.