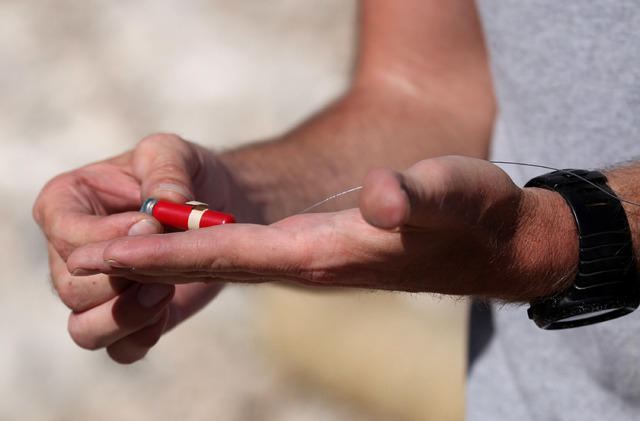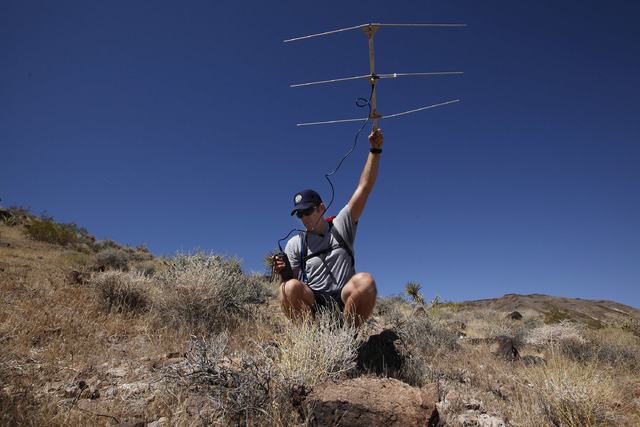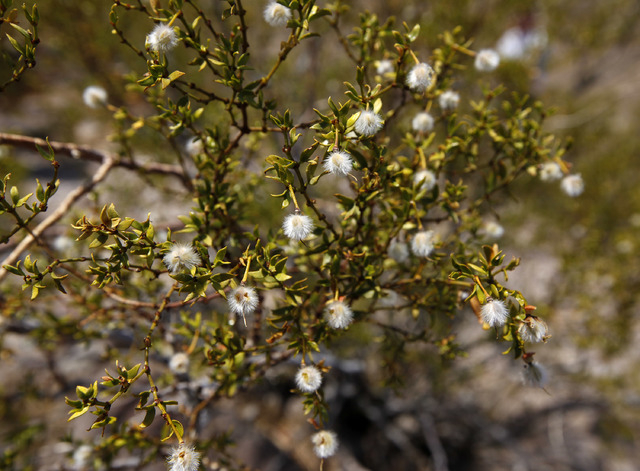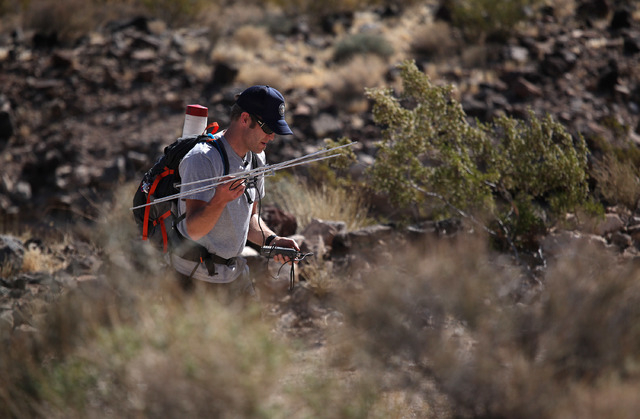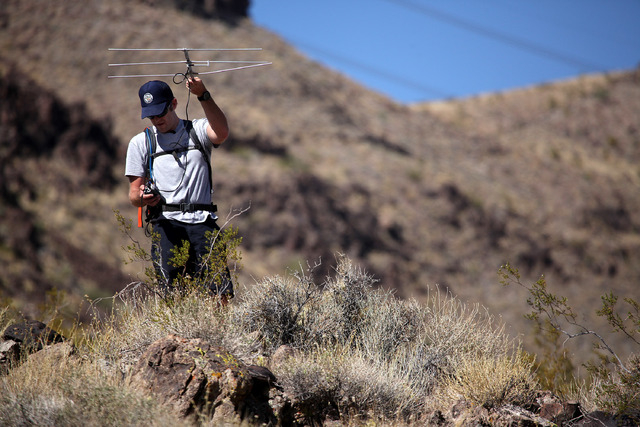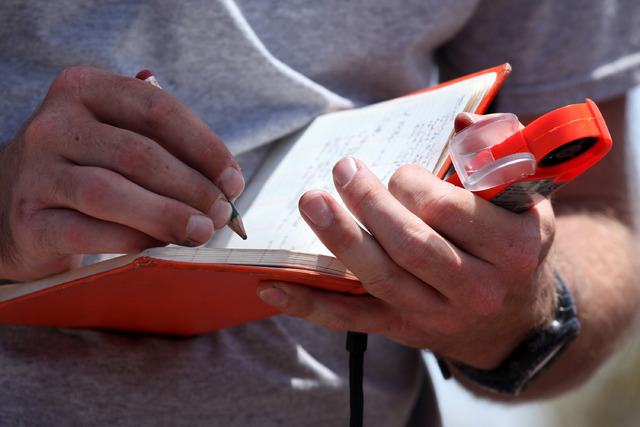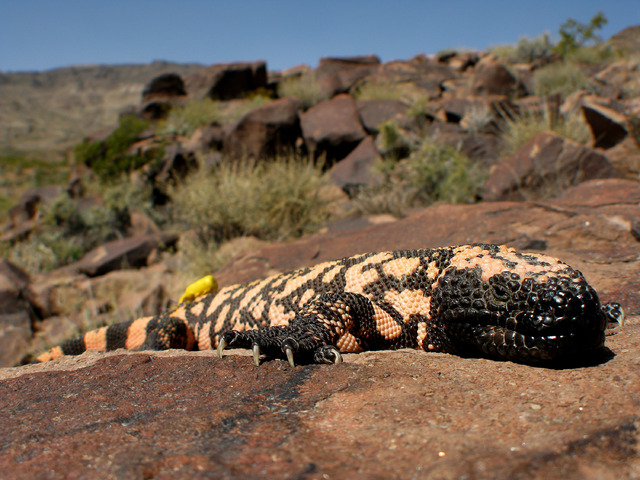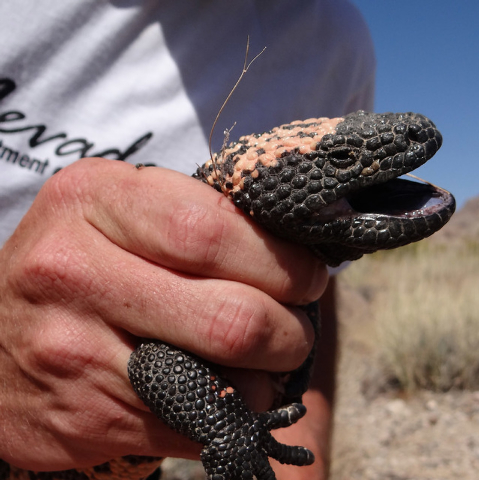 The sun is up and the heat is building, so Jason Jones heads out to look for monsters.
With a hand-held radio and what looks like an old rooftop TV antenna, he walks through a pocket of desert south of Las Vegas, listening for the tell-tale pulses that will lead him to his research subjects.
Jones is the state reptile biologist for the Nevada Department of Wildlife, and for a little more than a year he's been tracking Gila monsters across four square-miles of rocks and cactus in hopes of learning more about this easily recognizable but little understood creature.
"There's a lot of folklore about monsters, but there's a lot that's not known about their ecology," Jones said. "That's part of the mystique."
So far, he has six of the large lizards fitted with tracking devices — two with small temporary units attached to their backs, the other four with surgically implanted transmitters the size and shape of cocktail wieners.
Each device emits pulses on a unique frequency so Jones can search for a specific lizard and tell whether it is out and about based on its body temperature. The pulses get louder the closer he gets to each animal, but that doesn't make them easy to find.
On this day, Jones comes up empty. His transceiver leads him to three of his monsters, but none are above ground. The best he can do is zero in on the holes where they're hiding, try to look inside with a small mirror, and mark down their probable locations and other basic information in his notebook. Each entry on this Wednesday will go down as "signal" only.
"That's how it goes when you study the secret lives of monsters. You're not always guaranteed an observation," Jones said.
ONLY A MONSTER TO ITS PREY
He began his research project in the spring 2013. He hopes to continue the work for at least another two years, assuming his tracking devices and his funding hold out.
Gila monsters are known for their broad heads, stocky frames and beaded armor, which comes in various shades of orange and black. Each monster wears a unique pattern on its skin as distinct and identifiable as a human fingerprint.
They are also known as the only venomous lizard in the U.S. and one of only two found anywhere in the world. But like other creatures with poisonous bites, Gila monsters "get a bad rap," Jones said.
Though big among desert reptiles, they still only measure about 18 inches long and weigh little more than a pound. They feed on small mammal babies and the eggs of other reptiles and ground-nesting birds. They pose no real threat to people.
"I think if you were a small (kangaroo) rat kid, it would definitely be the thing that lives under your bed," Jones said. "For humans, they're the furthest thing from a monster."
He has never been bitten, but he has heard the experience is like cutting yourself with a knife and then setting fire to the wound. Still, Jones said, there has never been a single confirmed case of someone dying from a Gila monster bite.
He is studying a specific subspecies known as the banded Gila monster, which is only found in small portions of Southern Nevada, Southern Utah, Northern Arizona and, in rare cases, eastern California. Unlike its better-known cousin, the Sonoran Desert's reticulated Gila monster, pretty much everything that scientists know about the banded variety comes from two studies. Jones' would be the third.
"We're still trying to understand their range and distribution," he said.
He hopes his work will shed new light on everything from their behavior — what conditions cause them to emerge from the ground and move around — to why they live where they do. The answers to some of those questions could help expand the understanding of fellow reptiles such as the desert tortoise and the rattlesnake and of the desert ecosystem at large.
It could also help shed some light on the impacts of climate change. If, for example, shifting climate patterns result in less monsoonal rain in the northern Mojave Desert, it could spell trouble for the Gila monster and other native species, Jones said.
The species is also worthy of study because it has managed to survive for roughly 80 million years. "And really when you look at the fossil record, they haven't changed at all. Their body plan works really well," Jones said.
A LIFE SPENT OUT OF VIEW
Ideally, research like his would involve at least 30 test subjects, "but with something that's so hard to find, we're pretty happy to have six," he said.
That's because the Gila monster spends the bulk of its life — 80 to as much as 95 percent of it — hiding underground, where the cold-blooded creature can better regulate its temperature and keep itself safe from predators and the elements.
Jones hopes to add at least a few more monsters to his test group, but he knows it won't be easy.
Once he finds and catches a new lizard, he must arrange to have the state's only wildlife veterinarian travel down from Reno to implant a tracking device. Jones doesn't want to keep any of his test subjects out of the wild for more than a day or two, so if the veterinarian isn't available he will tape or glue an external transmitter to the monster's back and hope it doesn't get knocked off before he can find the animal again.
"That's the tough thing about monsters. They can move a kilometer in a day, or they can hunker down for two weeks," he said.
Implanting a device requires anesthesia followed by minor surgery and about 12 hours of recovery time. To help the tiny patients along, they are fed water and farm-laid quail eggs like the ones served at gourmet restaurants on the Strip. "Nothing but the best for these monsters," Jones said. "Hopefully they're as pissed off (when we release them) as they were when we caught them."
The lizards are typically set free within about a meter of where they are caught, if not right back "in the same hole we got them from."
Even this small crop of monsters can be a handful. Jones said he walks the study area about once a week, but his research wouldn't be possible if not for a pair of dedicated volunteers making more frequent visits to the site.
Jones closely guards the location of his research area. Even photos showing prominent nearby features could lead the wrong kind of people to his monsters.
Though the lizard is not federally listed as threatened or endangered, it is considered a sensitive species. Taking one from the wild is against the law.
Jones said the banded Gila monster is especially prized among some collectors because it is rare, its markings are bright and distinct, and it doesn't breed well in captivity.
"People poach them," he said. "It's easier."
Contact Henry Brean at hbrean@reviewjournal.com or 702-383-0350. Find him on Twitter: @RefriedBrean.
Have you seen a monster?
The Nevada Department of Wildlife wants to know about it. If you can, snap a picture of the Gila Monster and send it to state reptile biologist Jason Jones (jljones@ndow.org) along with a description — or GPS coordinates — of where you saw it.
Then leave the animal alone. Don't try to capture or otherwise handle it. Even harassing a Gila Monster in the wild is crime, Jones said.
Also, they bite. And did we mention Gila Monsters are the only venomous lizards native to the U.S.?