RJ reporter finds himself off to the camel races in Virginia City
Updated September 7, 2018 - 10:35 pm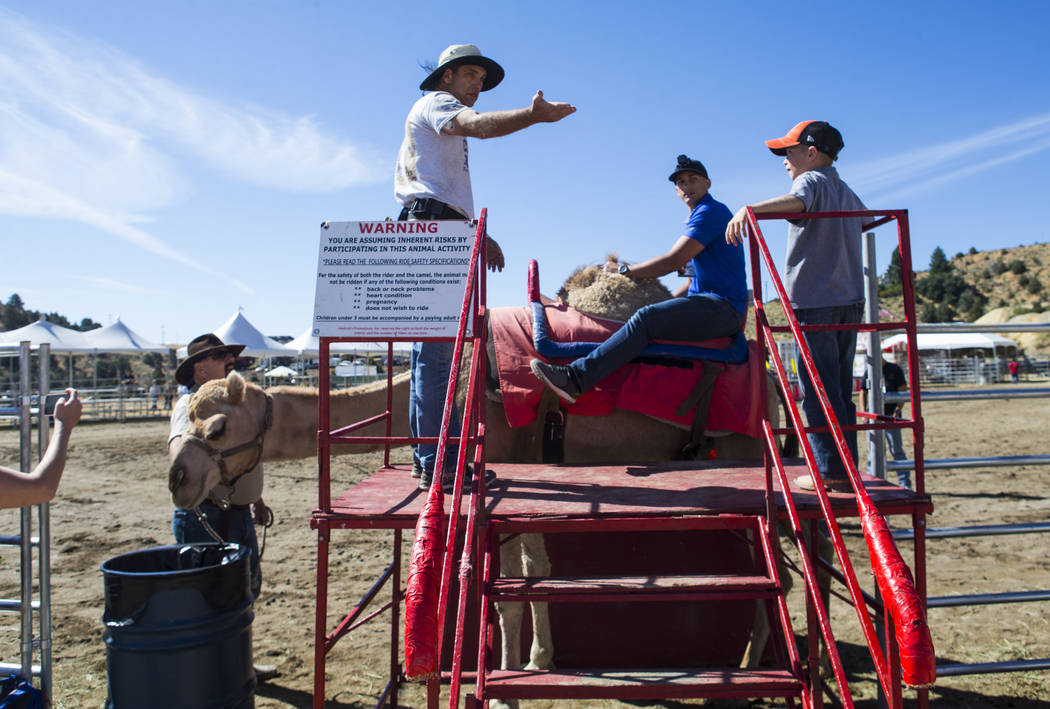 As someone who grew up in the Silver State, I've always known Nevada had its fair share of quirk.
From the strange statues at Thunder Mountain outside of Winnemucca to the ghosts of Rhyolite, there's no shortage of strange but strangely fascinating things to do and see across this state.
Still, I never imagined I'd ever be sitting nearly 7 feet off the ground straddling the back of a dromedary camel in a racing chute in the same town where Samuel Clemons first used his Mark Twain byline in the local paper.
But that's where I found myself Friday afternoon at the 59th annual International Camel & Ostrich Races in Virginia City.
I'd be lying if I said I'd been on a camel before. And in front of the few hundred people in the stands for the event, the last thing I wanted to do was embarrass myself by falling off or getting stuck in the saddle somehow.
Luckily I didn't have much time to think about that.
"Bugle boy!" called out animal handler and the event's emcee Monte McClurg, signaling the call to blare out over the speakers. My race was about to start.
I squeezed the taped-up saddle with my right hand, and held onto the surprisingly soft hair of my camel's hump with my left. The chute opened.
Nothing.
Turned out my camel wanted to give the other two competitors a head start. He must have been confident in his abilities.
After a few seconds, a jolt. Dust flies. My head narrowly misses the top bar.
Bounce, bounce, bounce, bounce. Finally my new camel buddy and I were off, racing through the sand, bouncing more than any dirt road I've ever been on.
We made the turn. My camel took it wide. (I guess he wanted to say "Hi!" to the fans in the stands).
But it turns out my friend overestimated his athletic prowess. We came in third (also known as last). I artfully dismounted (basically fell off) and headed back to the stands, and my friend hoofed it back to the pen. Our 45 second-relationship was over.
And despite a newly ripped pair of jeans (don't ask) and a last-place finish, my time as a camel jockey will go down as one of my all-time favorite Nevada memories.
And who knows? Maybe at next year's 60th iteration of the camel races, I'll make a new camel friend, and we'll trample the competition.
Contact Capital Bureau Chief Colton Lochhead at clochhead@reviewjournal.com. Follow @ColtonLochhead on Twitter.
Related
International camel, ostrich races draw crowds to Northern Nevada town