Roberson rejects complaints over his PACs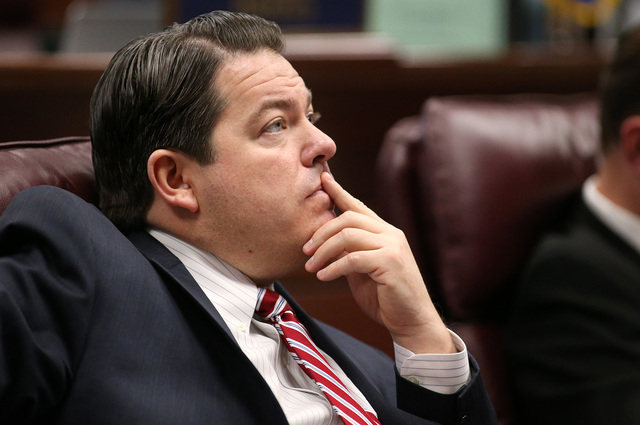 State Senate Majority Leader Michael Roberson pushed back against suggestions that he or his political action committees engaged in any improper campaign finance activities.
A complaint filed with the Nevada secretary of state's office by Michael Brown of Las Vegas asked the state's chief elections official to examine whether four political action committees tied to the Republican engaged in an illegal practice called "conduit contributions."
Through conduit contributions, individual donors can circumvent the $10,000 campaign contribution limit for candidates by giving coordinated donations to the PACs that in turn give to candidates. The state limit is $5,000 for the primary election cycle and another $5,000 for candidates who move on to the general election.
Roberson's attorney, Joshua Hicks, responded last week to the secretary of state, which asked for a response to the complaint. Hicks asks that the complaint be dismissed, calling it "legally deficient."
The complaint comes as Roberson seeks the Republican nomination in the 3rd Congressional District in the June 14 primary. That race is wide open because incumbent Rep. Joe Heck, R-Nev., is running for U.S. Senate. Hicks' response to the state blasts the underlying complaint as "a sloppy and politically motivated attempt to harass a candidate for office drafted and filed by operatives aligned with Senator Roberson's political opposition."
A Roberson adviser laid the blame squarely at the feet of Danny Tarkanian, a fellow Republican also in the 3rd District race.
"Danny Tarkanian, who has been successfully sued for malpractice and sanctioned by the Nevada Supreme Court, had his buddy send a poorly written letter that didn't make a single point of law — or even identify a violation of any kind," said Roberson adviser Mike Slanker. "He sent a letter that any Nevadan can send just so Danny could get free press. While his complaint lacks any merit and fails to make an actual point, he did manage to get his name in the paper."
Tarkanian's campaign fired back.
"Michael Roberson's legalistic 'mumbo jumbo' response was a non-response that shows he hopes this investigation is swept under the rug," the campaign said in a statement. "But the citizen's complaint shows a clear pattern of contributions that would give any person reasonable suspicion that Michael Roberson was trying to skirt campaign finance limits. Why else would a politician create a series of home-based PACs spending hundreds of thousands of special interest dollars on a few favored candidates?"
Brown, the filer of the complaint, couldn't be reached for comment.
The political groups in the complaint — Victory PAC, Senate Majority PAC, Reform PAC and Jobs First PAC — had raised money that went in large part to Republican candidates for state Senate in 2012 and 2014 who Roberson supported.
The underlying complaint, which doesn't name donors, does list the dates of the gifts and the names of the candidates who received them as examples of potential violations.
State campaign finance disclosure reports show that on Dec. 18, 2013, Las Vegas Sands Corp. donated $10,000 to Becky Harris' campaign for state Senate. The following day, the casino operator donated $10,000 to each PAC and to Roberson's own Senate campaign fund. In the same election cycle, each PAC gave $10,000 to Harris.
Ron Reese, spokesman for Las Vegas Sands, has declined comment, noting the company isn't a party to the complaint. The Review-Journal is owned by a limited liability company controlled by the family of Sheldon Adelson, chairman and CEO of Las Vegas Sands.
In another instance, on May 14, 2014, the Nevada Subcontractors Association PAC contributed $5,000 to both the Victory PAC and Reform PAC. On May 16, 2014, Victory PAC sent $5,000 to then-state Senate candidate Patricia Farley, while Reform PAC sent $5,000 to Harris. The Subcontractors PAC, which couldn't be reached for comment Monday, also directly donated $7,500 to Harris.
The complaint doesn't accuse donors or recipients of any wrongdoing. Farley and Harris were elected in 2014, wins that helped put the GOP in control of the state Senate.
In his rebuttal, Roberson's attorney argues that the PACs "have no control" over when donors make contributions and there's no connection between employees or agents of the PACs and the donors.
"Nowhere in Nevada law is there a presumption that contributions made to a PAC, and subsequent expenditures by that PAC, are deemed to be an improper activity simply because they are close in time," Hicks wrote.
The PACs, Hicks wrote, operated in a much different way than those of Rory Reid, a former Democratic gubernatorial candidate who paid a $25,000 fine in 2011 after more than $900,000 passed through 90 shell organizations into his 2010 campaign.
In the 2011 case, Hicks wrote, there was a direct link between the source of the funds, the 90 shell organizations and Reid's campaign.
In Roberson's case, the four PACs have received more than $550,000 from more than 130 individual donors, Hicks wrote.
The secretary of state's office received Roberson's response Friday and hasn't yet indicated if the complaint merits any enforcement action.
Contact Ben Botkin at bbotkin@reviewjournal.com or 702-387-2904. Find @BenBotkin1 on Twitter.