Roberson: State Senate will tackle tax reform
January 12, 2015 - 6:35 pm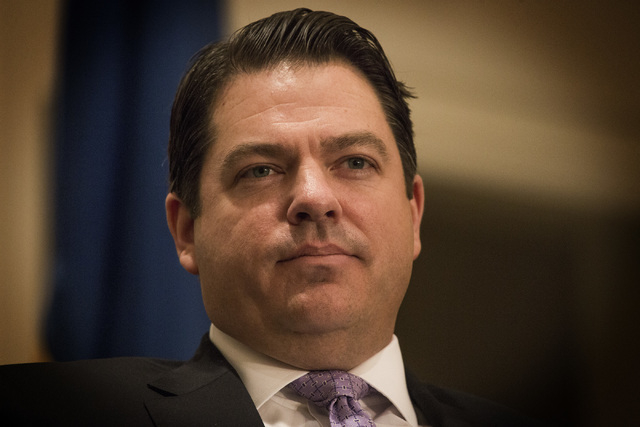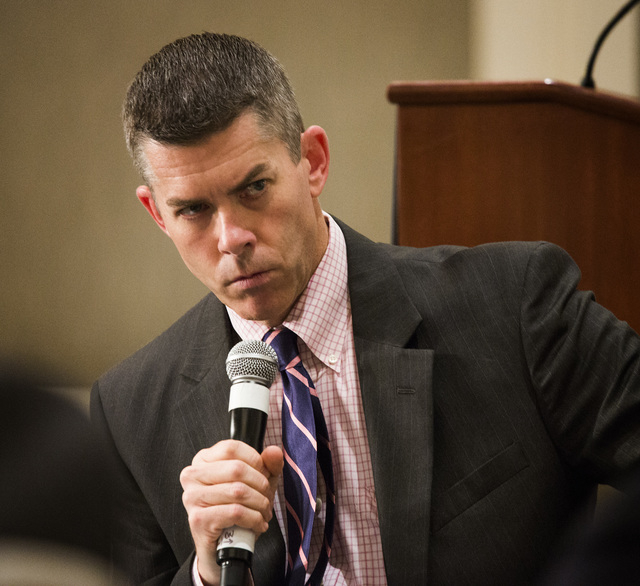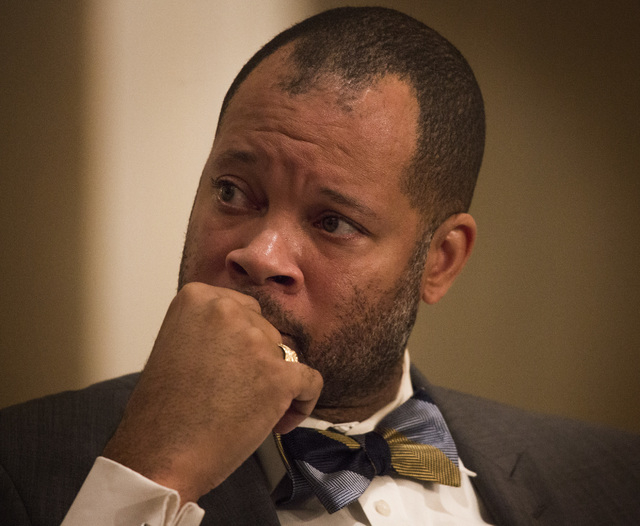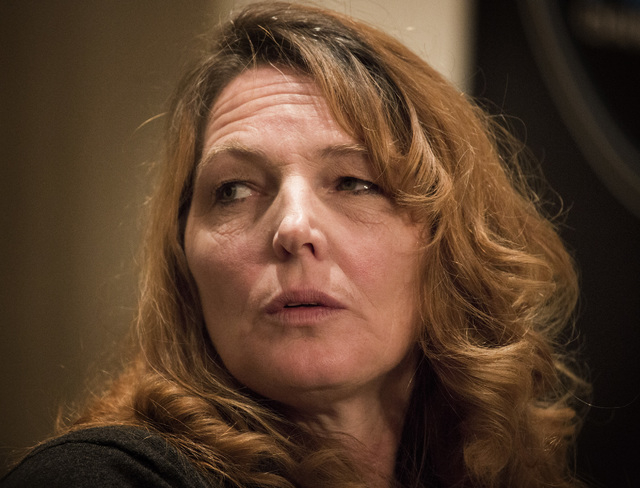 Senate Majority Leader Michael Roberson on Monday promised to tackle tax reform early in the upcoming legislative session, saying he's aiming for the Senate to pass a plan in March that would raise new revenue for education.
Roberson, R-Las Vegas, said the state must raise more money even to fund essential services because the budget is running a $175 million deficit. So any tax reform would also have to bring in higher revenue if lawmakers want to boost funding for K-12 schools and for higher education, including launching a medical school at UNLV.
"We are going to pass tax reform out of the Senate, I hope, by the month of March," Roberson said. "We are going to get on this right away in February."
The biennial session of the Legislature begins Feb. 2 in Carson City and is scheduled to last 120 days.
GOP Gov. Brian Sandoval on Thursday will deliver his State of the State address, unveiling his proposed spending plan for the next two years. It's expected to include tax reform and an increase in education spending as well as proposals for education reform to spend the money more wisely. The current two-year, general fund budget is about $6.7 billion.
Roberson said he and the GOP-controlled Senate will take their lead from Sandoval in crafting any tax and education reform plans, which would likely include more charter schools, all-day kindergarten and English Language Learning.
"Many of us, Republicans and Democrats, have come to the realization that we are not funding education adequately in this state," Roberson said. "We cannot continue to be near the bottom of most rankings," he added, referring to low graduation rates and other measures of Nevada students' lagging skills compared to other states. "We know we need education funding and education reform. … I know the governor will lead on this."
Roberson's tax reform promise came during a one-hour forum with all four Republican and Democratic leaders of the Nevada Legislature, including Senate Minority Leader Aaron Ford, D-Las Vegas, Assembly Minority Leader Marilyn Kirkpatrick, D-North Las Vegas, and Assembly Speaker-designate John Hambrick, R-Las Vegas.
The "NewsFeed" breakfast at the Four Seasons was co-sponsored by the Las Vegas Metro Chamber of Commerce and the Las Vegas Review-Journal. Review-Journal editorial writer Glenn Cook moderated the event.
Monday's forum launched the "NewsFeed" program, which will host newsmakers every two months to discuss issues of importance to Southern Nevada, according to the chamber.
To accomplish his goals, Roberson, who is chairman of the Senate Revenue Committee, said he plans to increase the number of times the panel meets from twice a week to three times, including Fridays. He also plans to hold "Committee of the Whole" sessions with the entire Senate to get all lawmakers involved in tax reform and spending matters.
"This is going to require bipartisanship," Roberson said of tax reform. "I want every legislator to be involved."
Tax matters require a two-thirds vote for passage instead of a majority. That means at least 14 of 21 senators must vote yes and 28 of 42 Assembly members must approve.
Republicans hold a slim one-seat majority in the Senate, 11-10. The GOP has 25 seats compared to 17 for Democrats in the Assembly. The Republican caucus is divided between moderates and conservatives, most of whom have said they oppose tax hikes, making the lower house a potential obstacle to revenue-raising tax reform.
The Republican Assembly Caucus has been in turmoil since the GOP won control of the lower house in the Nov. 4 election.
Hambrick was voted in as the GOP caucus leader and incoming speaker after Assemblyman Ira Hansen, R-Sparks, stepped down amid criticism he received for racist and sexist columns he wrote two decades ago. Hanson had replaced former Assembly Minority Leader Pat Hickey, R-Reno, a moderate ousted by the conservative contingent.
Hambrick was asked Monday about whether he can bridge the divisions in the GOP caucus. He expressed confidence lawmakers will focus on Nevada's needs once the session gets underway instead of engaging in power struggles.
"I believe that as we approach the session, members of my caucus will realize we have the people's work to do," Hambrick said. "So I think, as the gavel comes down Feb. 2, we'll be attuned to what the people need."
Hambrick, who has expressed support for Sandoval, said Assembly Republicans realize that education will be "of premiere importance" this session and in the end "we'll come up with a consensus."
The lawmakers agreed all potential taxes are on the table and they didn't strongly favor any specific proposal yet.
Still, Kirkpatrick said she's intent on reforming property taxes as well as the live entertainment tax, which she said is better described as a "luxury" tax because people spend disposable income on entertainment.
Now, big outdoor events such as the Electric Daisy Carnival, Burning Man and even NASCAR events aren't subject to the tax. Kirkpatrick would like to broaden the sales tax to include such events.
She also said lawmakers must look at all the tax exemptions the state has allowed over the years and get rid of some.
Ford said that Assemblywoman Pat Spearman, D-North Las Vegas, was developing a broad tax reform plan that could include expanding the sales tax on goods to services, a proposal that could bring in millions or even billions of extra revenue, depending on how broadly it would be applied.
"Our constituents, frankly, want to see business pay their fair share of taxes," Ford said. "The bottom line on taxes is we need new revenue in this state."
Kirkpatrick cautioned that 35 other states have tried some form of taxes on services and have not been very successful, partly because such a levy is complicated to apply and there often are many exemptions as well. She suggested Nevada take its time in moving to approve service taxes. The other legislative leaders also appeared leery of such a services levy.
"I think a services tax is a ways off," she said. "And hopefully future Legislatures will have to move in that direction. … I think you have to take baby steps" in reforming the tax system to ensure stable revenue sources.
Roberson, after the forum, said the Modified Business Tax, or payroll tax, has proven easy to understand and enforce and has been a stable tax on business. He suggested it could remain in place and tweaked under tax reform — something a Tax Foundation study has recommended as one option for Nevada to consider. The study was commissioned by the chamber.
"The MBT has been a system that has worked," Roberson said, saying it could be "here to stay."
The Tax Foundation study suggested one option would be to get rid of exemptions to the MBT tax, which now is applied only to companies with more than $85,000 in quarterly wages. The rate is 1.17 percent for businesses and 2 percent for financial institutions. The study said applying a 2 percent rate across the board could raise about $400 million.
On the agenda
The legislative leaders dealt with issues beyond tax reform during the Monday forum, including:
■ School bonds. Ford said he backs rolling over school bonding authority from 1998 to allow immediate school construction, with Clark County alone needing some two dozens schools to accommodate growing student enrollment. Roberson said incoming GOP Sen. Becky Harris has asked for a bill draft to do just that. And recently, Sandoval said he, too, would back such an idea. As a result, lawmakers appear poised to quickly pass such a measure early in the session.
■ Education. School choice, more charter schools, all-day kindergarten, smaller class sizes, more English Language Learning, expanding the zoom school program to boost poor performing schools, promoting STEM learning, or Science, Technology, Engineering and Mathematics, approving a new school funding formula, building a medical school at UNLV. These are just some of the top priority education reform issues Sandoval and the Legislature plan. "It will be profound. It will be bold," Roberson said of the governor's education reform plans without offering details.
■ Collective bargaining, Public Employees Retirement System and other reforms. Roberson said he expected the Assembly to take the lead on such issues, which could rile unions. He said he had no interest in engaging in a "perceived war on public employees." "We are not going to gut collective bargaining," he said. "We are not going to gut PERS. What we need to look at are the excesses that we identify in the system."
■ Tort reform, including for construction defects. Roberson said this is a top priority and he already has seven bills dealing with tort reform, or changes to the legal system to reduce costs and provide consumer protection.