Ruben Kihuen criticized for campaign donation appeal based on gun control sit-in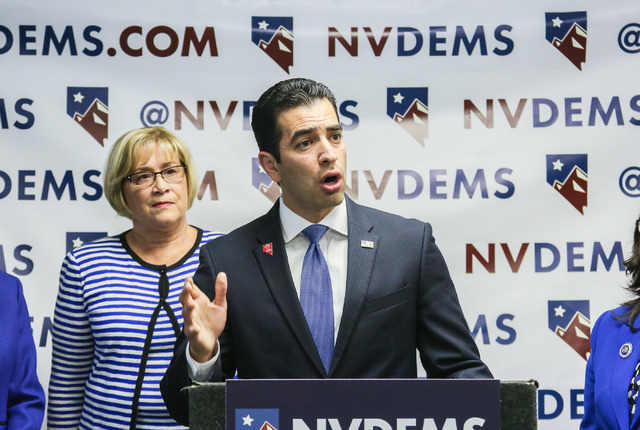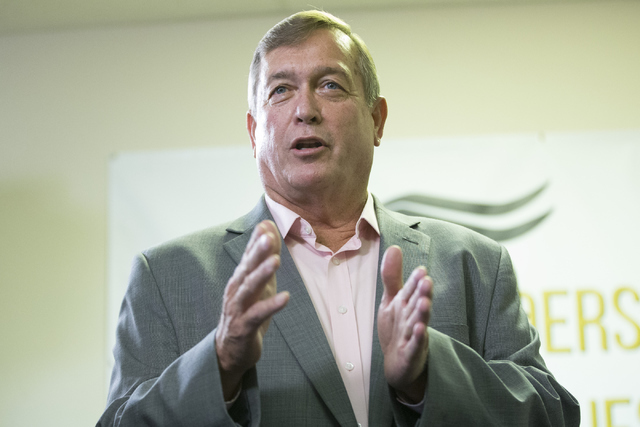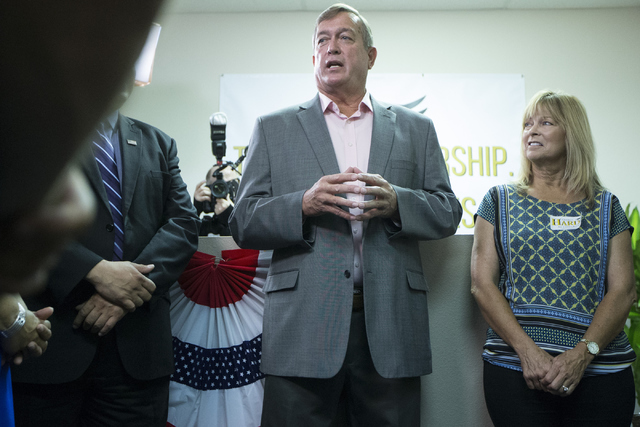 The campaign of U.S. Rep. Cresent Hardy, R-Nev., is attacking Democratic rival Ruben Kihuen for an email solicitation that Kihuen's campaign sent to supporters last week for campaign donations.
The email highlighted the sit-in that House Democrats staged on the floor in a bid to get a vote on gun control legislation.
The House sit-in came after the June 12 mass shooting at an Orlando, Florida, gay nightclub that left 49 people dead. The Kihuen email, which featured a photo of the sit-in from the House floor, called gun violence a "plague on our society" and asked for donations ranging from $5 to $50.
Hardy faces Kihuen, a state senator, in the 4th Congressional District race.
"Only a career politician would try to fundraise off of a national tragedy, and it's typical that he would be against common sense solutions to the Fourth District's problems," Ross Hemminger, Hardy's campaign manager, said in an email. "The only thing more transparent than Ruben's canned talking points is his effort to distract voters from his record as a do-nothing legislator."
Hemminger also questioned the use of a photo taken from the House floor, saying Kihuen is "already breaching the ethics rules that govern Congress."
Kihuen's campaign said the ethics rule in question applies to current members of Congress, not candidates, and concerns broadcast coverage, not still images. The campaign also pointed to a picture on Hardy's website that shows Hardy shaking hands with House Speaker Paul Ryan, R-Wis., on the House floor.
Hardy's campaign removed the photo from the website. Hardy's campaign said the picture's removal wasn't because of any concern over the website violating rules and that pictures from future events will be interchanged throughout the campaign.
In a statement, Kihuen campaign manager Dave Chase said: "Last week, Congressman Hardy, Speaker Paul Ryan and House Republicans blocked a vote that would keep guns out of the hands of suspected terrorists, so it's no surprise Hardy is now trying to distract from his support for keeping this dangerous loophole open. Ruben Kihuen is an advocate for commonsense gun violence prevention that will keep Nevadans safe, and he's going to hold Congressman Hardy accountable for his shameful record of inaction."
Kihuen's campaign pointed out that his solicitation didn't directly mention the Orlando shooting, only the House sit-in.
Chase criticized Hardy for opposing expanded background checks on gun sales while a state legislator, saying Hardy's campaign "is desperately spewing false accusations to distract from his own record. Ruben and his supporters take this issue very seriously, and they've shown that in many different grassroots ways, from online petitions to social media to small-dollar donations."
Contact Ben Botkin at bbotkin@reviewjournal.com or 702-387-2904. Find @BenBotkin1 on Twitter.