Sandoval names lieutenant governor to Nevada homeland security panel
November 17, 2015 - 2:39 pm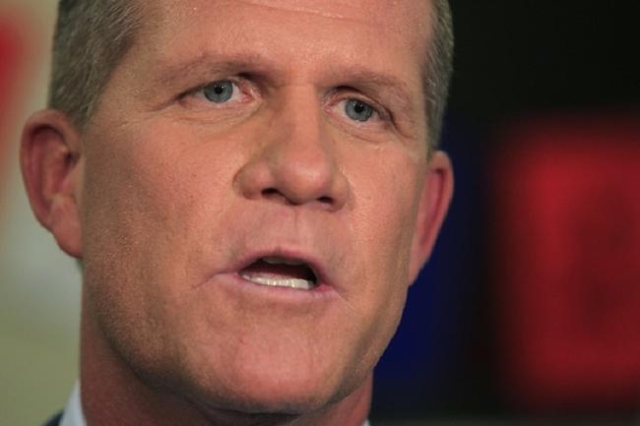 CARSON CITY — Gov. Brian Sandoval on Tuesday appointed Lt. Gov. Mark Hutchison to the Homeland Security Commission and also re-established the Homeland Security Working Group, a panel of subject matter experts to assist the panel.
The announcements come just one day after Sandoval called on President Barack Obama not to send any Syrian refugees to Nevada until the administration completes a review of protocols for eligibility and security but the timing was said to be coincidental.
In a letter to the White House sent Monday, Sandoval said that after a review of federal regulations over resettlement, "I am encouraging you to make a further review and to consider necessary refinements to these policies and practices given the recent tragedy in France."
Sandoval, unlike most other governors around the country, appointed himself as chairman of the Homeland Security Commission, which has more than a dozen other members, including Clark County Sheriff Joe Lombardo and Gregory Cassell, chief of the Clark County Fire Department.
"The Governor's Commission on Homeland Security plays an important role in ensuring Nevada remains prepared and secure from foreign and domestic threats," Sandoval said. "I am confident Lieutenant Governor Hutchison's experience and commitment to service will be a tremendous asset to the commission."
The Homeland Security Working Group will be comprised of no more than 30 voting members appointed by Sandoval, and will include the chief of the Division of Emergency Management as a nonvoting member.
Representation will include the cities of Henderson, Las Vegas, North Las Vegas, Clark County, the Clark County School District and Las Vegas police, among others from around the state.
Hutchison said of his appointment: "I am eager to work with my fellow commission members to keep Nevadans and our infrastructure safe. At such a critical time when Nevadans need leadership and security, I'm grateful that Governor Sandoval has entrusted me with the safety and well-being of our great state."
The role of the working group is to bring together subject matter experts from state agencies, law enforcement, tribal representatives, first responder organizations, and local government to participate in an open and collaborative vetting process to select projects eligible for receiving State Homeland Security Grant Program funding for the current federal fiscal year.
Sandoval's letter to the president was stronger than a public statement he issued earlier in the evening, when he said he asked state agencies to determine how many refugees are currently in Nevada and would evaluate the situation after a response from the federal government.
"It is in the interest of all Nevadans and the millions who travel to our state annually to insist on extensive evaluations of any potential risk individuals may pose to Nevada or our national security," Sandoval, a former federal judge, said in a statement.
Contact Colton Lochhead at clochhead@reviewjournal.com or 702-383-4638. Find him on Twitter: @ColtonLochhead
Contact Sean Whaley at swhaley@reviewjournal.com or 775-687-3900. Find him on Twitter: @seanw801