Second RiSE Lantern Festival set for Southern Nevada desert, this time with parking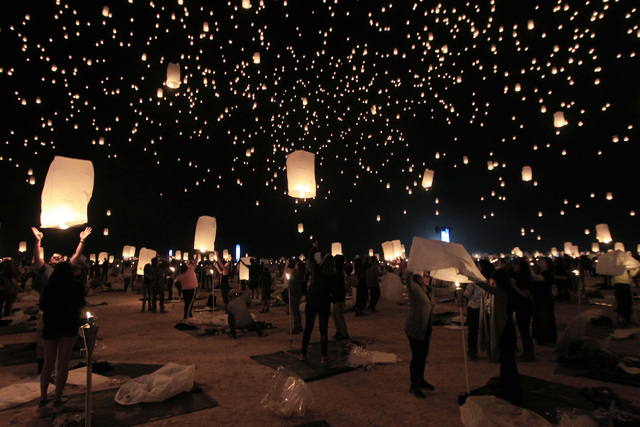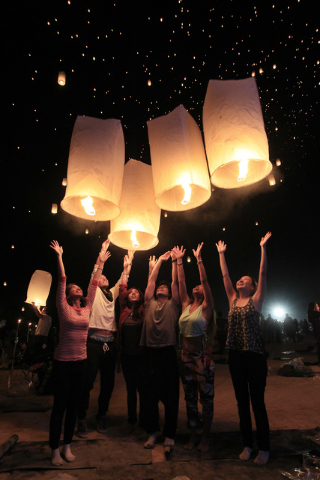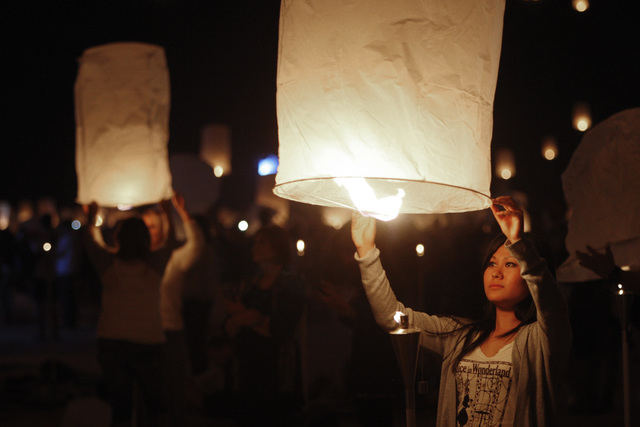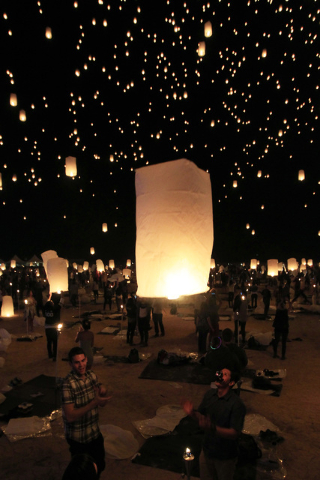 After hourslong bus delays left thousands stranded following Southern Nevada's first RiSE Lantern Festival, event organizers plan to light up the night sky in a new location — and out of the watchful eye of a federal agency.
RiSE V2.0 is set for Oct. 10 at the Moapa River Indian reservation, 35 miles northeast of Las Vegas. Organizers applied for the same spot they used last year — a dry lake bed outside Jean, about 30 miles south of Las Vegas — but the Bureau of Land Management turned them down because of "several concerns."
Not the least of those was RiSE planners' failure to get people to and from the event in a timely and efficient manner, BLM spokeswoman Shonna Dooman said.
Many of the estimated 10,000 attendees last year had to wait nearly four hours for shuttles to take them back to their vehicles parked 11 miles away at the Gold Strike in Jean.
But no one will have to wait to get out this year, event organizers promise. The new site will feature on-site parking.
RiSE organizers announced Tuesday that they have "reimagined the event layout and logistics to elevate the attendee experience, with a new location, convenient parking, and a more streamlined lantern release plan."
Event co-founder and co-owner Dan Hill said Friday that he explained to angry festivalgoers last year he wasn't trying to scam anyone. It was the first event of its kind and RiSE staff made mistakes.
But this year will be better, he said.
"We were trying to get 10,000 people to the middle of the desert and we just miscalculated that at the end of the day," he said.
Dooman said another concern was the amount of time it would take BLM staff to process the permit, coordinate with other agencies and monitor the festival in terms of public safety and resource protection.
The BLM's Southern Nevada District Office is revising a 2,200-page resource management plan, Dooman said. On top revising the document, addressing the issues with the 2014 event would take about a year.
The BLM's coordination with agencies like Metro, the Clark County Fire Department, the Nevada Department of Transportation and the Federal Aviation Administration would take even longer this year because of the concerns it would need to address from last year's event, primarily transportation, Dooman said.
So RiSE moved its application date to 2016, resolving to hold this year's festival at the Indian reservation instead.
The reservation, next to the Valley of Fire State Park, is owned and operated by the Moapa Paiute tribe. Event organizers don't need state or federal permits there.
Michelle Underwood, who attended last year's event with her now 69-year-old mother, 6-year-old daughter and 40-year-old sister, said she won't go again if organizers don't shape up.
Underwood said her family members were not given the lanterns they bought and that if it weren't for a friendly neighbor didn't give them one, her daughter wouldn't have had anything to release. She described the traffic after the festival as "a nightmare."
"It was a really cool event. It was magical," Underwood said. "But as the mom of a young child, unless we were guaranteed better planning, I wouldn't go."
This year parking will be available on-site for $20 per vehicle. Shuttles from the Strip will cost $34 per person.
But there will be some exceptions, Hill said. People who attended last year will not have to pay for parking this year.
At the festival, attendees are expected to release more than 20,000 fire-safe, biodegradable lanterns. In accordance with the company's "commitment to environmental sustainability," the used lanterns will be cleaned up within 48 hours of the event's end," RiSE said in a statement.
Cleanup caused a bit of a stir in 2014. Several videos posted to Facebook the morning after the October event showed used lanterns strewn across the desert and stuck in shrubbery.
Event coordinators took about 24 hours longer than their predicted two-day clean-up time frame, Dooman said, but they did a decent job of cleaning up overall.
But even with last year's problems, it looks like Hill and his colleagues have found a market.
RiSE staff contacted last year's festivalgoers about noon Tuesday to announce that their tickets, at discounted presale price, would be available the next day. Hill said 2,000 of last year's attendees registered Wednesday.
In last year's presale, it took three weeks to sell one-third of the available tickets, Hill said. This year's presale tickets to the general public went on sale Thursday and sold out in nine minutes.
Tickets will go back on sale Wednesday and will cost $80 to $100. Children under 3 can get in for free.
Contact Kimber Laux at klaux@reviewjournal.com or 702-383-0381. Follow @lauxkimber on Twitter.