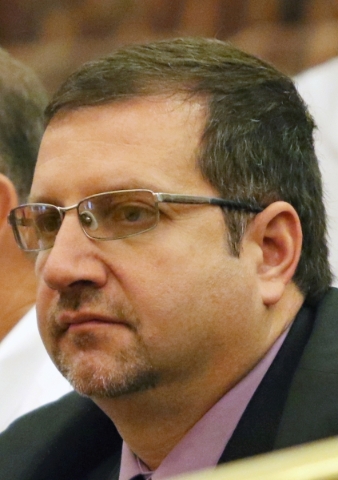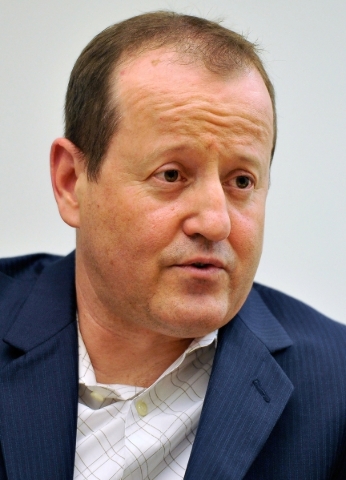 Clark County's top boss and its largest union have struggled in recent years to forge a functioning relationship.
Both sides say they're willing to communicate, even after a two-year stretch of stalled labor negotiations for the 4,672-employee union went to an arbitrator this month for a final decision on a contract.
Yet frustrations have spilled out beyond the bargaining table, emerging in public meetings and email exchanges that extend beyond the normal back-and-forth of negotiations.
The arbitrator will determine salary increases for employees and possibly determine if future employees will be eligible for longevity pay. Sticking points also include whether to end longevity pay for future employees, which workers get after eight years. Ending that would save more than $133 million in 30 years, the county says.
For County Manager Don Burnette, getting a collective bargaining agreement finalized with the Service Employees International Union has been elusive, despite success with other unions.
For union President Martin Bassick, a favorable deal from the arbitrator wouldn't be the first favorable outcome under his leadership, which started in 2013. But it would likely be his — and the SEIU's — hardest fought contract.
Email exchanges
In August 2014, county tensions built up over a perceived lack of specifics about safety concerns after the SEIU and Family Services employees brought a petition to county commissioners. The petition, which cited heavy worker caseloads, was signed by more than half the department's SEIU-represented employees.
In an Aug. 29, 2014, email, Burnette vented when county spokesman Erik Pappa told him a Review-Journal reporter was delaying a story so the union could respond.
"You mean the same Union that won't get back to me after 5 weeks?" Burnette emailed back. "You mean the same Union that said they won't talk to the media any further for fear of retaliation?"
Burnette added: "This is complete bull—-."
In September 2014, the union filed a complaint with the state Employee-Management Relations Board about safety concerns, also alleging employees were targeted for speaking out. Burnette wrote the union attorney, asking for more details.
"The majority of the workers really felt that there was a problem," Bassick said, adding they brought it to management's attention.
Aside from the heavy caseloads, Burnette said he still doesn't know what the safety concerns were.
The complaint ended July 13. Under the settlement, two staffers were demoted or transferred elsewhere in the agency. The redacted two-page deal doesn't name staff or describe the circumstances.
Strained relationship
The differences can extend into the basics of negotiating.
The union has complained that Burnette hasn't been present during bargaining as requested. In response, the county said the union asked for "someone from the county with authority to get the contract done" — and Yolanda King, the county's chief negotiator, is authorized.
An email exchange between Bassick and Burnette in April 2014 shows that the two disagreed about whether wage concessions in 2009 were intended to prevent layoffs. Bassick said they were made to prevent layoffs, while Burnette said no one ever promised that and layoffs were unavoidable, given the county's deficit.
"What I will say is that we need to get past this apprehension," Burnette emailed, stressing the need for a new contract.
In an interview last week, Burnette said: "It's extremely frustrating."
"Since January 2011, the county has successfully negotiated 26 agreements with only one, being SEIU, having gone to arbitration," he said, calling it a good track record.
The arbitrator's decision might come in August. But a new contract might not end the dispute.
The county froze salaries in June, saying a new state law required that because the contract had expired in 2013. The union filed a complaint with the state to undo that action. If the contract doesn't make whole the employees who lost scheduled raises, the complaint will progress.
Bassick said the union has a good relationship with other employers and is always willing to meet county leaders. The union recently struck a tentative five-year contract with the Regional Transportation Commission without arbitration.
Bassick also pointed to times the union has prevailed. In 2014, an arbitrator preserved longevity pay for future SEIU-represented county staff at University Medical Center after commissioners initially rejected a tentative deal.
If the county loses the latest complaint, Bassick said, it will face costs that could have been avoided.
"What's the cost to the taxpayer?" Bassick said. "How much does it cost for someone like Mark Ricciardi — (the county's) outside legal counsel — to come in and litigate this?"
Bygone bargaining wars
Al Martinez was president of the union from 2008 to 2013.
Martinez said Burnette was straightforward, though they disagreed. The county in 2011 filed a labor complaint, accusing the union of stalling and not bargaining in good faith.
But like two karate fighters bowing before a match, they respect each other.
Burnette said Martinez was a tough negotiator, but they had a solid relationship. Martinez said he's surprised at the length of the latest negotiations, adding he's not privy to the union's strategy.
"I would say that working with Don was really good," Martinez said. "Don't get me wrong — some days I would get upset with him, and he would get upset with me. But it never got to the point where we attacked each other."
Contact Ben Botkin at bbotkin@reviewjournal.com or 702-387-2904. Follow @BenBotkin1 on Twitter.