Senators warn VA to keep hands off Filipino fund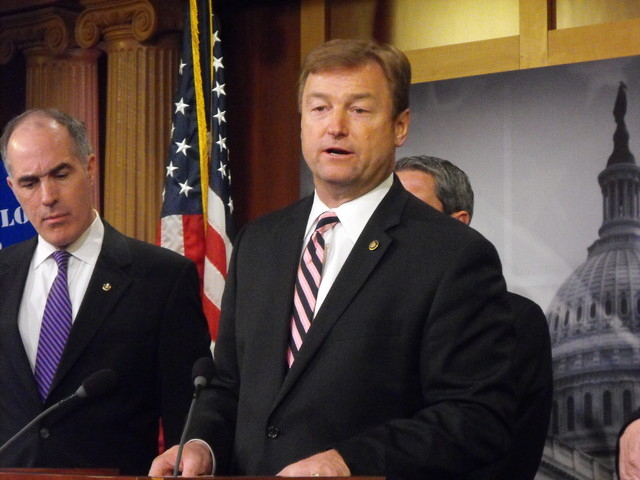 WASHINGTON — Key senators on Wednesday warned the Department of Veterans Affairs against diverting money from a Filipino veterans fund to rescue a hospital project in Colorado or any other purpose.
The senators — including Harry Reid and Dean Heller of Nevada — said the VA did not provide a suitable explanation for its request to reprogram $150 million from various accounts including $35 million from the Filipino Veterans Equity Compensation fund.
Congress ended up passing legislation Friday granting VA the money it needed to keep alive a troubled hospital project in Aurora, Colo., without tapping the Filipino veterans account.
In a letter to VA Secretary Robert McDonald, Sens. Mazie Hirono of Hawaii, Heller and Reid warned the agency think twice before proposing another transfer from the account.
"We remain concerned as to why the FVEC was proposed in the first place and also that VA may consider reprogramming funds from the FVEC in the future," the senators said in the letter sent Tuesday. They said the VA proposal was "an affront" to the veterans.
The compensation fund was established in 2009 for one-time payments to soldiers, guerrillas and scouts who fought alongside Americans in World War II.
Distributions from the fund hit a snag however. Close to 43,000 claims were filed by a September 2010 deadline but only 18,929 were found eligible, according to VA figures.
About $56 million remains unspent while lawmakers from Hawaii, Nevada and California — states with substantial numbers of Filipino-Americans — try to reopen the payment program.
Rep. Dina Titus, D-Nev., who also protested the VA's transfer plan, said she was in a meeting with McDonald last week in which the VA secretary said there would be enough money remaining in the Filipino veterans fund to pay out the number of applications expected to be received at this point.
"He said that still left enough in there because not enough people were coming forward," Titus said. "My concern is not enough people were coming forward because either they don't know about it or they're not qualified. I want to make sure they are covered."
Contact Review-Journal Washington Bureau Chief Steve Tetreault at stetreault@reviewjournal.com or 202-783-1760. Find him on Twitter: @STetreaultDC.