Sharron Angle to leave political action committee as she campaigns for U.S. Senate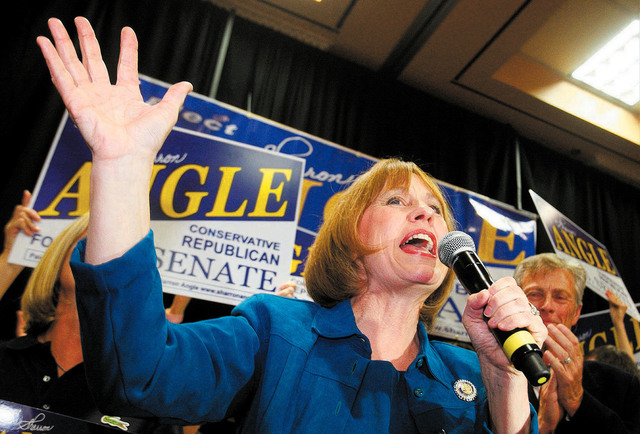 Sharron Angle will leave Our Voice PAC as she campaigns for U.S. Senate.
An Angle spokesman told the Las Vegas Review-Journal on Wednesday that a press release will be released soon that outlines the details, including who will lead the political action committee.
The Republican candidate, a tea party favorite, is making another run for the Senate seat that she lost in the 2010 general election to incumbent U.S. Sen. Harry Reid, D-Nev.
"Our Voice (PAC) will have absolutely no involvement in the U.S. Senate race in Nevada," spokesman Todd Bailey said.
In the GOP primaries on June 14, Angle will face Republican competition, most notably from U.S. Rep. Joe Heck, R-Nev. The leading Democratic contender is Catherine Cortez Masto, a former Nevada attorney general. Reid, who isn't seeking re-election, is supporting Cortez Masto.
In the 2010 election, Angle had 44.5 percent of the votes compared with Reid's 50.3 percent.
Our Voice PAC helped Stop the Sandoval Tax, a state PAC, in voter outreach efforts in 2015, when it opposed efforts of the Nevada Legislature in passing a $1 billion-plus tax increase backed by Gov. Brian Sandoval that raised money for public education. Bailey was chairman of the state PAC.
Our Voice PAC, which started in 2011, reported receiving $45,456.57 in donations and spending $153,549.62 in 2015. It reported $1,796 cash on hand at the end of 2015.
PACs aren't allowed to coordinate with campaigns directly, but can spend in support and opposition of candidates.
The name of who will take over the PAC wasn't available Wednesday. Bailey said the PAC, which also has supported candidates, is "going to keep doing exactly what it's been doing."
Angle is leaving for practical reasons tied to the demands of a full-time campaign, Bailey said.
"Sharron Angle is completely focused on winning the Harry Reid seat in the U.S. Senate," Bailey said.
Contact Ben Botkin at bbotkin@reviewjournal.com or 702-387-2904. Find him on Twitter: @BenBotkin1