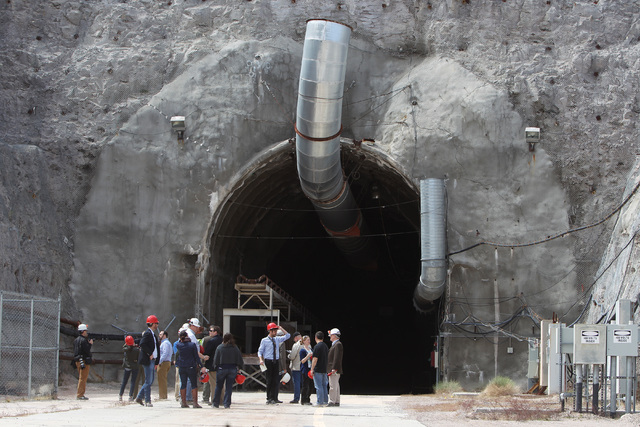 CARSON CITY — The state Board of Examiners on Tuesday approved $2.5 million more for Nevada to keep fighting against a proposed high-level nuclear waste dump at Yucca Mountain.
The contract with the Virginia legal firm Egan & Associates increases the maximum amount to $7.5 million and extends it through Sept. 30, 2017.
The contract extension comes after Congress last week held another hearing on Yucca Mountain despite the project being declared dead by U.S. Sen. Harry Reid.
"I think it is money well spent," said Gov. Brian Sandoval, a board member. "I have, in my entire public service career, been opposed to the Yucca Mountain project and will continue to do so.
"As long as there is a possibility that that project could be built I think the state of Nevada has to continue to be vigilant and aggressive in terms of preventing that from happening," he said.
Sandoval last week sent a letter to the House Subcommittee on Environment and the Economy, which heard the issue, to reiterate Nevada's steadfast opposition to the project for scientific, technical and legal reasons.
The latest effort to revive the project is in legislation in the house that would allot the U.S. Department of Energy $150 million to continue an application process to license Yucca Mountain as a nuclear storage facility.
Contact Sean Whaley at swhaley@reviewjournal.com or 775-461-3820. Find him on Twitter: @seanw801