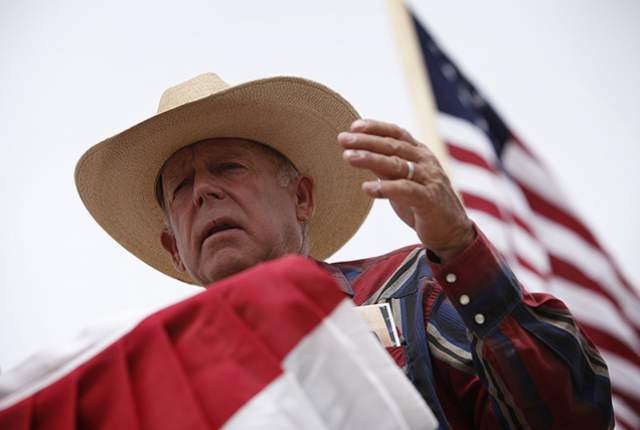 State transportation officials are refuting rancher Cliven Bundy's claim that they are ultimately responsible for keeping his cattle off Interstate 15 in northeastern Clark County.
In a statement Thursday, Mary Martini, district engineer for the Nevada Department of Transportation in Las Vegas, said that while the state maintains the fences along I-15 to "designate the right of way" and control access, "it is always the responsibility and liability of the owners to control their animals."
The dispute could be headed for court.
Bundy was sued for negligence this week by a 34-year-old Las Vegas woman injured when her car hit one of the rancher's cows on I-15 about 10 miles from his Bunkerville ranch.
The April 14 crash came two days after Bundy and his armed supporters made national news by forcing federal authorities to abruptly abandon an impound operation on public land where the rancher has been raising hundreds of cows without paying grazing fees for more than 20 years.
The collision with the cow sent Danielle Beck and her boyfriend, Matthew Zanatta, to the hospital.
According to the Nevada Highway Patrol's accident report, authorities at the scene had to herd four other cows off highway through a hole in the fence.
Beck's lawsuit in Clark County District Court seeks at least $20,000 for medical expenses, lost income and other damages.
On Wednesday, Bundy acknowledged the cow on the highway but said he bears no responsibility for the accident. He said the state is responsible for maintaining fences along I-15, so that's where the liability lies.
"It's a state problem. It's not our problem," Bundy said.
To reach the interstate from Bundy's 160-acre ranch along the Virgin River, his cattle must cross miles of federal land for which the rancher holds no valid grazing permits. Twice since 1998 a federal judge has ordered Bundy to remove livestock from government range or risk having them impounded.
Contact Henry Brean at hbrean@reviewjournal.com or 702-383-0350. Find him on Twitter: @RefriedBrean.