State's new health and human services director poised for challenges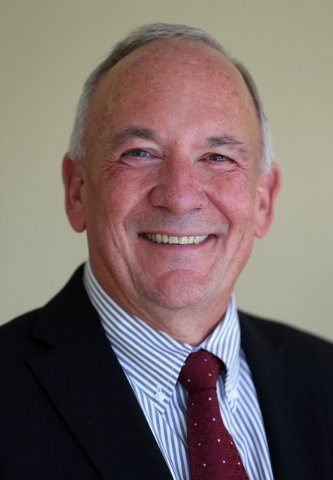 Romaine Gilliland put his retirement on hold.
The 67-year-old was appointed by Gov. Brian Sandoval in June as director for a state department now facing several challenges and big projects. As head of the Nevada Department of Health and Human Services, Gilliland oversees about 5,424 full-time employees.
Requiring his attention: a struggling mental health system, a backlog of autistic children awaiting desperately needed services, a Medicaid expansion still enrolling those who are eligible, and issues with the Silver State Health Insurance Exchange that arose after the state recently ended its relationship with Xerox, the vendor contracted in 2012 to build the Nevada Health Link website.
Looming over it all is the approaching legislative session in which the department will need to make a case for additional funding to tackle its highest priorities.
"HHS will have a lot on its plate," said Mike Willden, Gilliland's predecessor and now chief of staff for Sandoval. "I think I'm leaving (the department) in good hands."
Willden, who recommended Gilliland for the position, said the job requires someone who already knows the department's ins and outs and has experience working with lawmakers during legislative sessions.
Gilliland received his bachelor's degree from the University of Nevada, Reno and is a licensed certified public accountant.
The legislatively approved director's salary is $127,721, said Mary Woods, spokeswoman for the state Department of Health and Human Services. The department's budget for 2013-15 is $7.4 billion.
Gilliland worked under Willden as administrator for the Division of Welfare and Supportive Services. He retired in 2012.
The pair also intermittently worked together in the state's Department of Employment, Training and Rehabilitation. Gilliland held financial positions in the Department of Health and Human Services and in the Department of Employment Training and Rehabilitation. He also served as the interim Health and Human Services director for Carson City.
Gilliland said one of his priorities is to continue to improve the state's mental health system. Five of 16 recommendations made by the Behavioral Health and Wellness Council formed by Sandoval in December were launched last week and will continue to roll out in the coming months to expand mental health services, mostly in Southern Nevada.
Gilliland said he will push to have the remaining recommendations funded and implemented.
His other priorities include coordinating elements associated with the Affordable Care Act, such as the Medicaid expansion and the Silver State Health Insurance Exchange. He also wants to secure more funding for food programs for the needy.
Gilliland, who also has private-sector experience, said he wants the department to move toward a service model that allows the needs of people to be identified and met at one time, in one place.
He acknowledged that it will be challenging to make a case for increased funding to the 2015 Legislature. The key, he said, is to "clearly convey the (department's) needs and the steps to meet those needs."
"That's probably key for a successful legislative session," he said.
Gilliland said he wants to maintain the continuity and trust that Willden developed in moving the department forward. Willden became Health and Human Services director in July 2001. He will continue overseeing the efforts of the Department of Health and Human Services in his new capacity.
"We have a lot on the table," he said.
In replacing Xerox, the state will adopt the federal healthcare.gov system for eligibility and enrollment functions. The sign-up period starts Nov. 15. The state's Medicaid system will need upgrades to transfer accounts to and from the federal system.
That will be a "big project in the next several months," Willden said.
Gilliland also must work on securing funding to remodel or build a 56-bed facility to house those who committed crimes as juveniles but were tried as adults, Willden said.
Also, the department needs to continue enacting improvements "to get to a point where we want to be with mental health," he said.
Contact Yesenia Amaro at yamaro@reviewjournal.com or 702-383-0440. Find her on Twitter: @YeseniaAmaro.