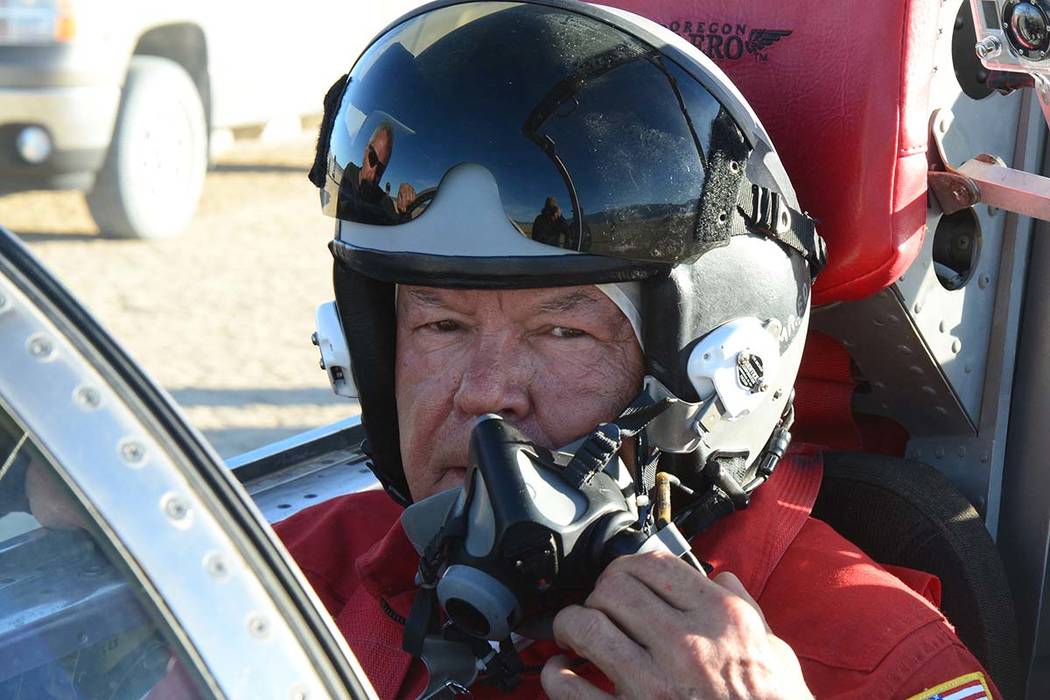 If a bunch of hot-rodders still hope to break the world land speed record on a Nevada dry lake bed, they will have to do it without their leader.
Edward Joseph Shadle, owner and lead driver for the North American Eagle team, died Sept. 7 after battling cancer. He was 77.
Shadle made headlines in December, when the Bureau of Land Management granted his Parkland, Washington-based team a permit to set up a temporary 16-mile-long test track on Diamond Valley Playa, a dry lake bed in Eureka County, about 350 miles north of Las Vegas.
That's where the group hoped to convene this fall to race past the current land speed record of 763 mph — and break the sound barrier in the process — in a jet-powered car built from the bones of an F-104 Starfighter once flown by Air Force test pilots.
"We'll actually go supersonic," Shadle told the Review-Journal late last year.
North American Eagle announced Shadle's death on its website. "In his final days, he was surrounded by family and friends," the notice said.
Keith Zanghi, Shadle's business partner and best friend for 22 years, said their quest for the record would continue.
The team spent the week after Shadle's death in the Alvord Desert of southeastern Oregon, where driver Jessi Combs powered the North American Eagle up to 483 mph during a shakedown run.
The needle-shaped rocket car was developed and refined over the past two decades by an all-volunteer crew Shadle described last year as "a bunch of local hot-rodders."
Zanghi said they are done testing the car for the year, but next year Diamond Valley Playa will be their first choice as they resume their pursuit.
The dry lake bed about 25 miles north of the town of Eureka proved "too soft" to race on this year, Zanghi said.
The current land speed record back was set in 1997 by a British team in Nevada's Black Rock Desert, site of the annual Burning Man festival.
The North American Eagle team zeroed in on Diamond Valley Playa because of its smooth surface and remote location, which makes it easier to secure for long test runs.
"Hopefully that's where we'll be setting records," Shadle said last year.
The retired IBM systems analyst who grew up around race cars had hoped to be at the controls of the North American Eagle as it powered toward worldwide fame.
When asked about risks involved in driving a car faster than the speed of sound, the then-76-year-old just shrugged.
"Getting old is dangerous too," Shadle said.
Contact Henry Brean at hbrean@reviewjournal.com or 702-383-0350. Follow @RefriedBrean on Twitter.
BELOW: A video from December describes the land speed record attempt.