They were promised help with mortgage payments. Then they got a foreclosure notice
August 30, 2023 - 9:57 am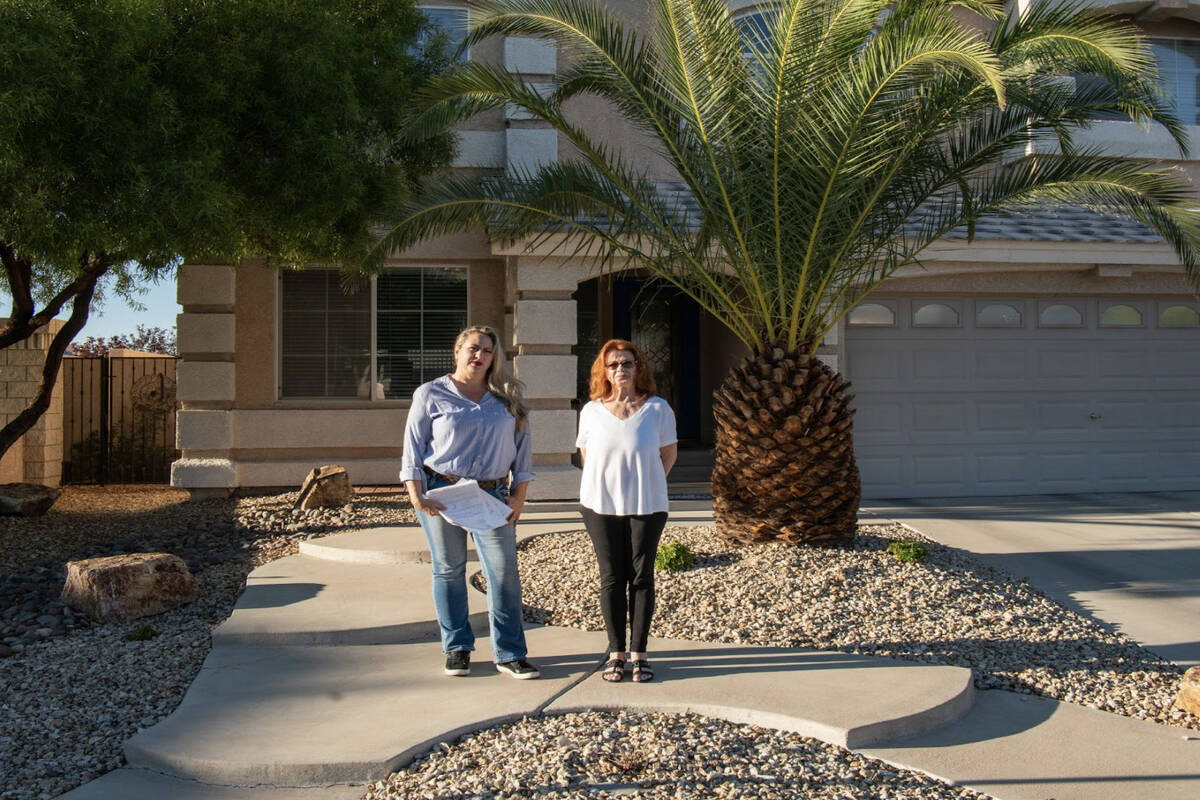 When Noelle Geraci lost her job at a private investment firm this year, she did everything she could to protect her most important asset: the house she owns with her mother in a Las Vegas suburb.
That same day she started applying for work and signed up for unemployment benefits. Then she called her mortgage company, Flagstar Bank, to see if it would reduce or pause her payments until she found another job. The bank recommended she apply to the Nevada Homeowner Assistance Fund, a pandemic-era program to help the unemployed with their mortgage payments.
Geraci and her mother, Shirley, who had co-signed the loan for the 2,300-square-foot stucco house in 2011, were reluctant to ask for help. Under Nevada's program rules, the assistance is paid as a loan that's forgiven after three years if the homeowner stays in their house.
They were also unsettled that the program required a three-year lien in exchange for the assistance. The lien was meant to ensure that the program would be reimbursed if they tried to sell the house or take out equity within three years, but it also could deprive them of flexibility in tough financial times.
But with Shirley Geraci retired, her daughter job hunting in a city with one of the highest unemployment rates in the nation and interest rates too high to make a loan modification work, they decided to apply. They qualified for up to a year's worth of mortgage payments. The small nonprofit that runs the program in Nevada would make the monthly payments for them. It felt as if an unbearable weight was lifted.
Then a foreclosure notice arrived in the mail. The money that was supposed to flow from the U.S. Treasury, through Nevada's assistance program and to their bank hadn't reached Flagstar. And Noelle Geraci couldn't get anyone to explain what was going on.
"It's a complete nightmare," she said. "My mom is a senior. Me losing my job has impacted us in a severe way. The one and only thing we have is our home. Everything we have is about to be gone."
To distribute its share of the federal money, the state had chosen the Nevada Affordable Housing Assistance Corporation, a small nonprofit with a troubled history of administering federal assistance.
To keep their home, the Geracis were relying on NAHAC to deliver money to their mortgage servicer on time each month. But the bureaucratic chain connecting the Treasury, state agencies and banks can create delays. They soon learned that when payments are late, homeowners bear the risks.
Nevada's isn't the only program plagued by issues. This year, The Wall Street Journal detailed problems in multiple states similar to those the Geracis would face. In Pennsylvania, those seeking help used the same word as Noelle Geraci to describe the program: nightmare.
'I don't want to lose my house'
After the Geracis were approved for up to a year's worth of assistance in May, NAHAC told them to stop paying their mortgage because the program would do it for them.
The foreclosure notice came in July: "Flagstar Bank is hereby notifying you that your above described loan is in default because the required payments have not been made," the letter read.
Shirley Geraci panicked.
"I don't want to lose my house," she told ProPublica soon after the notice arrived. "I don't want to end up in an apartment and lose everything we built."
"It's our investment," she added. Eventually it will be her daughter's if "life plays out the way it is supposed to."
The foreclosure warning spurred a round of phone calls that elicited conflicting information from her bank and NAHAC. A NAHAC representative told Noelle Geraci not to worry about the notice, but the bank said if the family didn't pay the arrears the foreclosure would proceed.
When Geraci told NAHAC that "the foreclosure is real; the clock is ticking," the nonprofit was unable to tell her when or how much it had paid Flagstar and why the payment hadn't yet been applied to her account, she said. And it wouldn't provide anything in writing.
Shortly after a ProPublica reporter called the bank, a Flagstar representative contacted Geraci to assure her she wouldn't be foreclosed on but, like NAHAC, told her it couldn't provide that assurance in writing. A few days later, the bank called Geraci to say it had received payments for May and June, but the amounts were less than required. She also was told that if the bank didn't soon receive payments for July and August, she would likely receive another foreclosure notice. In August, a letter informed her that she was again behind on payments.
"I don't have any certainty," Geraci said.
A Flagstar spokesperson said in a statement to ProPublica that despite the late and incorrect payments, the Geracis won't face foreclosure. She said Flagstar will work directly with NAHAC to bring the mortgage current and will stay in contact with the Geracis.
Flagstar later confirmed it had received funds to bring the Geracis' mortgage current.
"We would also like to clarify that no foreclosure was ever started on the loan, and that no negative credit reporting was made," the spokesperson said.
The spokesperson said Flagstar is a "strong supporter" of the assistance program.
Program ends in September 2025
Verise Campbell is NAHAC's chief executive officer. She was appointed in 2016 to improve the nonprofit after a federal audit found previous leadership had squandered federal aid to homeowners caught up in the 2008 foreclosure crisis.
Campbell said it isn't unusual for the program to make late payments and for participants in the assistance fund to receive foreclosure notices. The program makes payments in bulk to banks on behalf of multiple clients, and there's a lag between the bank receiving the money and applying it to individual accounts.
"It's not just, 'Oh, I got approved and then I get the money,'" Campbell said of the program. "There's a whole machine behind all of this."
NAHAC was supposed to make its first payment — covering May and June — to Flagstar on July 1. But Campbell said a staffing change caused the nonprofit's late payments to banks in July. Flagstar didn't receive the July 1 payment until July 28, two days after ProPublica contacted NAHAC about the Geracis' situation.
The nonprofit also paid the wrong amount because the money needed to bring the loan current and the regular monthly payment amount had both changed between the time the Geracis were approved for the program and when the first payment was made, according to Campbell.
She said late payments and shortages are reconciled at the end of each month to keep individual mortgages current.
After ProPublica began asking questions about the Geraci case, Campbell had her staff reach out to Flagstar to speed up that reconciliation process. She said the bank assured NAHAC that it would not initiate foreclosure proceedings because of the late and inaccurate payments but that it was obligated to continue sending the notices to the Geracis. Federal consumer protection regulations require lenders to notify borrowers of delinquencies.
According to the most recent Treasury data, Nevada has been slow to enroll people and disburse the $120 million it was awarded for the program. At the end of the first quarter, it had distributed $17 million — less than 14 percent of its total award — ranking it 43rd among the states for getting money to homeowners.
As of Aug. 15, according to NAHAC's data, Nevada had distributed an additional $12 million. And Campbell said the state is now on target to disburse all of its funds by Sept. 30, 2025, when the program comes to an end.
U.S. Sen. Catherine Cortez Masto, D-Nev., whom the Geracis also reached out to for help, has been a proponent of NAHAC and worked to improve it when its earlier troubles came to light in 2016. Her spokesperson, Josh Marcus-Blank, declined to comment on the Geracis' situation but said Cortez Masto continues to support the program.
"Senator Cortez Masto is focused on making sure Nevadans can stay in their homes, and she will continue working to make sure programs like NHAF are serving communities across the state by improving and streamlining their processes," Marcus-Blank said.
'People are suffering'
Federal regulators have discouraged banks like Flagstar from foreclosing on homeowners who apply to or have been approved for the assistance program. In March, the Consumer Financial Protection Bureau promised "increased scrutiny" of mortgage servicers who foreclose on program participants. While the Geracis ultimately were not foreclosed on, neither states nor the federal government track whether foreclosures are occurring, said Stacey Tutt, a National Housing Law Project senior staff attorney who works with states to improve their program.
In some cases, federal regulators have erected guardrails to protect program participants from foreclosure prompted by delays in the program. Fannie Mae and Freddie Mac loan servicers are required to pause foreclosure proceedings against participants for 60 days, but when it comes to servicers of FHA-insured loans, that guidance is only a suggestion. And often the program delays are much longer than 60 days, Tutt said.
"It's just not enough time," she said.
States can fix the problem by requiring banks to halt foreclosures on participants. NAHAC's Campbell said servicers participating in Nevada's program have voluntarily agreed to postpone foreclosures.
Tutt said participants who do receive a foreclosure notice while in the program can get help from trained housing counselors or, in some cases, legal aid centers, which also get money from the program.
"It's a lot to navigate," she said. "Most of our homeowners are in a crisis and are working in jobs they can't take time off from to keep monitoring and putting pressure on these different entities."
Tutt also criticized Nevada's decision to require a three-year lien in exchange for helping homeowners because it delays the process, adds to administrative costs — county recorders charge fees to record liens — and scares homeowners.
"They would say it ensures homeowners don't just take this money, turn around and sell the home and get a windfall," Tutt said. "That's just devoid of the reality of what these homeowners are going through."
Campbell said the requirement was included to "assist with housing stabilization." Homeowners who sell their houses within three years, or refinance their mortgage to take cash out from the equity, would be required to repay the assistance in order to remove the lien. She denied the requirement causes delays and described the recording fees as "minimal."
Despite the challenges, Tutt said the federal Homeowner Assistance Fund remains the best option for those who face losing their homes. Homeowners should take advantage of housing counselors to help them through the process instead of "giving up on the program," she said.
Shirley Geraci feels differently. States are "flying by the seat of their pants" to run the program and "people are suffering," she said.
In the month it has taken to resolve the payment issues, Noelle Geraci found a new job. The Geracis are eligible for three more months of assistance, but the stress of participating in the program has made them unsure of whether to accept it.
"People shouldn't have to go through this," Shirley Geraci said.
ProPublica is a nonprofit newsroom that investigates abuses of power.