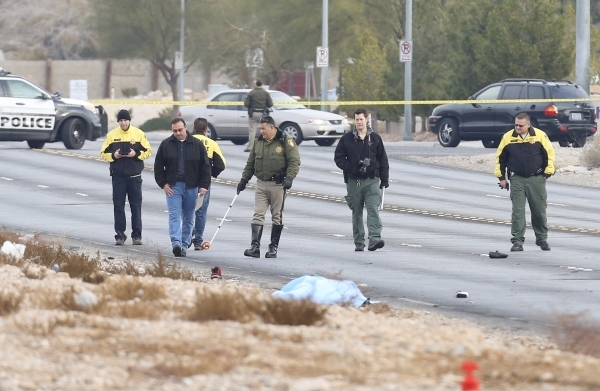 Last year marked the fourth straight year in which roadway fatalities increased in Nevada, the state Transportation Department reported Wednesday.
About 321 people were killed in crashes last year, the department said. That number, which could fluctuate in the next few weeks because of pending investigations, jumped 10.3 percent from 2014, when 291 people died in crashes.
Metro said 125 of those deaths fell under its umbrella.
Nevada Highway Patrol's southern command responded to 63 of the state's crashes, which resulted in 71 deaths, the agency said Wednesday. The 71 deaths included five pedestrians, 13 motorcyclists and 53 vehicle drivers and passengers; 26 of the deaths involving vehicle crashes resulted from people not wearing seat belts.
The last fatal wreck investigated by the highway patrol last year was a fiery rollover crash at about 10 p.m. New Year's Eve in the northeast valley.
Investigators think the 22-year-old driver of a Nissan coupe made an unsafe lane change on Interstate 15, near Craig Road. He lost control of the car, which rolled onto the right shoulder of the freeway and caught fire. The driver and his 24-year-old passenger died at the scene of the wreck.
Transportation Department spokeswoman Meg Ragonese said Nevada roadway deaths decreased sharply in 2007, partly because the economy slumped and fewer people drove.
After recording 431 traffic deaths in 2006, Nevada posted 373 in 2007. The lowest number of traffic deaths in the last 10 years came in 2009, when 243 people died.
Traffic deaths have climbed incrementally since then, except for a slight dip in 2011.
Although Ragonese couldn't attribute the rise in deaths entirely to an improving economy, she said vehicle miles traveled on Nevada roads have continued to increase over recent years, which can play a significant role in fatalities.
About 4.5 billion more vehicle miles were traveled on Nevada roads in 2014 than in 2008, she said.
One of the best ways to decrease traffic deaths is for everyone — drivers, pedestrians, bicyclists and motorcyclists — to focus on and share the road, "so we can all get home safely at the end of the day," Ragonese said.
Contact Kimber Laux at klaux@reviewjournal.com or 702-383-0381. Find her on Twitter: @lauxkimber