Two small planes collide mid-air near Jean
October 23, 2015 - 3:55 pm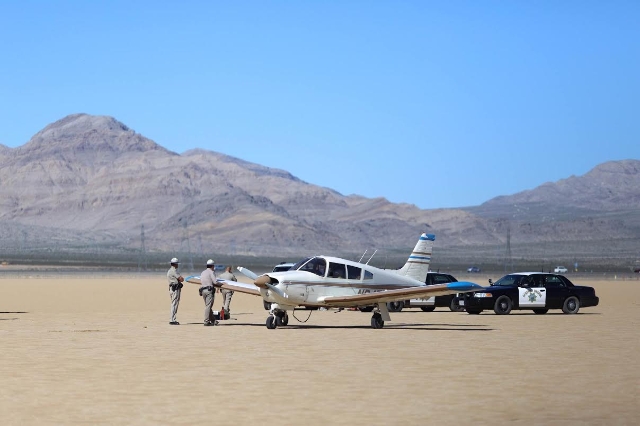 PRIMM — Nevada, California and federal authorities are working to figure out how two small planes collided in mid-air Friday morning near Jean, about 30 miles southwest of Las Vegas.
It happened about 10:15 a.m., according to the Clark County Department of Aviation. One plane, a twin-engine Cessna, was able to land safely at the Henderson Executive Airport. The other, a Piper Arrow, landed in a dry lake bed in California, just southwest of Primm.
No injuries were reported.
The Cessna, carrying two people, taxied off the runway in Henderson without causing any airport delays, aviation department spokeswoman Christine Crews said.
One person was on the Arrow, Crews said. Clark County firefighters found the plane, Crews said, and the pilot was walking and talking.
Both planes took off from the Henderson airport, according to the Clark County Fire Department. Departure times and planned destinations were not available.
Initial reports indicate that the two collided somewhere near Ivanpah Solar Electric Generating System, just past the California state line.
Pilots in the past have complained about the glare that comes from giant mirrors on the massive solar farm. Authorities did not say whether glare contributed to the collision.
The only visible damage to the Arrow was on the right wing, which had been bent and pulled slightly away from the body of the plane.
But Crews said damage to both aircraft was significant. The Cessna's came in flight, she said.
Besides media, which were ordered by the California Highway Patrol to stay half a mile back from were the Arrow stopped, the only onlooker at the remote lake bed was Steve Holeman. He comes out regularly to ride his landsailer, a sort of wind-powered go-kart.
"I've had that thing up to 56 mph, believe it or not," he said, showing off a picture of his ride.
Holeman is part of an informal group, the Ivanpah Wind Runners, and regularly updates its Facebook page to let others know the conditions and whether the Bureau of Land Management has blocked off the lake bed for the day. It's not safe to ride or drive on the lake bed if it's too soft from recent rain.
The Facebook updates save other landsailing buffs from driving all the way there — some live in Arizona — only to find the gate locked.
Holeman, who lives in Las Vegas, had come out Friday morning just to check the conditions. When he drove up to ask questions about the plane, he said, police were so vague that he wondered whether something more exciting was going on — a drug interdiction, perhaps.
Police left about 2 p.m., leaving the plane alone in the middle of the lake bed.
The Federal Aviation Administration, National Transportation Safety Board, Nevada Highway Patrol and Las Vegas police also are investigating.
Reporters Wesley Juhl and James DeHaven contributed. Contact Eric Hartley at ehartley@reviewjournal.com or 702-550-9229. Find him on Twitter: @ethartley. Contact Colton Lochhead at clochhead@reviewjournal.com or 702-383-4638. Find him on Twitter: @coltonlochhead