VP nominee Pence defends Trump, calls slain captain American hero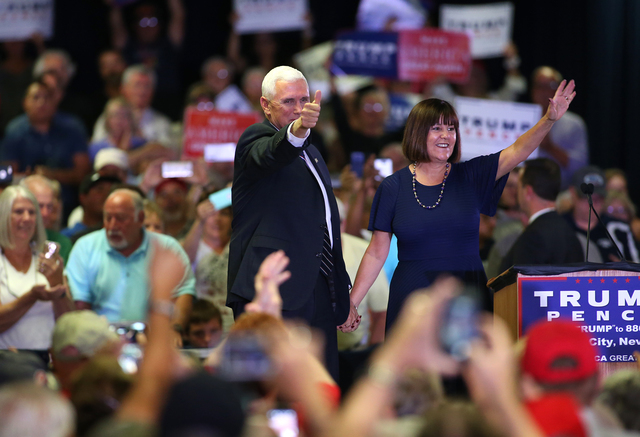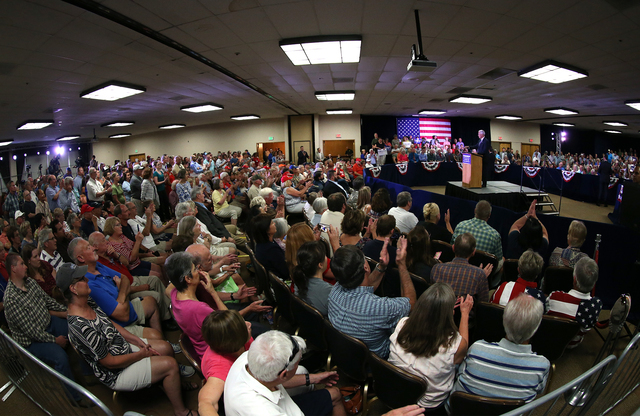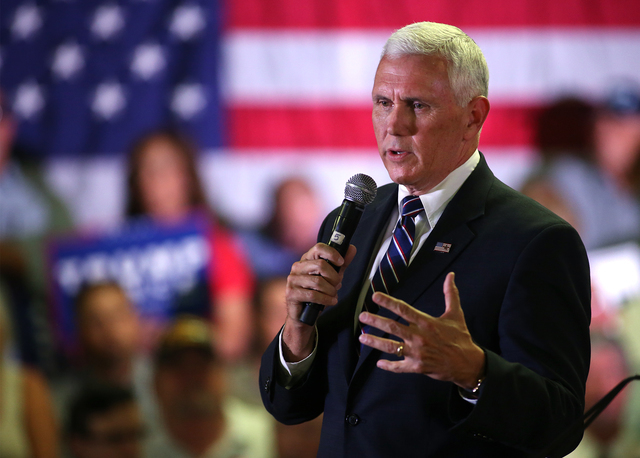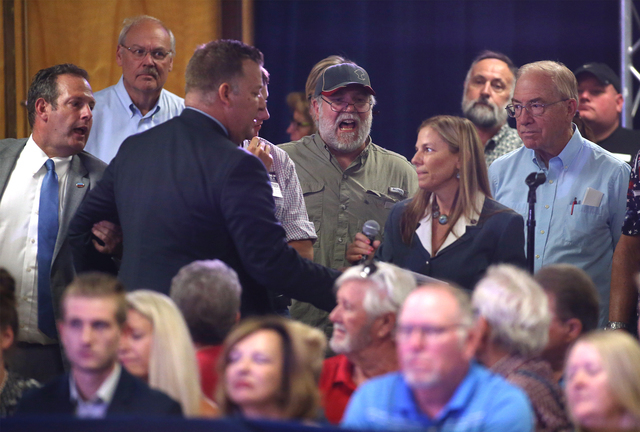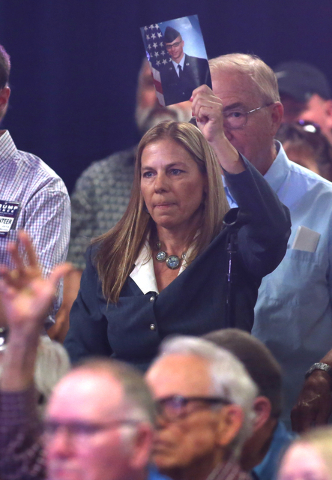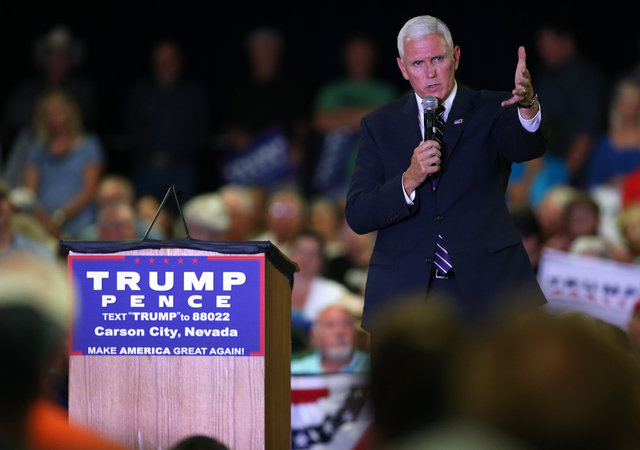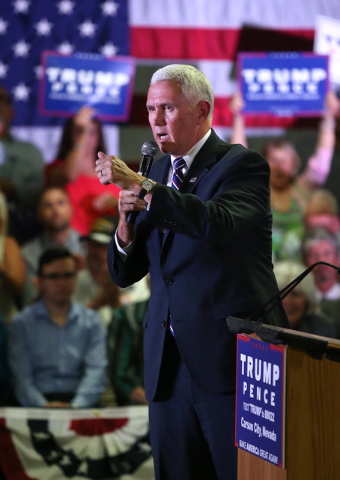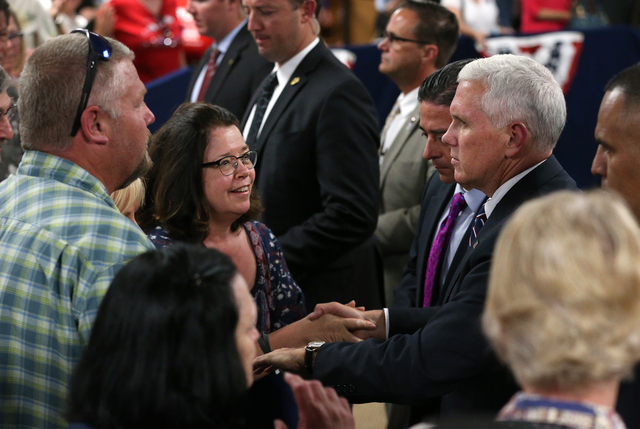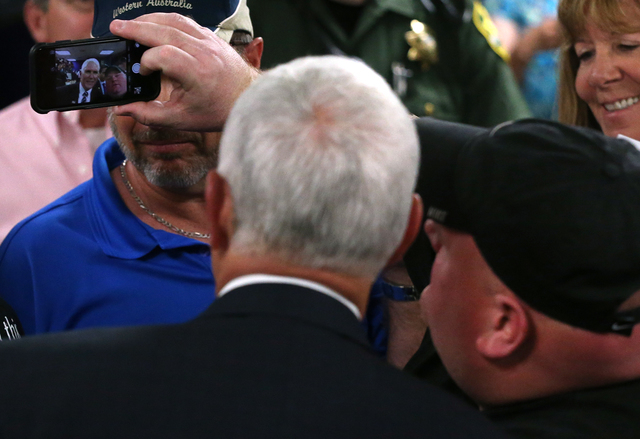 CARSON CITY — Republican vice presidential candidate Mike Pence on Monday defended running mate Donald Trump's controversial comments about Capt. Humayun Khan, who died from a roadside bomb in Iraq in 2004, and called Khan an American hero.
Making his first appearance in Nevada since joining the Trump ticket, Pence spoke to about 400 people in Carson City and said the billionaire businessman is devoted to the military.
"I have never been around someone more devoted to the armed forces of this country, more devoted to the families of our soldiers, sailors, airmen and Marines … and no one more devoted to the veterans of this country," he said.
The issue arose when an audience member, Catherine Byrne, who said her son was serving in the Air Force, asked the Indiana governor how he could support Trump given his disrespect for Khan and the military. Trump's comments on the death of Khan came after his parents spoke at the Democratic National Convention last week and have created a firestorm of criticism.
Byrne was booed and heckled by the crowd. However, Pence asked the crowd to show respect, Byrne said later by phone. She said her son, Raymond Harmon, enlisted in the Air Force in 2008. The staff sergeant is deployed in the Persian Gulf.
They boo'd me. Gov pence couldn't hear me and asked the crowd to show respect. They took the mic.

— Catherine Byrne (@cebyrnecpa) August 1, 2016
Earlier in the day, Pence issued a statement on the controversy, which dominated social media throughout the day, saying: "Donald Trump and I believe that Captain Humayun Khan is an American hero and his family, like all Gold Star families, should be cherished by every American."
Monday evening, an enthusiastic crowd of about 300 people showed up at a Pence rally in Reno, where he made mostly similar remarks to those in Carson City. He took no questions from the audience.
But he expanded his comments on Khan, remarking again how his family should be honored for their son's service and sacrifice.
Pence also introduced another Gold Star family at the Reno rally, the parents of 20-year-old Lance Corporal Brandon Christopher Dewey, who was serving his second Iraq tour when he was killed January 20, 2006, by a suicide bomber while on duty at a checkpoint in Haqlaniyah, Iraq.
The introduction drew a long round of applause.
But Pence asked why the media "maligned and continue to ignore" the grieving mother of fallen Air Force veteran and diplomat Sean Smith. Smith was killed in the attack on the U.S. Embassy in Benghazi, Libya.
"Our soldiers and our veterans know Donald Trump supports our troops and their families," Pence said. "He will rebuild the American military and he will reform the VA when our soldiers come home."
In Carson City, Pence also spoke strongly in support of parental choice in education, and said Trump would work on the issue as president. Nevada passed a program to let parents send their children to private and parochial schools using state funding, but it is on hold while the Nevada Supreme Court decides the constitutionality of the measure.
In his remarks, Pence called Trump "a genuine article."
"He is a doer in a game usually reserved for talkers," Pence said.
He called Trump a person who understands the hopes and frustrations of the American people "like no one since Ronald Reagan."
The crowd was enthusiastic, and chanted "lock her up" when Democratic nominee Hillary Clinton was mentioned.
Pence criticized Clinton for her work on foreign affairs as secretary of state, saying she was responsible for the failures that led to the attack in Benghazi.
"On the world stage Donald Trump will lead from strength," he said.
Pence cautioned the audience to think carefully about who they vote for president, because the next chief executive will play a significant role in the direction of the U.S. Supreme Court.
Nevada is a battleground state and could play a significant role in who becomes the next president in the general election on Nov. 8.
Review-Journal writer Sandra Chereb contributed to this report. Contact Sean Whaley at swhaley@reviewjournal.com or 775-461-3820. Find @seanw801 on Twitter.
RELATED
Trump announces Gov. Mike Pence as running mate
Trump presents Pence as 'partner' in GOP's presidential campaign