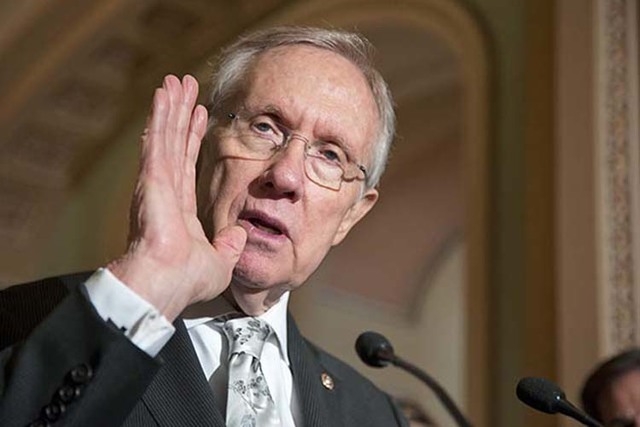 WASHINGTON — The Senate voted last week to reauthorize more than 30 job training programs while scrapping 15 others and changing the way many train people and help them find jobs.
In a rare bipartisan display, senators voted 95-3 for the bill that was a compromise between Republicans who wanted to streamline job programs and Democrats who wanted to modernize them. A version of the bill has passed the House.
"We've doubled down on the programs that work," said Sen. Patty Murray, D-Wash. "We've improved the programs that have become outdated. And we've created a workforce system that's more nimble and adaptable, better aligned with our businesses."
Sens. Harry Reid, D-Nev., and Dean Heller, R-Nev., voted for the bill.
HOUSE FOCUSES ON ENERGY
The House passed a series of Republican-written bills that aim to boost U.S. energy production.
Lawmakers voted 229-185 to expand oil and gas exploration offshore and on federal land and to require the Interior Department to move forward on lease sales that have been delayed by the Obama administration.
The bill would set a 60-day deadline on government approval of drilling permits and would charge environmentalists $5,000 to protest decisions.
"Our economic malaise can be attributed to a lack of attention to a common-sense energy program on federal lands," said Rep. Rob Bishop, R-Utah.
He said the bill would "go after where the resources actually are."
Rep. Lois Capps, D-Calif., said the bill was "yet another example of the (Republican) majority's backward energy policy that doubles down on dirty fossil fuels instead of investing in a clean energy future."
Reps. Joe Heck and Mark Amodei, both R-Nev., voted for the bill. Reps. Steven Horsford and Dina Titus, both D-Nev., voted against it.
The House also voted 266-150 to fast-track applications by energy companies seeking to export liquefied natural gas to Europe and Japan.
Supporters said expediting LNG exports could help Ukraine, for instance, ease its energy dependence on Russia.
"The passage of this bill will move the United States yet another step closer to both assisting our allies abroad as well as creating a more robust domestic industry at home," said Rep. Michael Burgess, R-Texas.
Opponents said exports will not start flowing overnight and could cause domestic gasoline prices to rise.
"This bill is a solution in search of a problem," said Rep. Jim McGovern, D-Mass. "The Department of Energy is already aggressively approving LNG exports. Passing this bill will not magically solve the natural gas problem in Ukraine or in other parts of the world."
Heck and Amodei voted for the bill. Horsford and Titus voted against it.
The House voted 238-173 for a bill that would require oil and gas pipelines and electricity transmission lines that would cross into Mexico or Canada to be reviewed by the State Department or Energy Department within 120 days of an environmental review.
It would remove the need for presidential approval that critics say is holding up the Keystone XL pipeline, although the bill does not cover that project.
"This legislation is about preventing the president — and future presidents, regardless of their party — from playing politics with decisions that should be made on the merits of the project," Burgess said.
The White House threatened to veto the bill if it reached President Barack Obama's desk, saying the deadlines were "unreasonable."
"This bill creates a process that rubber stamps projects," said Rep. Henry Waxman, D-Calif. He called it the "Zombie Pipeline Act" that he feared could resurrect the Keystone XL pipeline if Obama rejects it.
Heck and Amodei voted for the bill. Horsford and Titus voted against it.
Contact Stephens Washington Bureau Chief Steve Tetreault at stetreault@stephensmedia.com or 202-783-1760. Follow @STetreaultDC on Twitter.