Washoe sheriff opposes gun background check ballot measure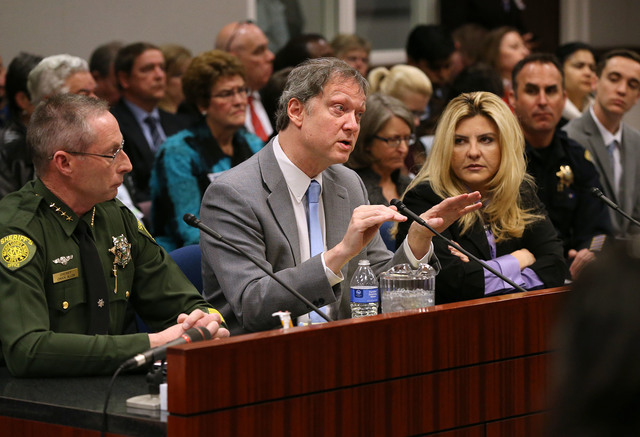 Washoe County Sheriff Chuck Allen is siding with the National Rifle Association in opposition to Question 1. The November ballot measure proposes to expand background checks for firearm sales to private party sales and transfers in Nevada.
Opponents say it wouldn't prevent criminals from getting their hands on guns and would only waste law enforcement resources.
"As Sheriff of Washoe County, one of my fundamental principles and promises to the citizens is to fight any legislation that would infringe upon or restrict our Second Amendment rights," Allen said in a statement obtained by the Las Vegas Review-Journal. Washoe is the state's second most populous county.
"Question 1 gun control initiative would make criminals out of law-abiding citizens, tax already scarce law enforcement resources, while doing nothing to stop criminals or make us any safer. I will fight to protect our freedom and stop the 'Californication' of Nevada gun rights by outside groups."
Allen could not be reached for further comment Tuesday.
But former Washoe County Sheriff Michael Haley sits on an advisory board for the political action group promoting Question 1, Nevadans for Background Checks. He said that an executive law enforcement officer has a duty to protect the officers who serve under them. He cited an Everytown for Gun Safety study that suggests expanding background checks would reduce the number of officers who are shot on duty.
"It just simply closes loopholes," he said. "It's a travesty that we have such a cavalier approach to handgun sales."
Different law enforcement groups and personalities have landed on opposing sides of the debate over universal background checks, showing a split among law enforcement groups.
In February, the Nevada Association of Public Safety Officers was the among the first police groups to endorse the measure. It is as an umbrella group for police unions across the state and helps with legal matters and lobbying the state legislature.
Even then, however, there was a split. Some of the group's affiliated associations said the endorsement didn't speak for their union.
The Las Vegas Police Protective Association's board, which represents the rank-and-file officers of the Metropolitan Police Department, said it was determined to stay neutral on the initiative.
Clark County District Attorney Steve Wolfson endorsed the measure, but Clark County Sheriff Joe Lombardo has not taken a side.
Contact Wesley Juhl at wjuhl@reviewjournal.com and 702-383-0391. Find @WesJuhl on Twitter.