Meals on Wheels could lose funding under Trump budget plan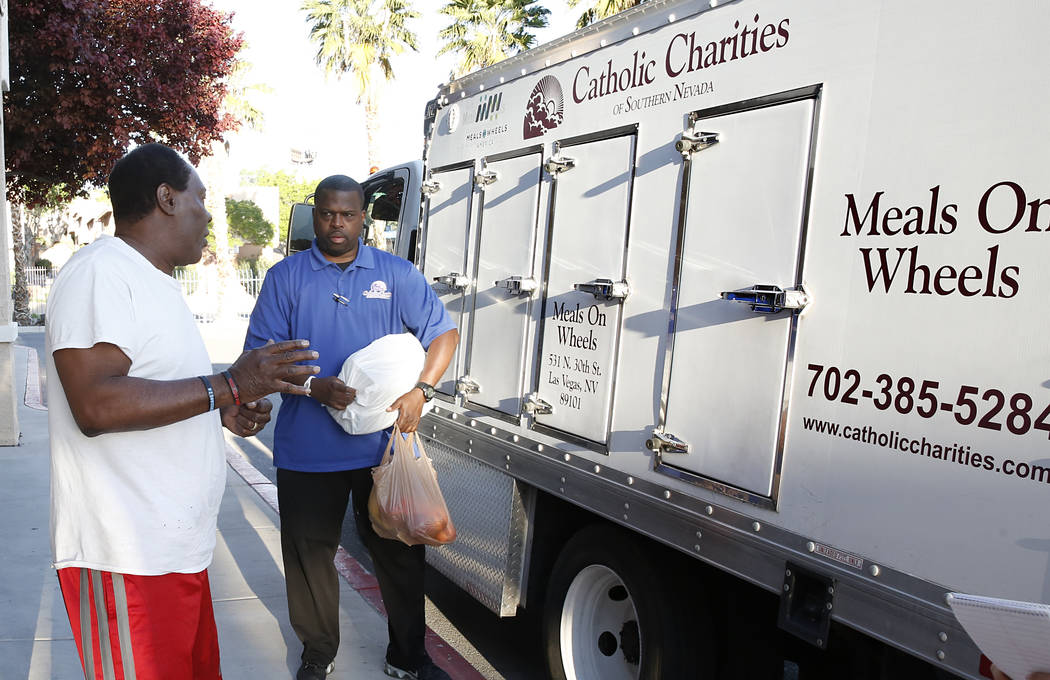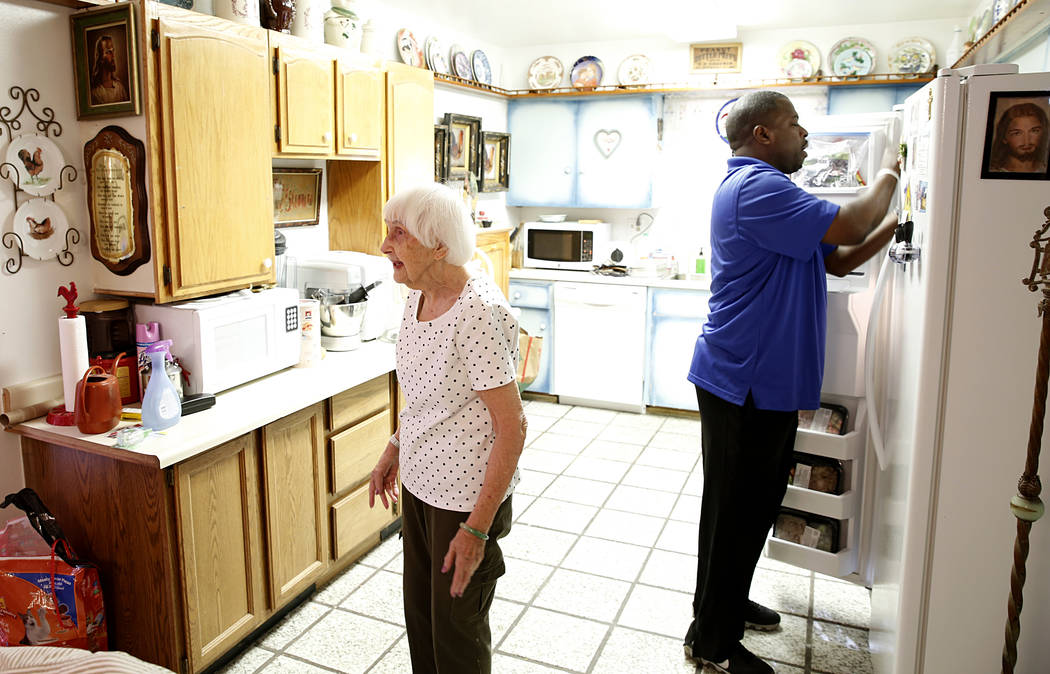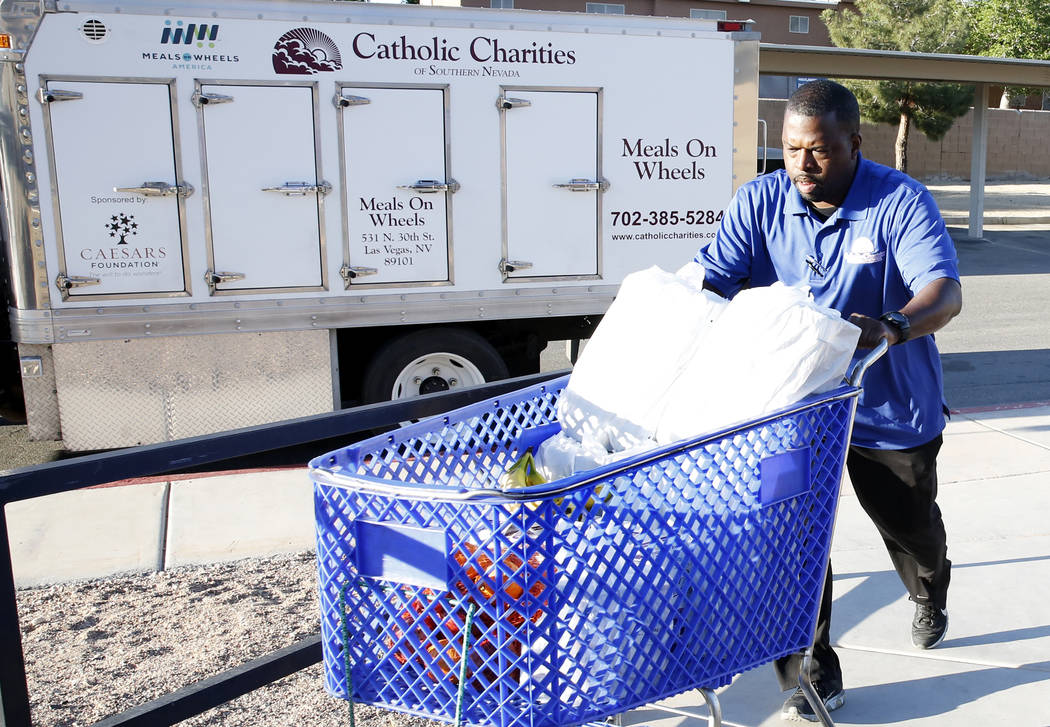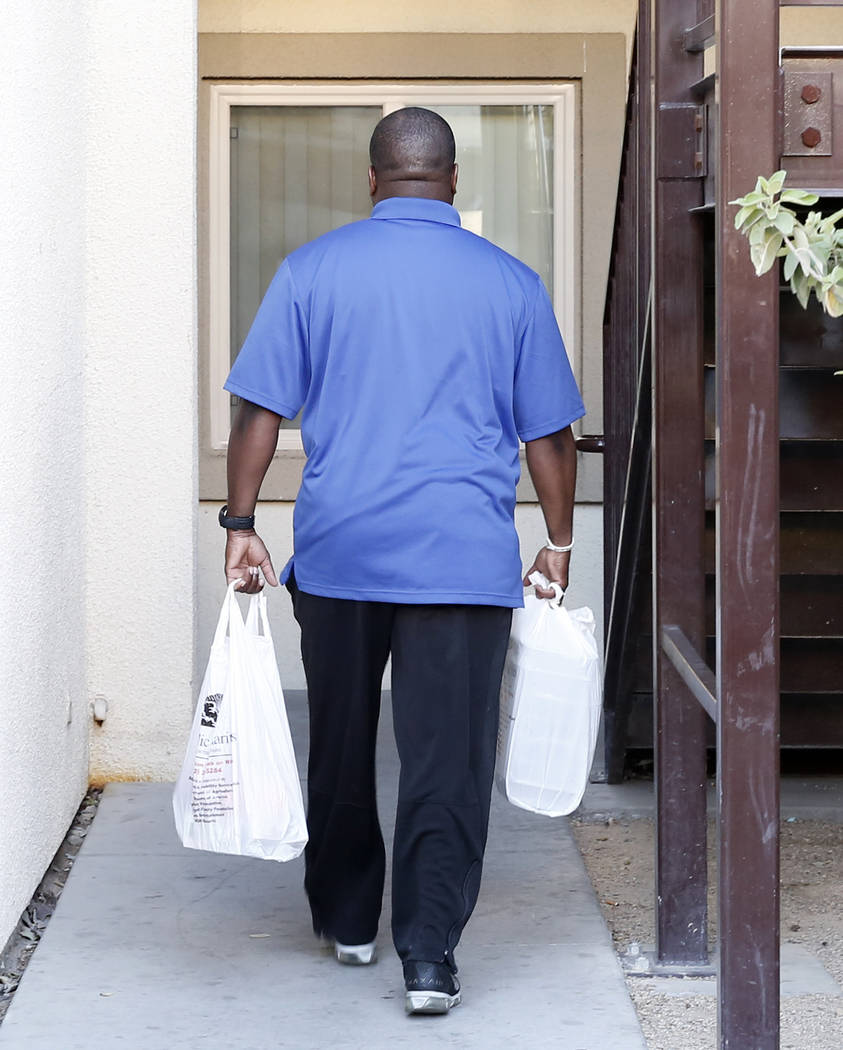 RaShawn Goston read off the labels on Rhoda Jones' prepackaged meals for the week: herbed chicken and vegetables, tilapia, and pork tips, which he remembered is one of her favorites.
Jones is one of 2,100 Meals on Wheels recipients in Las Vegas, a program that has been run through Catholic Charities of Southern Nevada since 1975. A Catholic Charities official said the state recently earmarked money for the program, but proposed budget cuts by the Trump administration may pose a threat.
At 22, Jones was a military nurse during World War II. She's now 93, lives alone in her North Las Vegas home, is "catastrophically blind," according to her, and has been receiving Meals on Wheels deliveries for three years.
Goston, 47, has been delivering her meals for two years, and their friendship shows in their easy camaraderie.
"You like some better than others. Even the Lord did that; he loved Peter, James and John the best," Jones joked, referencing her Christian faith.
"If he can do it, then why can't we? So Shawn is my favorite," she said, referring to her meal deliverer.
Out of the 65 to 75 regulars along his route, Goston admits to having his own favorites. Goston sells Nike shoes on weekends, but he is passionate about his weekday work.
"To me, I get more of a giving-back type of feeling," Goston said while driving his truck to his first stop of the morning. "I see people cancer-stricken, Alzheimer's. A lot of them remember when I come."
In Nevada, many seniors struggle with hunger; the state is last in the country in funding for home-delivered meals to seniors, according to the Administration for Community Living's Aging Integrated Database.
Meals on Wheels still has 900 people on the waiting list in Las Vegas.
Gov. Brian Sandoval has set aside $750,000 in the state budget for Meals on Wheels, said Deacon Thomas Roberts, president and CEO of Catholic Charities of Southern Nevada.
"It will help, but it will not completely address the deficit," he said.
Federal funding for Meals on Wheels in Southern Nevada is $2,449,872, which accounts for 62 percent of Catholic Charities' total funding for the program, data provided by Catholic Charities show. The rest of the money, nearly $1.5 million each year, comes through donations.
But much of that funding could soon disappear.
With the proposed cuts in the Trump administration's 2018 budget blueprint, charities such as Meals on Wheels stand to lose federal funding.
Roberts said no one knows for sure how much the program would be affected.
"We don't know what, if any, federal dollars would be affected," he said. "None of that information has been released."
But for a program already struggling to serve its population, any reduction would hurt.
"If you cut health and human services funding, it would be catastrophic for the people that we serve," Roberts said. "There's no way I can make up the difference. More people are going to go hungry."
Jones said a friend told her about the proposed budget cuts.
"There are so many people that need it so badly," she said of the meal program. "I would say that's one of the last things that they would cut."
She expressed gratitude for the service and the friendship the program brought her.
"God has really been good to me. I feel like he would supply my needs," Jones said. "But I am very concerned for people who have hardly any income coming in whatsoever."
Roberts recently visited Washington, D.C., to lobby against cuts to Meals on Wheels. Like Jones, he is hopeful, yet aware of the consequences a scaled-back budget would bring.
Roberts said, "I had a man call me the other day and say, 'Deacon, if it wasn't for this program, I wouldn't be alive today, or I would be in a nursing home. You saved my life.'"
Contact Brooke Wanser at bwanser@reviewjournal.com. Follow @Bwanser_LVRJ on Twitter.
How 2018 Trump administration budget could affect Meals on Wheels
According to the official White House blueprint for 2018, a key aspect of trimming the budget involves lowering the amount of money going to the Department of Housing and Urban Development. The White House plans to eliminate the $3 billion Community Development Block Grant, which provides funding to programs such as Meals on Wheels.
"The Federal Government has spent over $150 billion on this block grant since its inception in 1974, but the program is not well-targeted to the poorest populations and has not demonstrated results. The Budget devolves community and economic development activities to the State and local level, and redirects Federal resources to other activities."
Source: "America First: A Budget Blueprint to Make America Great Again," Office of Management and Budget
RELATED
White House officials say Trump's budget will increase defense spending by $54B