Nevada Highway Patrol trooper helps man having heart attack — VIDEO
April 18, 2019 - 10:29 am
Updated April 18, 2019 - 6:03 pm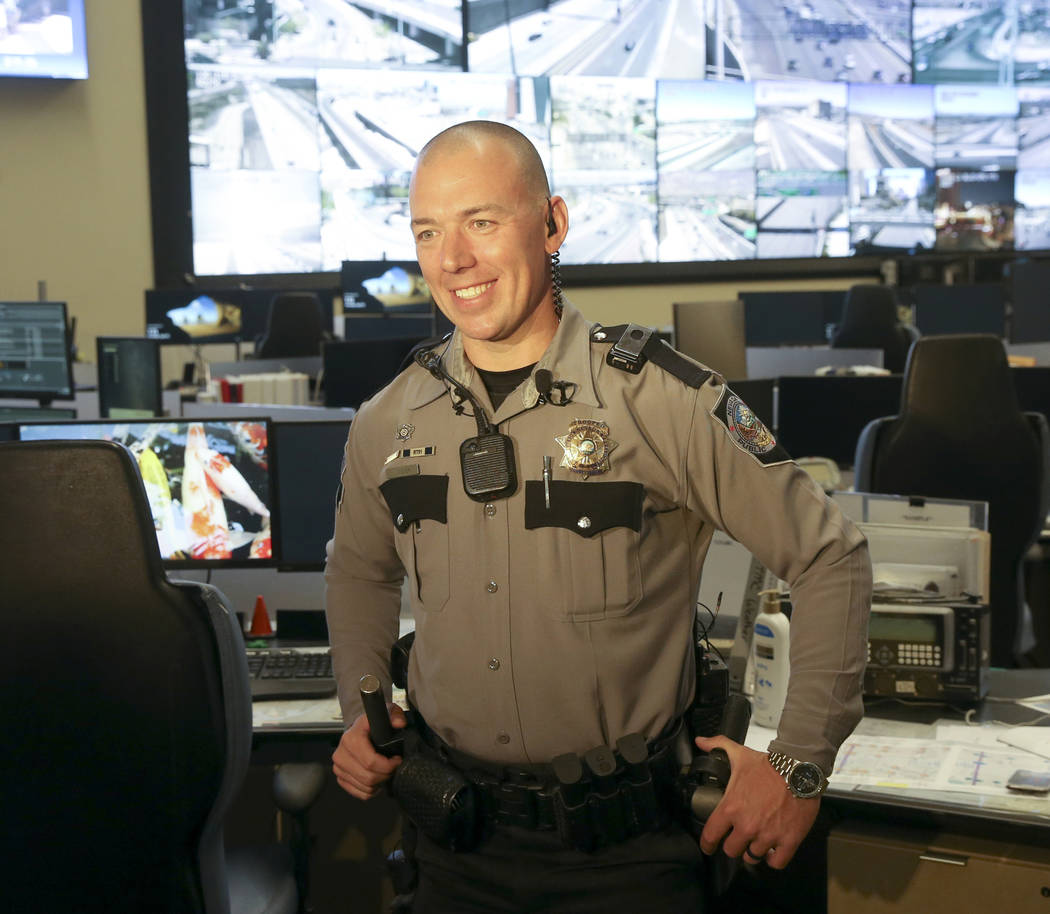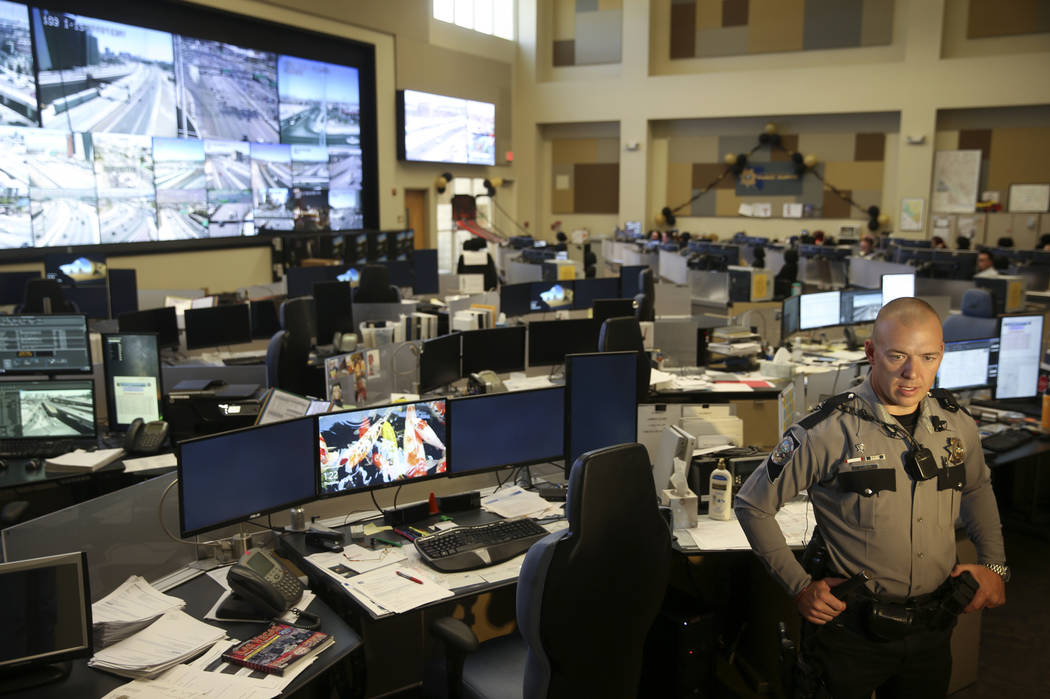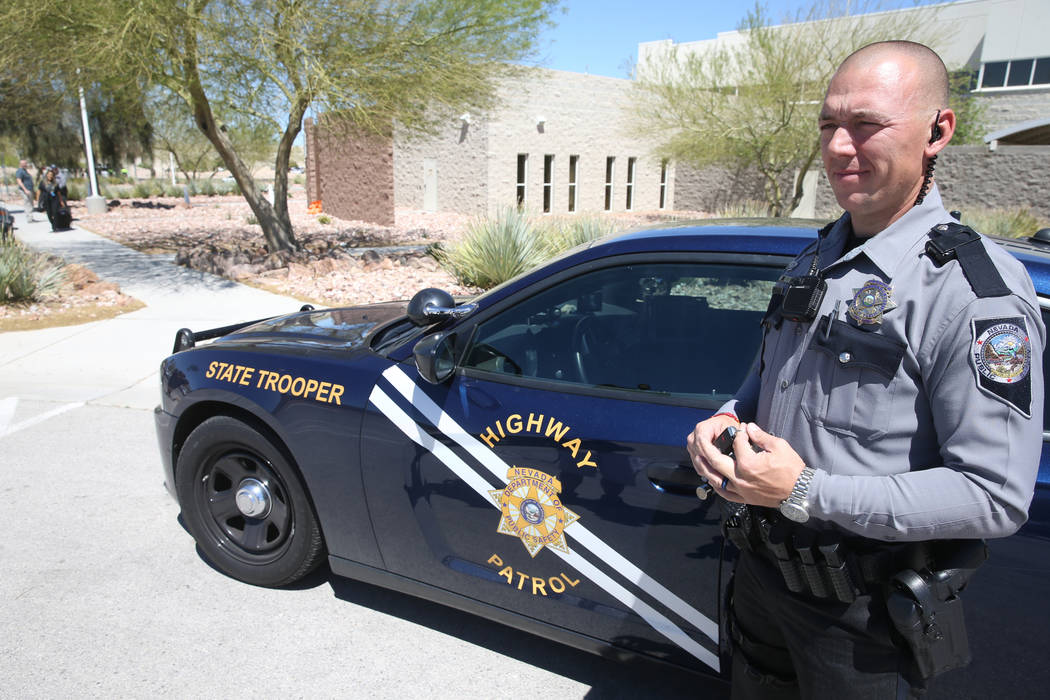 A Nevada Highway Patrol trooper and a group of good Samaritans performed lifesaving CPR on a driver suffering a heart attack last month in Las Vegas, the agency announced Thursday.
Trooper Jacob Fisher has already received three lifesaving medals during his five years in the Highway Patrol. He may receive another after reviving the unresponsive driver on March 24.
Just before 1 p.m. that day, several 911 calls reported that a pickup truck had crashed into the center median on the eastbound 215 Beltway near McCarran International Airport, spokesman Jason Buratczuk said.
Nearby drivers pulled over and quickly started chest compressions on the man, Buratczuk said.
Soon after, Fisher arrived at the scene, where he took over medical care from a nurse who had stopped at the scene. After Fisher placed his palms on the driver's chest and gave a few pumps, the man on the ground inhaled.
"There you go, breathe buddy," Fisher said, according to body camera footage. "Keep breathing. There you go, there you go. Keep breathing for me."
Responding Clark County Fire Department paramedics then took the driver to Sunrise Hospital and Medical Center, Buratczuk said. The man survived and was discharged three days later.
Fisher said he felt amazed to hear the news, partly because cardiac arrest patients have low survival rates.
Humbled by the recognition, Fisher said he was thankful for the good Samaritans, paramedics and staff at Sunrise who played a part in the man's treatment.
"I'm glad he made it," Fisher said. "We come in every day, and it's not to write citations and to do that aspect of law enforcement; for our agency, it's truly to help people as best we can."
Two of Fisher's lifesaving awards came from applying tourniquets to people injured after crashes. The third stems from his efforts at the Route 91 Harvest festival shooting, when he worked in the incident command center and then joined Metropolitan Police Department officers handling secondary active shooter calls.
An Army National Guard veteran, Fisher is trained in combat medicine and serves as the lead medical trainer for other troopers.
There wasn't a whole lot going through his mind as he pushed his palms into the man's chest, Fisher recalled. Relying on his training, he focused on the man on the ground in front of him.
"Please just make sure that my chest compressions are deep enough, and I'm doing what I'm supposed to be doing," Fisher said.
Fisher said he hadn't reached out to the man since that day but would welcome the chance to speak with him.
"I'm pretty sure that he has enough going on with his family" and his recovery, Fisher said. A smile crept onto his face. "And he doesn't need to waste his time talking to a state trooper."
Contact Mike Shoro at mshoro@reviewjournal.com or 702-387-5290. Follow @mike_shoro on Twitter. Contact Jessica Terrones at jterrones@reviewjournal.com or 702-383-0256. Follow @JessATerrones on Twitter.