'Never come back': Flooding highlights dangers to homeless living in tunnels
Updated September 11, 2023 - 7:04 pm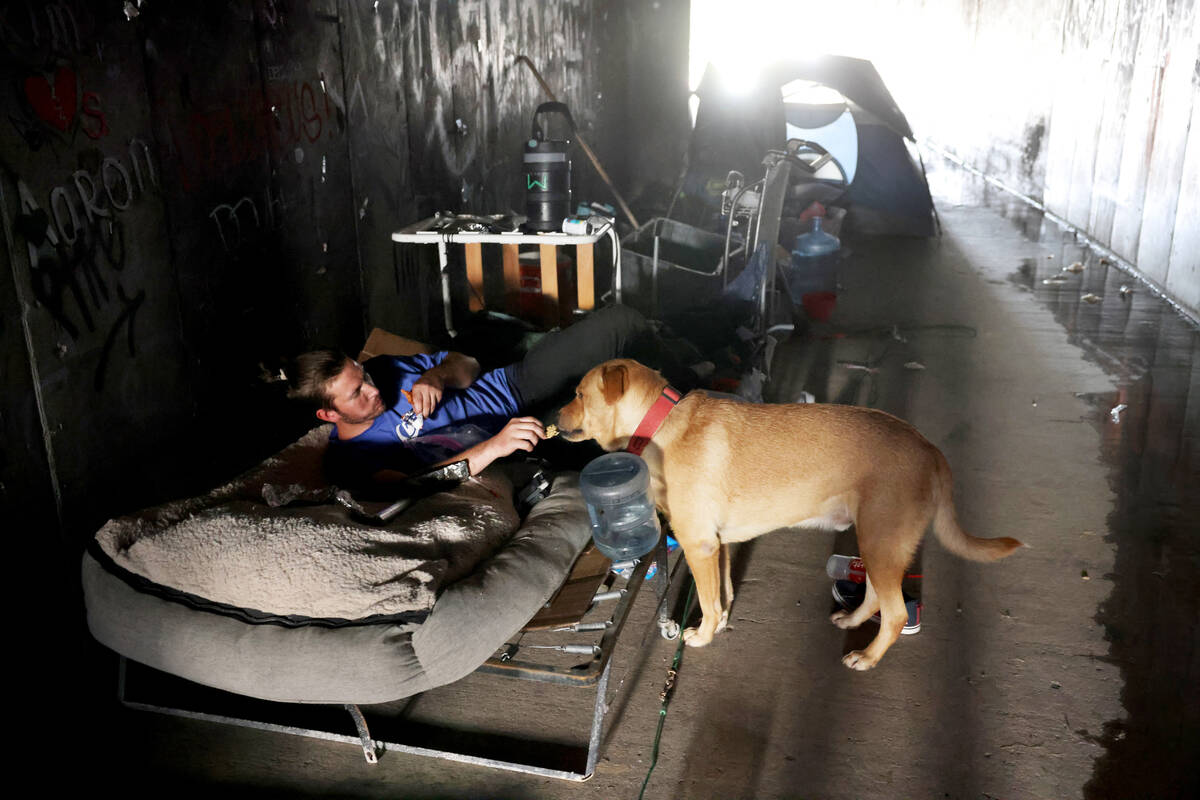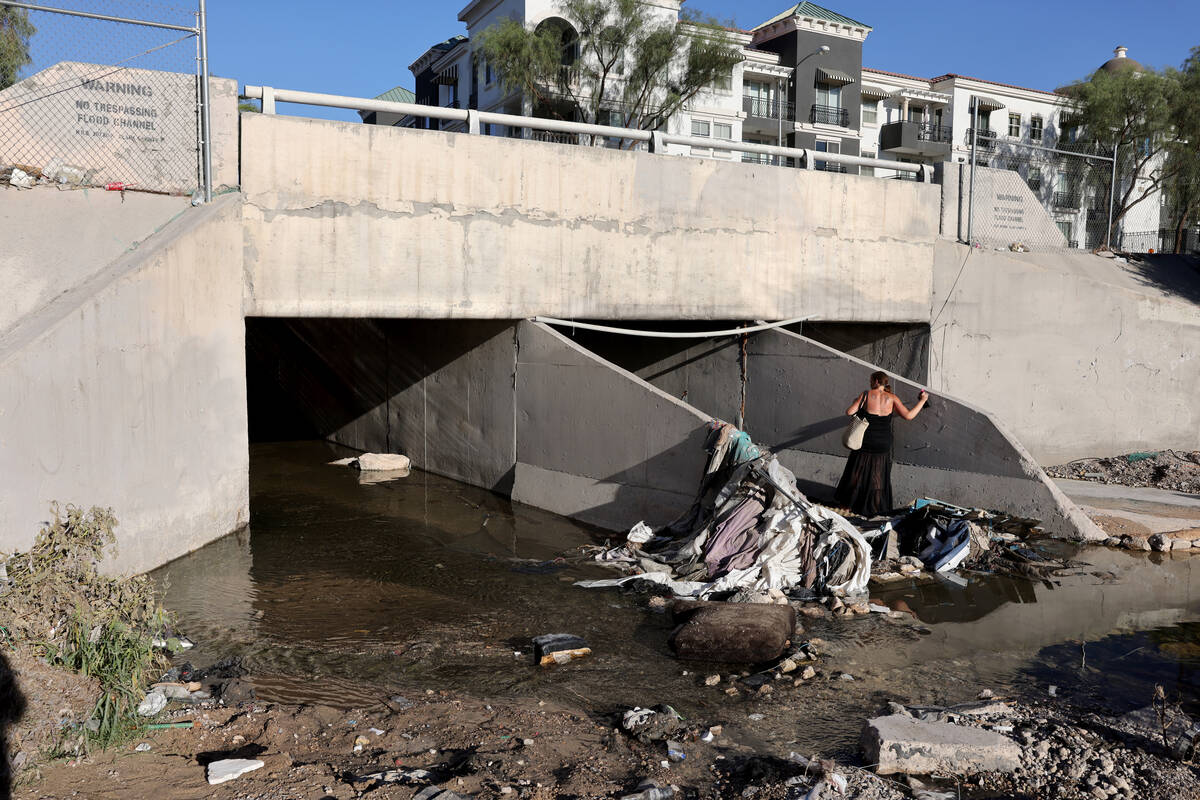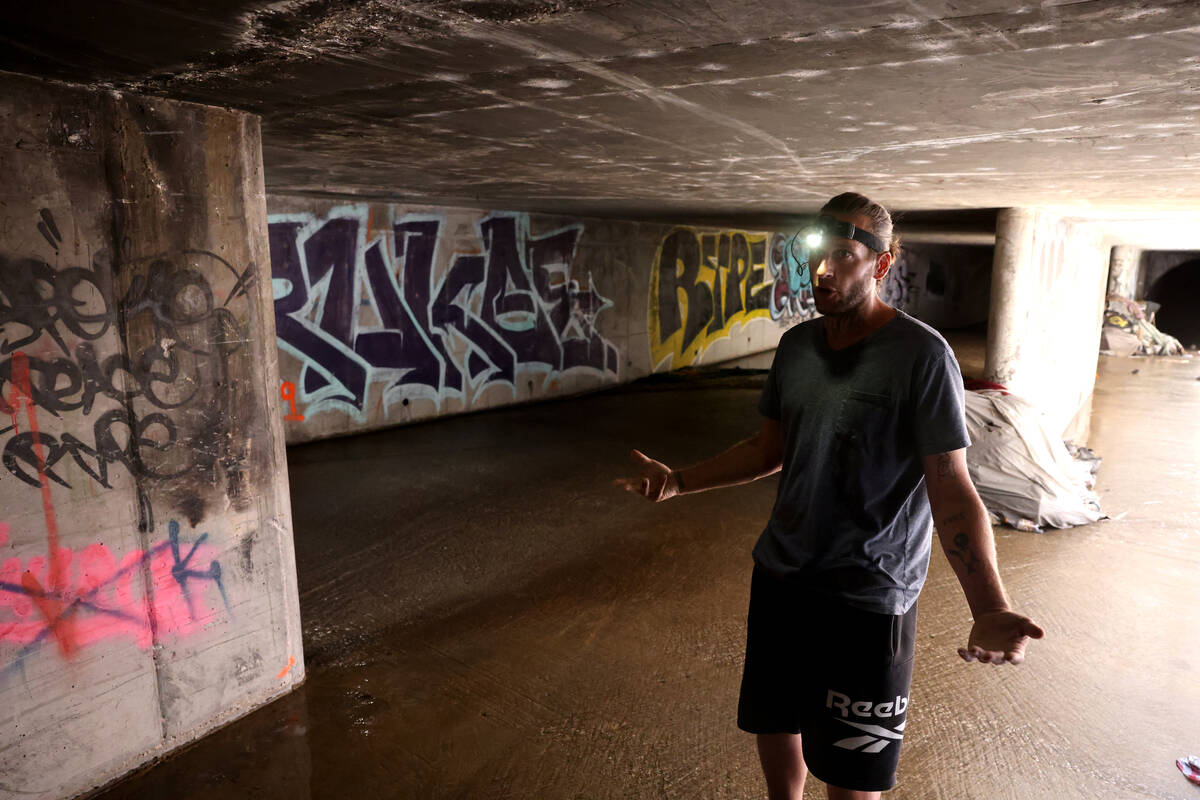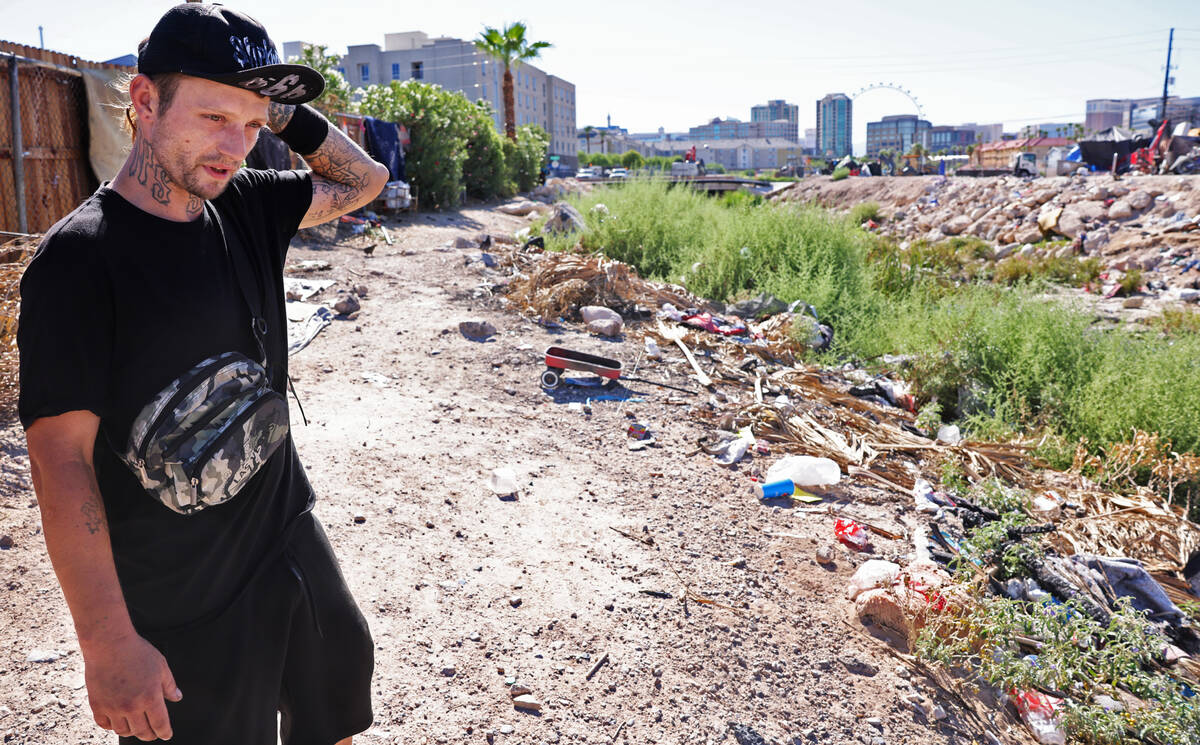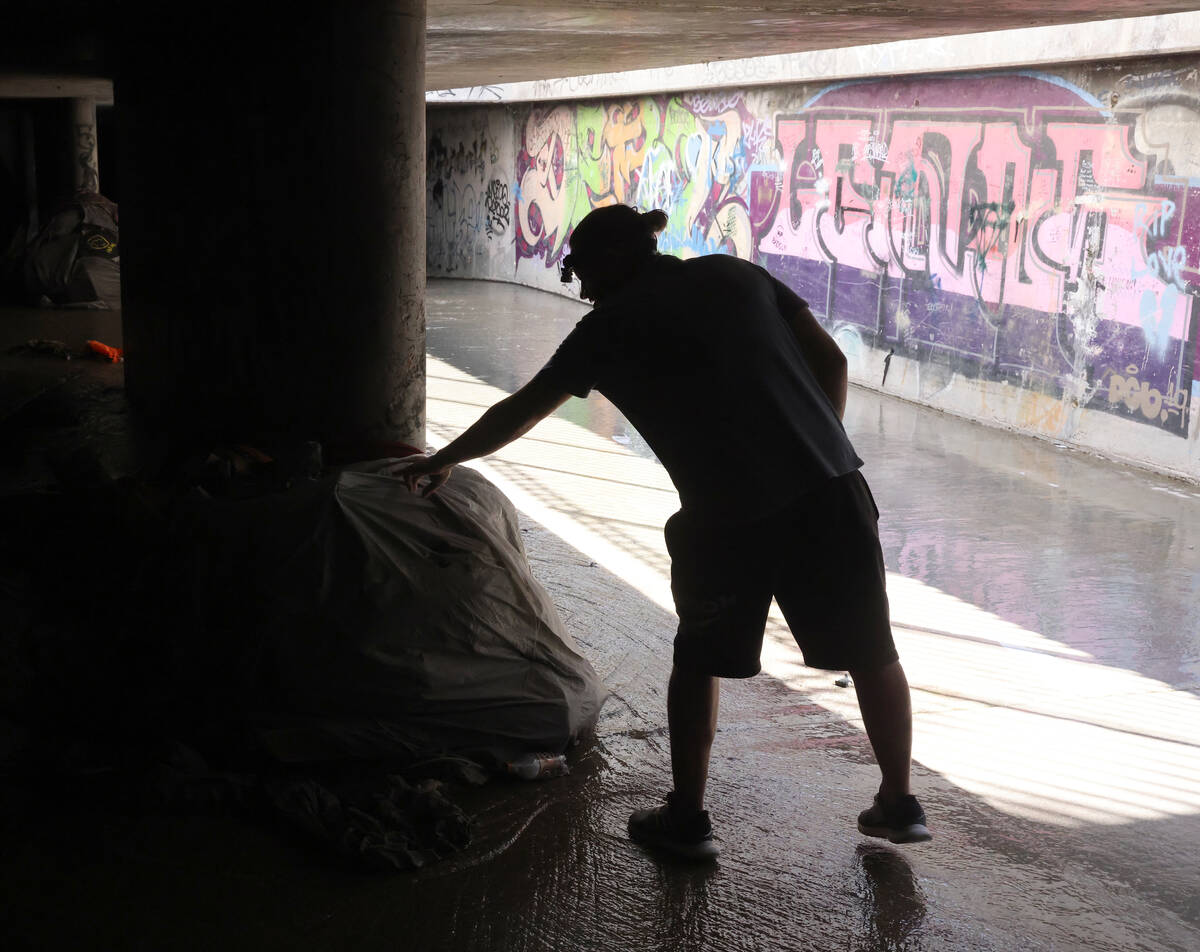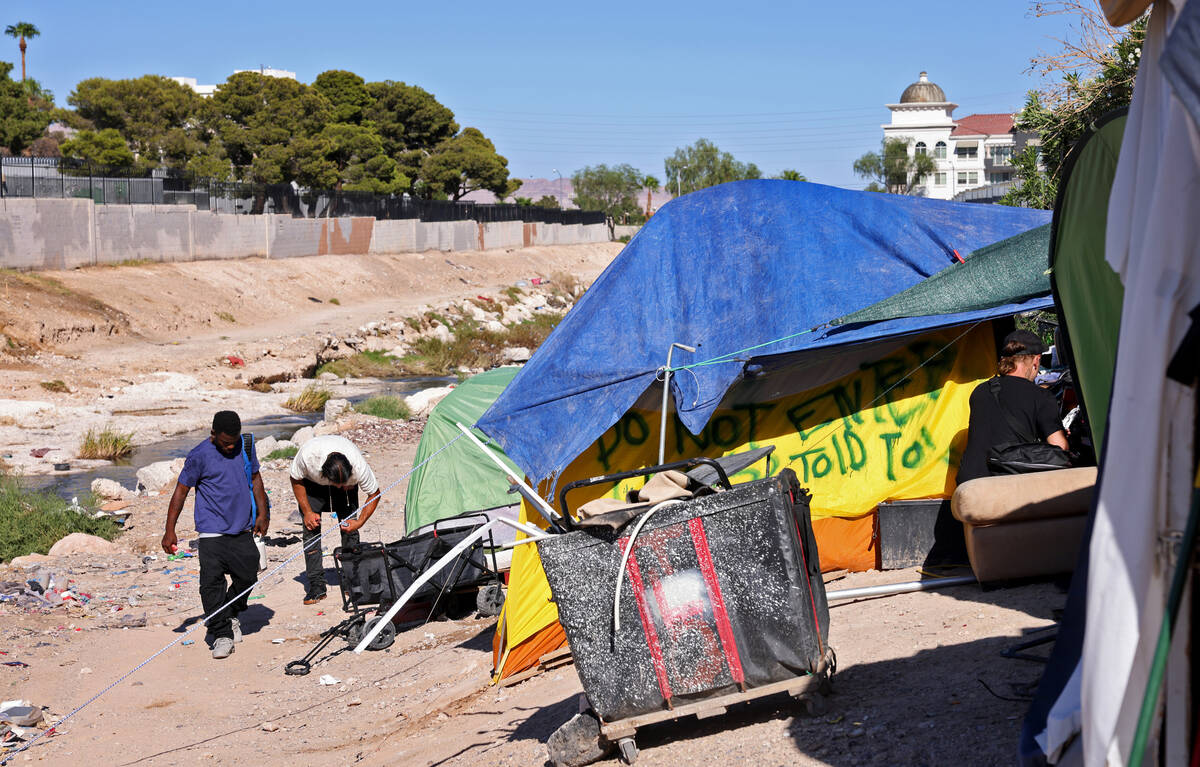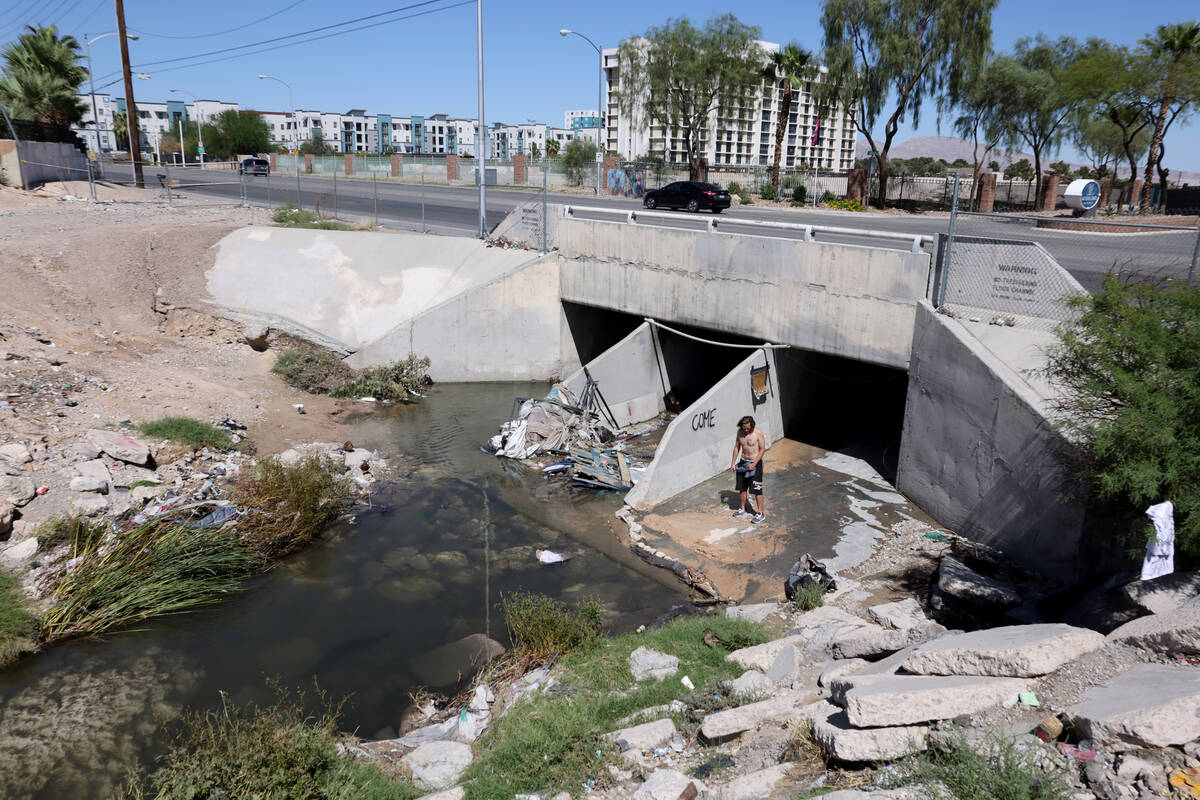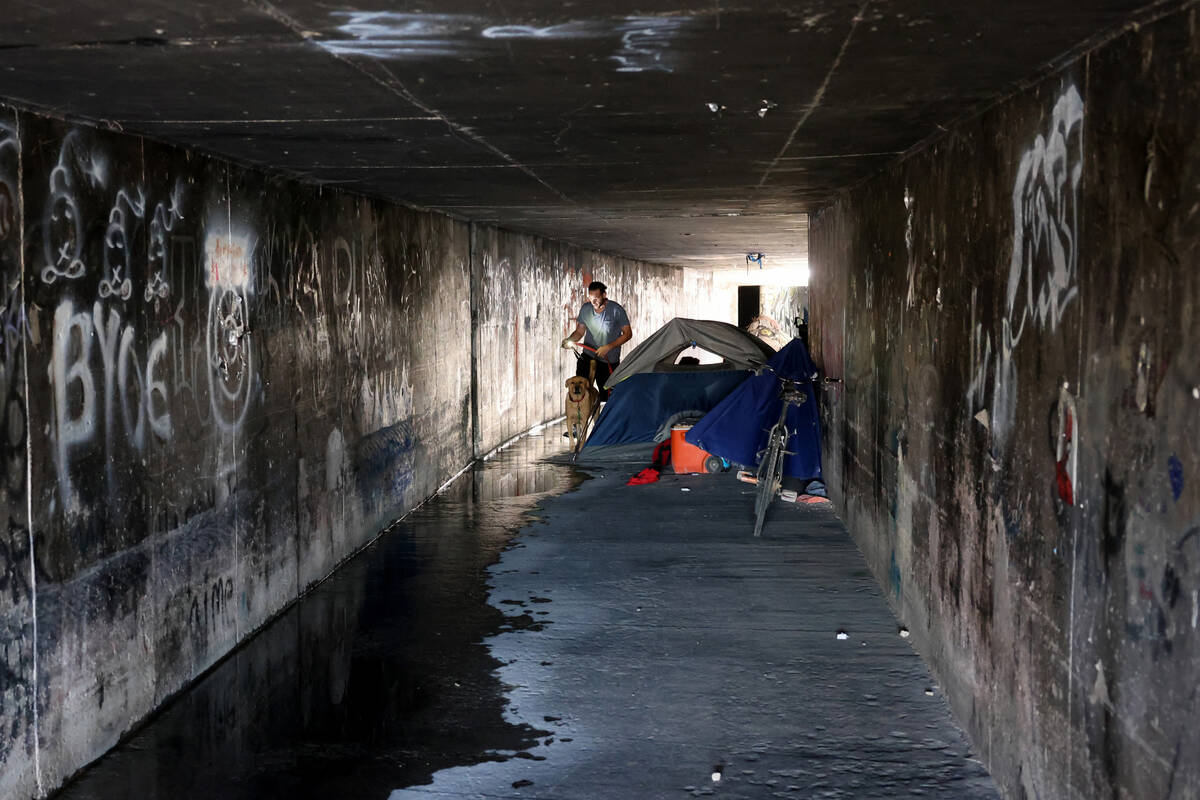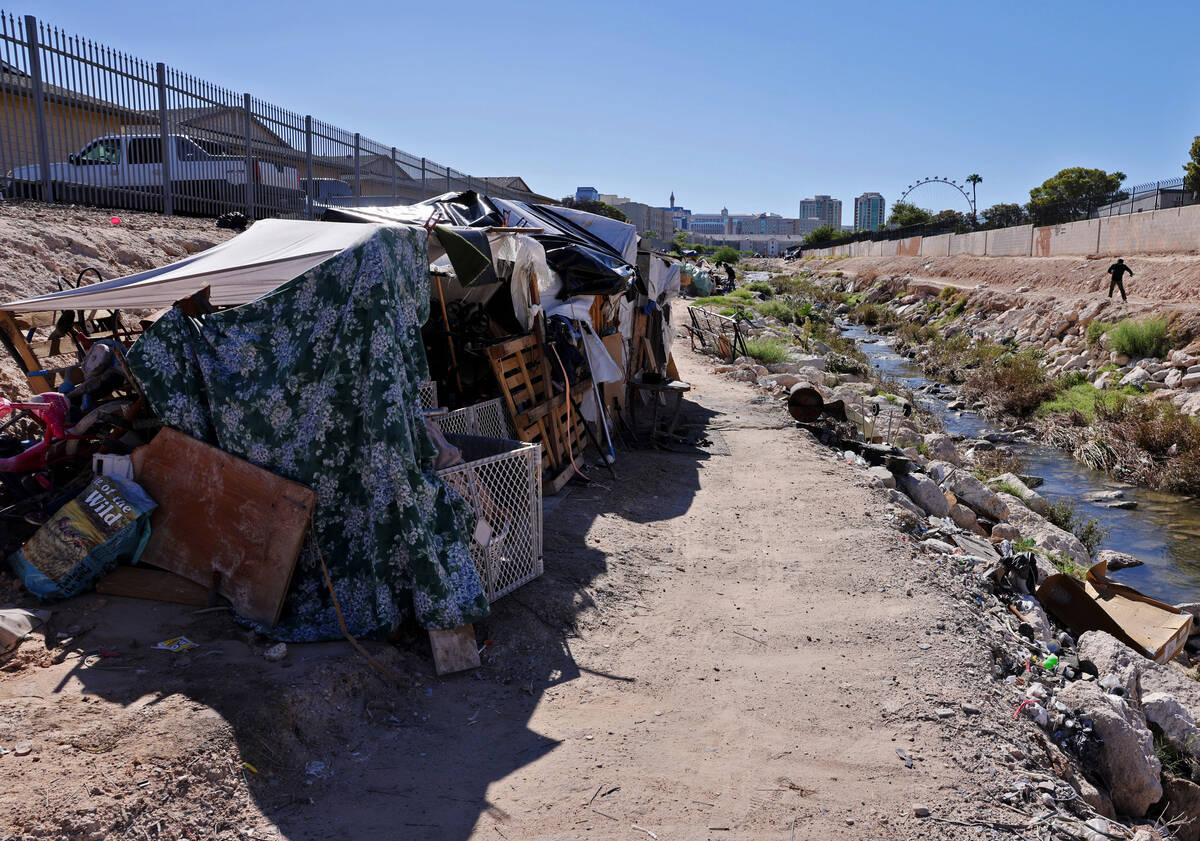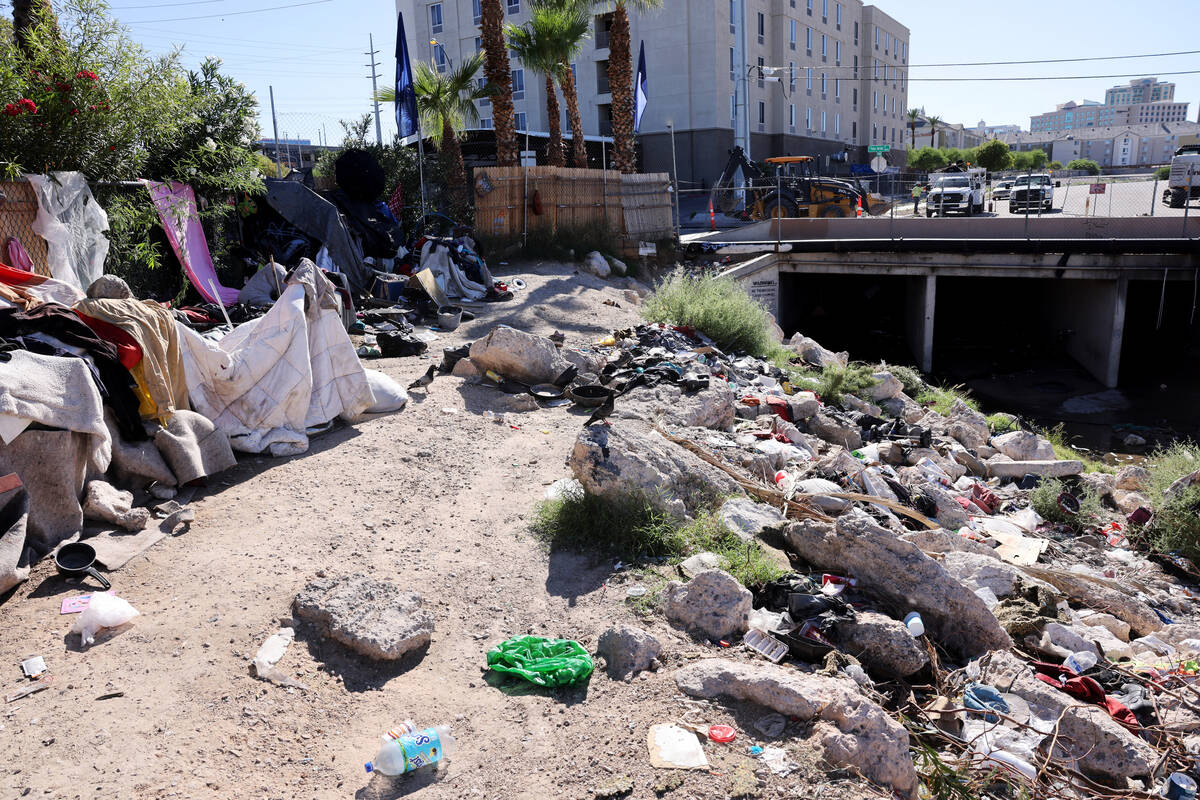 During a normal deluge of monsoon rain, the sign of a possible catastrophe arrives in small eruptions in the underground concrete tunnels that hundreds of unsheltered locals call home.
"If those start spurting water out of them, that means get the hell out of there, because it's coming," Bud Hill said.
What follows within a few minutes is a fast-moving, thundering river that carries debris, such as shopping carts, boulders, wood and "everything you can imagine," he added.
"It sounds like a train coming, literally," Hill said. "It sounds like a roar: louder, louder, louder."
A sunbaked Hill, who's been experiencing homelessness for five years, stood Tuesday afternoon atop an adjacent wash off the Strip, where he'd built an impromptu camp with salvageable debris after losing all of his belongings.
"There was no warning at all," he said about the flooding caused by the storms that drenched the valley last weekend.
Tunnel residents highlight the advantages of living underground: It keeps them shaded and cool during the hot months, and a bit warmer during the frigid seasons.
More than 500 people live in the tunnels, but they aren't a safe shelter and can prove deadly, according to Louis Lacey, director of HELP of Southern Nevada's homeless response teams.
A homeless man's body was found early Saturday in a detention basin near Rainbow Boulevard and Westcliff, according to Clark County, which described him as a possible "drowning victim from the weekend storms."
HELP, which contracts with Clark County, dispatches staffers across the valley to try to talk the homeless population into accepting social services in the hope that they can convince them to get off the streets.
The teams were out in full force from the time forecasters projected the remnants of Hurricane Hilary would make their way to the valley.
Their message to people in the tunnels and washes: "Please don't go back. Please stay away. Please never come back, please. People die," Lacey said.
'Nobody deserves to die for being homeless'
Southern Nevada's three-month monsoon season, which runs through September, pours down most of the valley's annual rain, according to the Regional Flood Control District.
The hundreds of miles of tunnels were designed to mitigate flooding on surface streets, sending it through washes and tunnels into retention basins. Moving at speeds up to 30 mph, the water is funneled east into the wetlands before making it to Lake Mead, the district said.
This season was paired with the arrival to the valley of the Hilary-related storms in late August, prompting HELP to implement its "rain-event protocol."
Lacey's 34-member outreach team posted signs and tried to convince unsheltered people to seek shelter elsewhere. Only a fraction of the people they spoke to face-to-face accepted transport to area shelters, he said.
Other nonprofits undertake a similar mission, and under an emergency declaration, public agencies — such as police and local government departments — joined the effort, Lacey said.
"At the very least, we warn them to get their stuff and get out of the tunnels and washes because the possibility of flooding and them losing their life is real," Lacey said.
After Hilary dissipated, most returned to the tunnels, he said. More rain followed days later.
The flood control district measured 3 inches of rain in some spots between Sept. 1-2, with 3.78 inches logged in the Flamingo Wash at Nellis Boulevard.
"This is 100 percent serious, and for whatever reasons folks decide to be in the tunnels … nobody deserves to die for being homeless," Lacey added.
Rebuilding
A.J. — who shelters near the entrance of a tunnel with his girlfriend, younger brother and his dog, Larry Vicious, said a high-water wave washed away a HELP sign.
The 33-year-old man said he learned about the flood advisory through a cellphone alert. Before long, most of his group's belongings — furniture, shelves, clothes — were gone and they were forced above ground.
"If somebody yells water, that means it's coming, get the hell out. If there's rain, get the hell out," he said, noting that flooding is something he's been aware of since he landed in the streets. "We barely got out."
A.J. said he hadn't known the tunnels existed until he became homeless in 2019. He named his dog after Larry, a man who looked after him in the streets, who he said died during a flood as he tried "getting a girl and her belongings out of the water."
He described the tunnel residents as a tight-knit community that looks after one another. As the tunnel continued to dry, the group had moved back in, having collected a new tent, a portable bed, jugs of water and an ice chest.
A.J. had built a levee of sorts, stacked with mud, rocks and other debris. A "beware of dog" sign was posted on a wall, near a taped canister of naloxone, an antidote that reverses the effects of an opioid overdose.
That was about the 10th time he and his brother have had to rebuild, he said.
'We're going to show up'
Bud Hill said he's spoken to HELP in the past and is willing to accept help with the condition that the resources, such as addiction treatment are "solid" and that he's assured that "they're not just going to dump me on my (expletive)."
He said he fears being deemed "undesirable."
But A.J., who suffers from addiction, said he'd rather see more vulnerable populations take up the social services.
"I'm an able-bodied young man," he said. "I've done this to myself."
Lacey, who experienced homelessness until a Las Vegas police officer convinced him to seek resources nearly three decades ago, said he's not giving up on paying it back.
"Even when it seems like they're not willing to accept (help) at the time, we're going to keep coming back, we're going to keep offering services, we're going to show up and when they're ready to receive assistance, we're going to be there."
He said HELP deploys the "starfish theory," the act of throwing the beached living beings back in water.
"Somebody walks up and says, 'Hey there are thousands of them, you can't save them all,'" he said. "And we show them the one in the hand, and we go, 'Yeah, but we just saved that one.' That's what we do. That's what we do."
Contact Ricardo Torres-Cortez at rtorres@reviewjournal.com Follow on X @rickytwrites.