No water, poor roads: Daily life is now a 'hassle' on Mount Charleston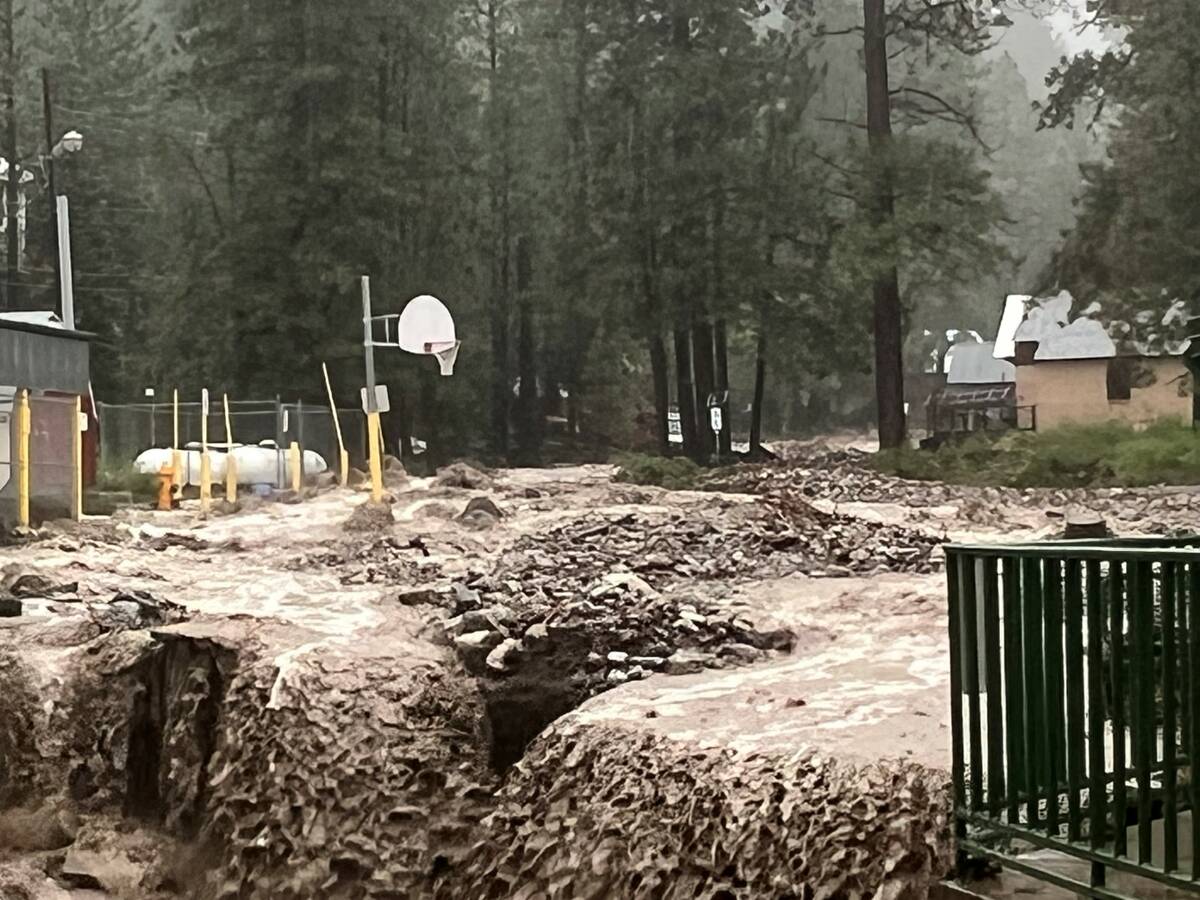 Residents of flood-ravaged neighborhoods at Mount Charleston are still dealing with things like no water service, mud and rock slides, off-road driving, slow traffic and even heavy fog in the wake of heavy rain storms nearly two weeks ago.
"My street became a wash," resident Brenda Talley said of Echo Road, just north of Kyle Canyon Road, the main avenue to the Mount Charleston community, when flood waters reached three feet from the Aug. 21 storms that wrought widespread damage to roads, buildings and homes.
After heavy rains hit the valley Friday and Saturday, residents on the mountain say the rains the last couple days weren't as bad as they were last month.
But it's still bad, even after the rains have subsided, when Talley drives up Kyle Canyon Road, where in one part so much of the pavement was washed out she could not see the yellow road marking and had to veer onto the shoulder to keep going forward, Talley said.
The Las Vegas Valley Water District also imposed a boil water order for Old Town and the 300 block of Echo Road until water service is restored, according to a statement Saturday. The district expects to install a permanent replacement pipeline in Echo Road next week.
Echo and Cathedral Rock were under boil water orders earlier in the week, but those orders were lifted Saturday after the water district flushed the area's service lines, according to the district.
The worst thing for Donald and Jeannie Ham is having no water service for almost two weeks now, after strong flows of storm runoff damaged the lines and repair work will take about two more months.
Fortunately, they can go to their son's home in Las Vegas to take showers, wash their clothes and fill up water containers and use some of it to pour into the toilet for flushing.
"It's not ideal," Jeannie Ham said.
"But at least we get to see our granddaughter," said Donald Ham, a former editor for the Review-Journal.
'A real problem'
To keep unnecessary traffic off the mountain roads, residents have also been issued special tags to place on the rear-view mirrors of their cars. Those without them are denied entry, Talley said.
The debris on the mountain roads from rock and mud slides is so bad that a friend said she was scraping the bottom of her car, and the other day it was so foggy "I could hardly see the truck going in front of me," she said.
Less than a mile south from Talley, Donald and Jeannie Ham live a house in the Old Town neighborhood between the Mount Charleston Library and the Earl B. Lundy Elementary School.
They also have resident passes to go to and from their home, but sometimes there's only one lane open on Kyle Canyon Road amid the plethora of dump trucks, backhoes and other vehicles.
"The workers up here, they are doing a really good job," Donald Ham said.
The flooding also nearly destroyed the elementary school nearby, eroding the ground underneath and washing away the parking lot. The pupils might have to be bused all the way to a school in Indian Springs up north on U.S. 95, Donald Ham said.
As for their home, only some mud made it into their garage, he said.
But the U.S. Forest Service has prohibited hiking on the area's popular trails — also flood-damaged — for the next two years, Jeannie Ham said.
"I can't take a walk in the forest anymore," she said. "That's a real problem for me."
Contact Jeff Burbank at jburbank@reviewjournal.com or 702-383-0382. Follow him @JeffBurbank2 on X.