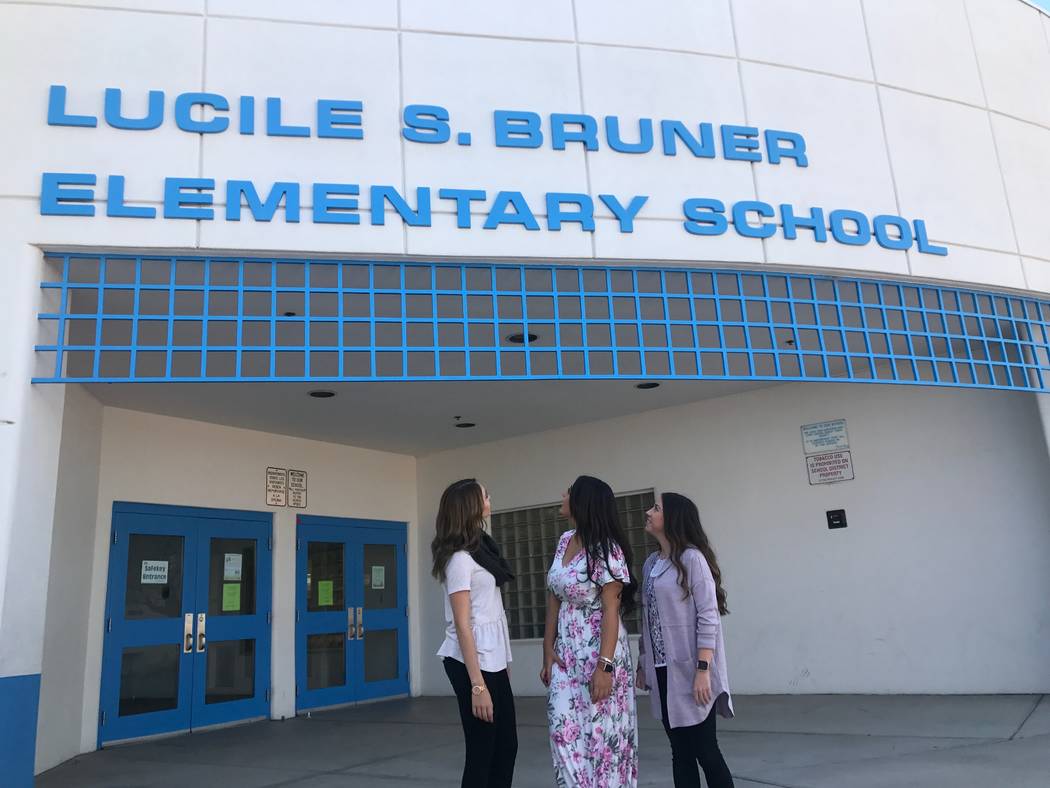 While budget-cut anxiety hangs over the Clark County School District, Bruner Elementary School's three newest teachers — Madonna Hakim, Emily Rios and Amanda Hosseini, all 22 — can breathe easily.
Principal Cathy Conger had informed the first-year teachers that one or more likely would be moved to a different school if the school was forced to eliminate teaching positions. Teachers take up an average of about $82,000 of a school's budget, once various costs in addition to salary are factored in, Conger said. The cuts would have then been based on seniority.
Hakim, Rios and Hosseini got good news Sept. 22 when Conger and assistant principal Jennifer Hornyak told them another teacher had volunteered to leave. At a staff meeting that week, a second-grade teacher unexpectedly volunteered to transfer, Conger said.
The second-grade teacher's class will be divided among other teachers.
Hakim and Rios, known as the "twins" at Bruner because of their close friendship, said "we both can sleep now."
"We were so scared because everyone has been working here for so long, and we really didn't think anyone would volunteer to leave," Hakim said. "I'm super happy to still have my job and to be with my teacher twin and our little family in the first grade."
"I don't think we could've (gone through this) by ourselves," Rios said of Hakim and her.
Rios said she and Hakim are excited to resume working on new ideas for the students, including team teaching and switch teaching for their classes.
Hosseini, a fourth-grade teacher, said she feared the worst when she was called in alone to speak with administrators. Of the three new teachers, she was the most recent one hired, she said.
Like Hakim and Rios, Hosseini graduated from UNLV in May, but her degree is in psychology. She went through the Alternative Route to Licensure course over the summer after working as a substitute teacher and loving the job, she said.
"(The job uncertainty has) taught me to be flexible and to go with the flow," she said. "There's no use in just having anxiety about it all the time. … The demand is really high (for teachers), so I'm just going with it and seeing where it takes me."
Bruner's leaders did a good job of not worrying students or parents, Rios said.
Another North Las Vegas school, Arbor View High, also avoided having to cut teaching positions, principal Kevin McPartlin said. An assistant principal transferred to another school in September, and a social studies teacher moved into a counselor position. Arbor View has about 3,200 students.
McPartlin said school leaders handled the squeeze using strategies such as prep buy-outs, in which teachers can teach a sixth period at a cost that's less than hiring a new teacher. Danielle Strong, who has been on Arbor View's school organizational team since March, said the team's goals for dealing with the budget were to keep class sizes small and avoid eliminating teaching positions.
"It really fell into place," she said. "To be able to have a couple of positions that were moving on to other positions and not filling them allowed us to not take anyone's livelihood or take anyone's job away."
Contact Kailyn Brown at kbrown@viewnews.com or 702-387-5233. Follow @kailynhype on Twitter.
ABOUT SURPLUSSING
Clark County School District teachers are transferred — also known as being surplussed — every year regardless of the district's budget health. Teachers can pick schools with openings to transfer to, based on seniority, said Bruner Elementary principal Cathy Conger. No interviews take place, and teachers start at their new schools a few days after their selection, Conger said.