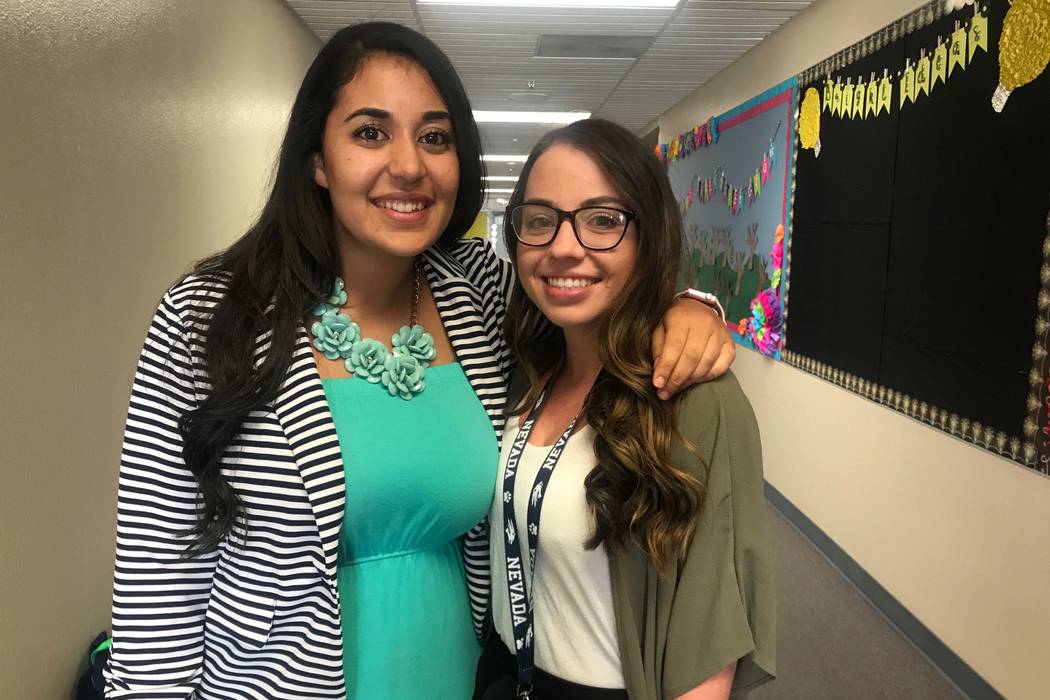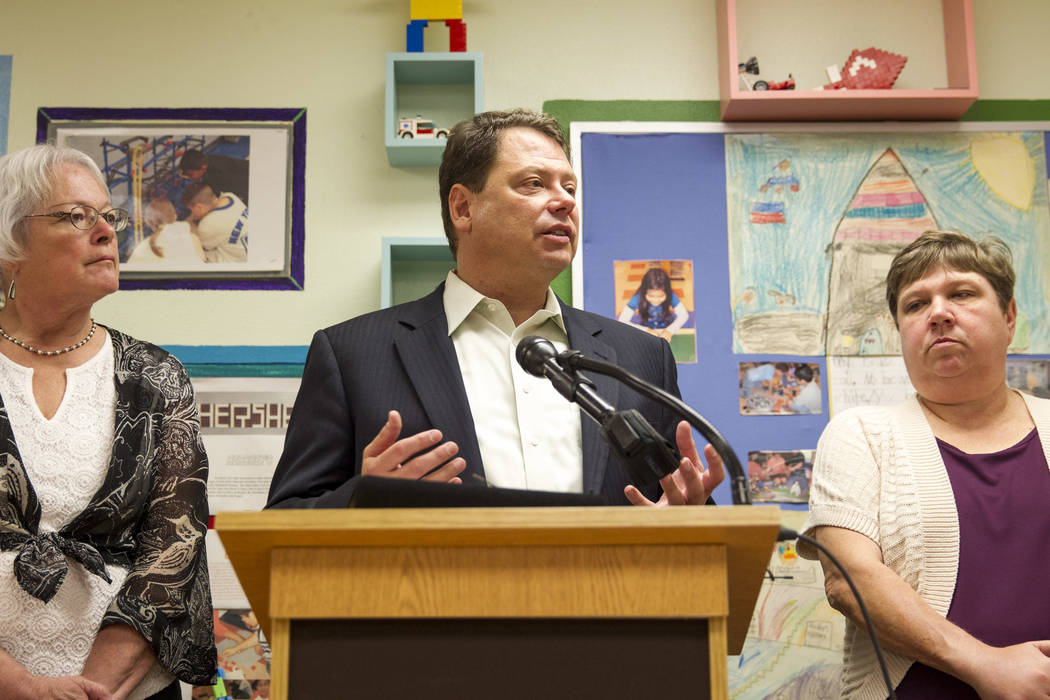 Just a month after spending their summer vacations decorating their classrooms and getting to know students, first-year Bruner Elementary School teachers Madonna Hakim and Emily Rios face the possibility of being sent to another school or laid off.
Clark County School District officials estimate that the district's budget deficit may require up to $80 million in cuts, which has created an uproar in the district and among parents. Superintendent Pat Skorkowsky announced his retirement in early September, saying it would free him up to address what he called an unfair state funding scheme for education.
Hakim and Rios, spring UNLV graduates who are known as the "twins" at Bruner because of their close friendship, said mentor and fellow first-grade teacher Le Carter gave them the news in the first week of September.
"We're definitely terrified and nervous, because everything is kind of up in the air," said Hakim, 22. "No one really has a straight answer of what's going to happen, and that's probably the scariest thing."
Bruner Principal Cathy Conger, who has been working for CCSD for 24 years, called the situation for her school's three new teachers "grossly unfair," adding that "depending on how deep they go, I could lose them all and I have to rearrange students and teachers. … It makes me want to cry."
The district will hold a count to determine a standardized ratio of students to teachers at each school. Most elementary schools are expected to lose teachers, Conger said. If teachers are cut — which is set to be determined at the Sept. 14 district meeting — it will be based on seniority. That's potentially bad news for Hakim and Rios.
Rios, 21, said administrators told her she'll likely have to switch schools because of her school's low enrollment this year.
"We love the school that we're at," she said. "We were fortunate enough to teach as a long-term substitute here, and we didn't have to interview anywhere else. For that to be taken away from us because of budget cuts is really tough."
Conger said elementary schools likely will be hit hardest because, unlike secondary and high schools, they don't offer electives that allow them to cut from multiple areas. Elementary schools can't easily cut librarians, music instructors and art teachers because they fill a mandatory prep period for teachers. So rather than cut a teacher in an elective course, like a high school can, they have to bump teachers from different grades or positions. Bumping sometimes means moving employees to their former positions, such as a dean going back to teaching or an office aide going back to being a clerk, she said.
Teachers who are surplused — sent to another school — can sometimes select another school in their area, but sometimes their only option might be a school on the opposite side of town. After the district meeting Sept. 14, then the school's strategic budget meeting four days later, teachers who are surplused will have just a few days to decide whether to accept their new assignments or leave.
A numbers game
Bruner is a Title I school that receives federal money; it upgraded from tier 1 to tier 2 this year but lost more than $100,000 in grants because too few students applied for free and reduced-price lunch. It fell short by fewer than 10 students, Conger said.
Jeremy Christensen, a geometry and calculus teacher at Arbor View High, said he is confident he will keep his job because he has been working for the district for 15 years. He's most concerned with salary and hiring freezes that may accompany the cuts.
Teachers received cost-of-living raises a couple of years ago, but they went without for about six years when the economy was at its worst.
"I feel like we suffered through those six years and things were feeling good, and now it seems hard to understand why there's this big issue from the district," Christensen said. "It's just disappointing."
He said Arbor View staffers were hoping to get receive a couple of more teachers to assist with large class sizes, but now he fears that won't happen. Christensen said his largest class has 44 students, three of whom have to sit at a table because the classroom only has 41 seats.
Priest Elementary special-education teacher Loralie Cuff said she's not concerned about her job security because the federal government mandates a quota of special-education teachers.
"If you're in education long enough, you're going to see this cycle once or twice," she said. "Budget shortfalls are always a part of education. Whenever you have so many government entities having to share the collected income, you're never going to please everyone."
Meanwhile, Hakim and Rios said they have to continue focusing on their students, although having to leave them is always on their minds. They're also afraid to leave each other.
"We love that we've had each other through this," Hakim said. "It's still scary and it sucks, because we love having each other."
Contact Kailyn Brown at kbrown@viewnews.com or 702-387-5233. Follow @kailynhype on Twitter.
Title I schools
Title I is the federal education law that provides funding to elementary and secondary schools for programs and services to help economically disadvatanged students succeed, according to the Clark County School District.
Of the 39 CCSD public schools in North Las Vegas, all but three are Title I schools. The three that aren't are Goynes and Triggs elementary schools and Canyon Springs High School.