Community rallies to help renovate Shade Tree in North Las Vegas
Updated November 21, 2018 - 9:30 pm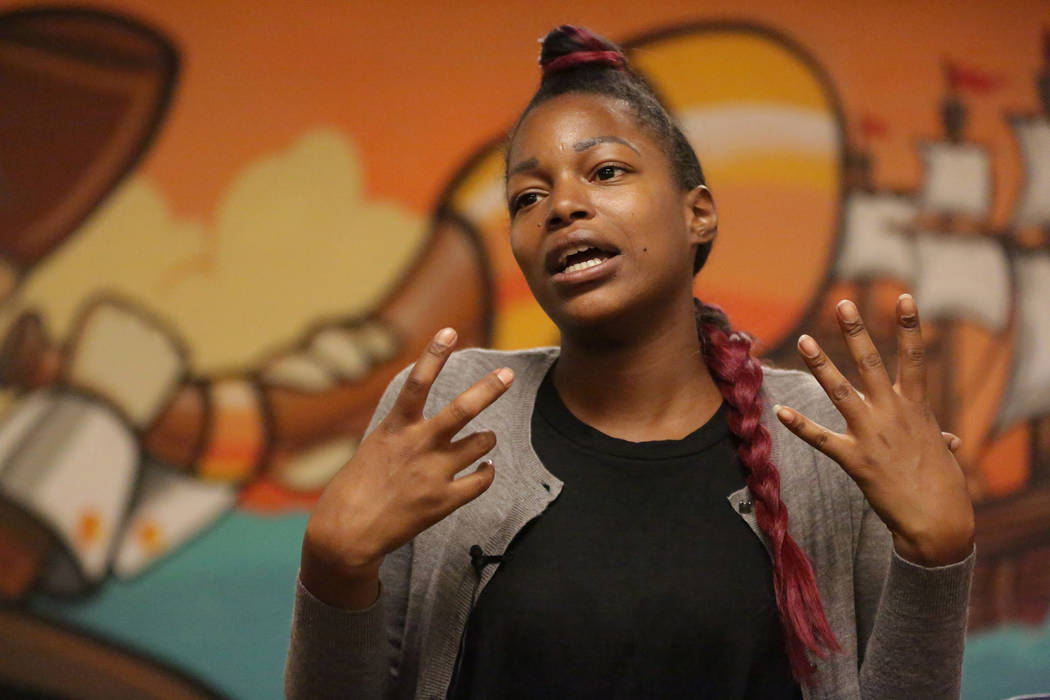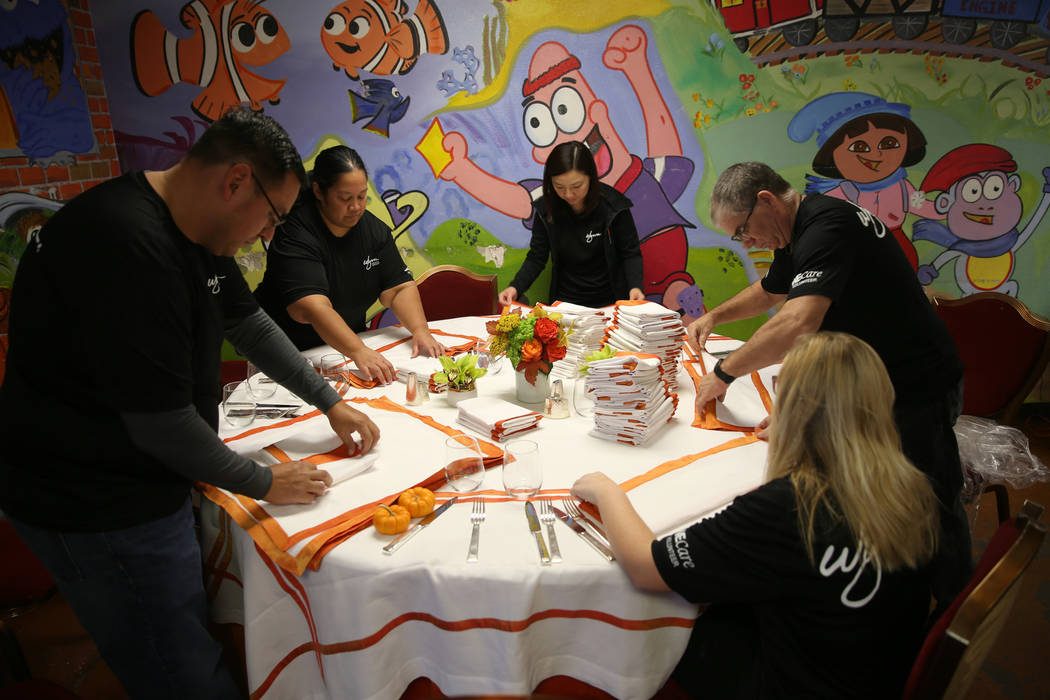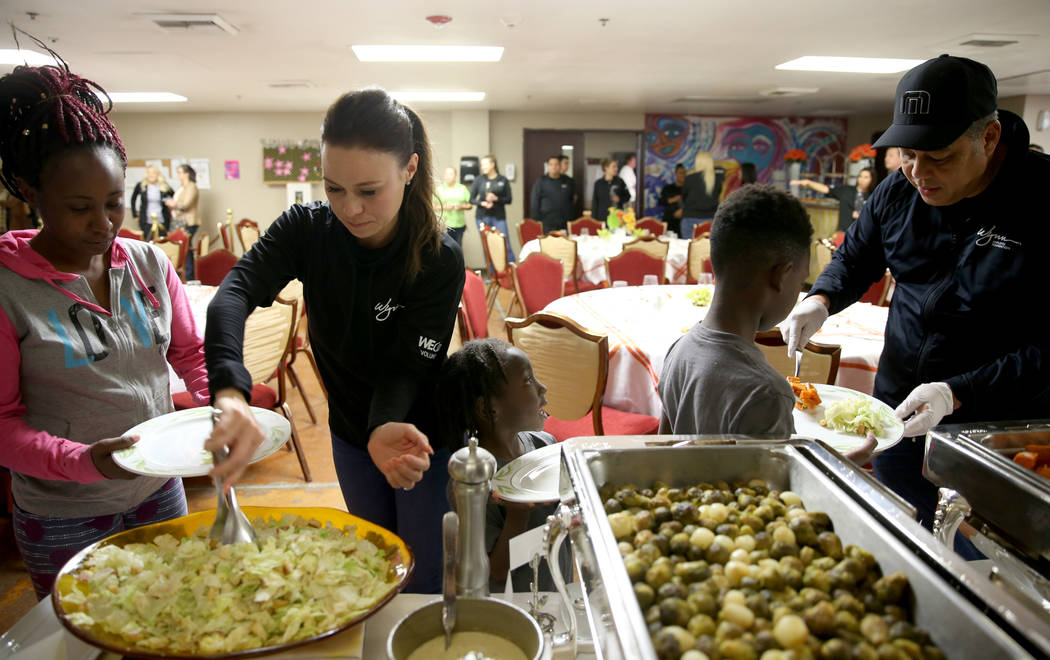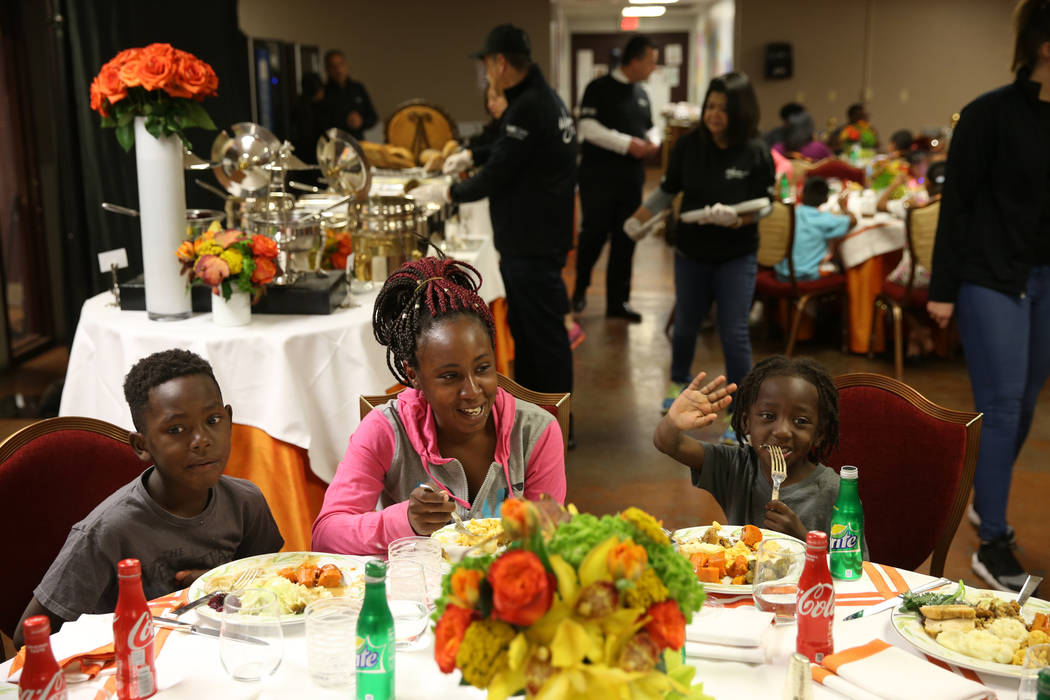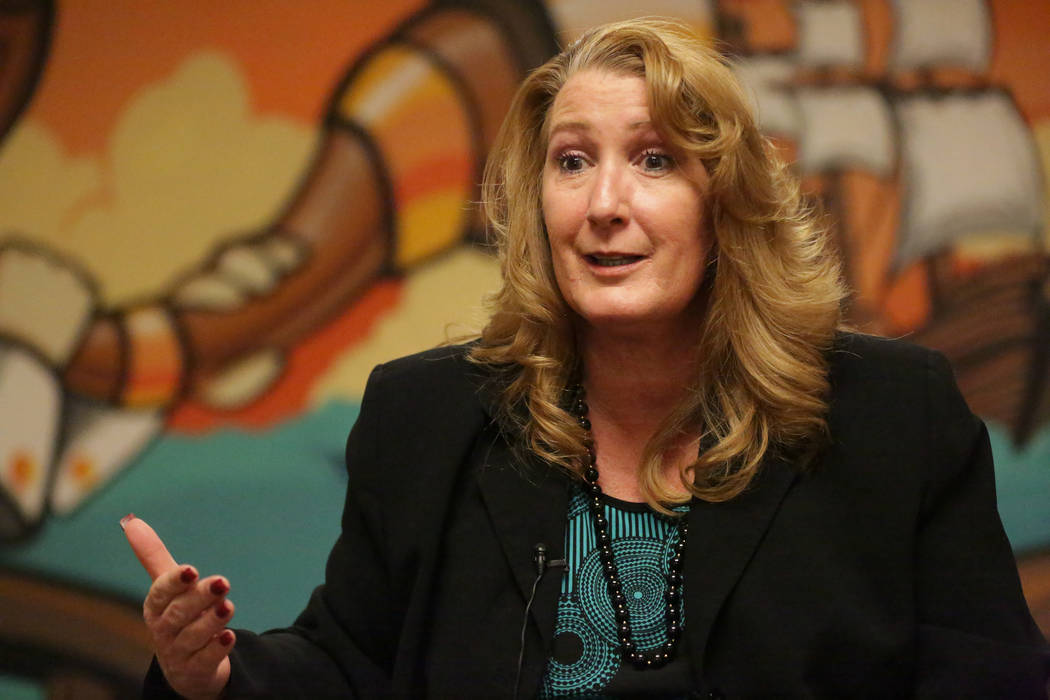 The 25-year-old mother of one recalled the day a month ago when she stepped through the doors of The Shade Tree for a second time, in tears and holding her toddler son.
Earlier that morning, Nefertiti Clark, in haste and fearing for her life, said she had packed up, grabbed her 3-year-old son, Alon'Zo, and taken a Lyft to the shelter for women and children.
"I was able to confide in The Shade Tree. That was the best thing for my stability," Clark said Monday. "All I have to do is be a woman, a strong, independent mother, and get a job and get a place."
During her stay this time, Clark said, she has noticed differences at the nonprofit shelter: The third floor has been renovated and equipped with a new clinic, private nursing room, bathrooms and dormitories.
More transformations are on the way for the North Las Vegas shelter. Changes to come include a 1,700-square-foot kitchen set for construction and first- and second-floor renovations after the holidays. All are expected to be complete by May.
Executive director Stacey Lockhart said the shelter, which has helped provide a fresh start for its clients since its inception nearly 30 years ago, is going through its own "rebirth."
The renovation has more than 40 sponsors. A $1.5 million donation from Wynn Las Vegas, announced in August, served as the main catalyst for the change, Lockhart said.
"We had to stop and take care of our house," she said. "I don't know how people can move forward if their surroundings are subpar."
On Wednesday, Wynn Las Vegas catered a Thanksgiving meal for about 170 women and children staying at the shelter.
"It'll bring warmth to what otherwise might be a tough time for women and children," said Darrell Richards, vice president of construction for Wynn Las Vegas.
He praised the efforts of many in the community who have helped The Shade Tree.
"The generosity that has been afforded The Shade Tree through our community partners is really an indication to how generous the Las Vegas community really is, and it's really heartwarming," Richards said.
Helping women move forward
When Lockhart first came on board in July 2017, she noticed The Shade Tree was operating at a loss and for years had dipped into reserves to make up the difference.
Changes were needed. Doors didn't lock, a front gate didn't work, and some security cameras were not functional.
"It needs to be secure, and in order to respond to community needs, we need to be able to fund ourselves adequately," Lockhart said. "We're here to help women put their lives together and move forward, and not have to come back."
Because of a lack of funds, 14 employees were laid off last year, and the board of trustees had already decided to close the third-floor living area, which provided transitional housing for about 40 women.
This spring, Arnold Stalk, founder of Las Vegas Family Housing Villages, offered a 20-unit apartment complex for transitional housing for residents of The Shade Tree.
Lockhart said she approached Wynn Las Vegas to see if it could help host a fundraiser.
When the hotel-casino heard about the improvements needed, Lockhart said she was asked, "Wouldn't you rather have $1.5 million?"
'Really cool journey'
Thus, the construction began, all with the work of Wynn Las Vegas' engineering team and donations from tile companies, subcontractors and other vendors. Caesars Palace will also renovate the second floor.
"It's a really cool journey that we're on as a community and as a building community," said Richards, who sits on the shelter's board of trustees. "It's not about the number. It's really about everybody coming together and working together to do the work that needs to be done."
The shelter's kitchen, which now is as small as two 8-foot tables, will be expanded to include a walk-in refrigerator and freezer, serving line and dishwasher.
This will alleviate the nonprofit's current cost of $1,500 a month for paper goods, Lockhart said.
On Monday, 3-year-old Alon'Zo skipped around the room, in front of a hand-painted mural of a parrot. Earlier, he passed a hand-painted picture of Wonder Woman and smiled with glee.
In the dorm where he and his mom live, there are new mattresses from Best Mattress. Next to one bed was a car seat with a teddy bear strapped in it. An open Bible rested on the pillow.
The improvements will allow the shelter to help 80 more women and children, but it will need about $1 million to keep up with the cost of expanding its reach, Lockhart said.
"I've never seen a community rally around an organization the way they are around The Shade Tree," Lockhart said. "They're part of our team, they're part of our family, and together we'll do it."
Contact Briana Erickson at berickson@reviewjournal.com or 702-387-5244. Follow @brianarerick on Twitter.