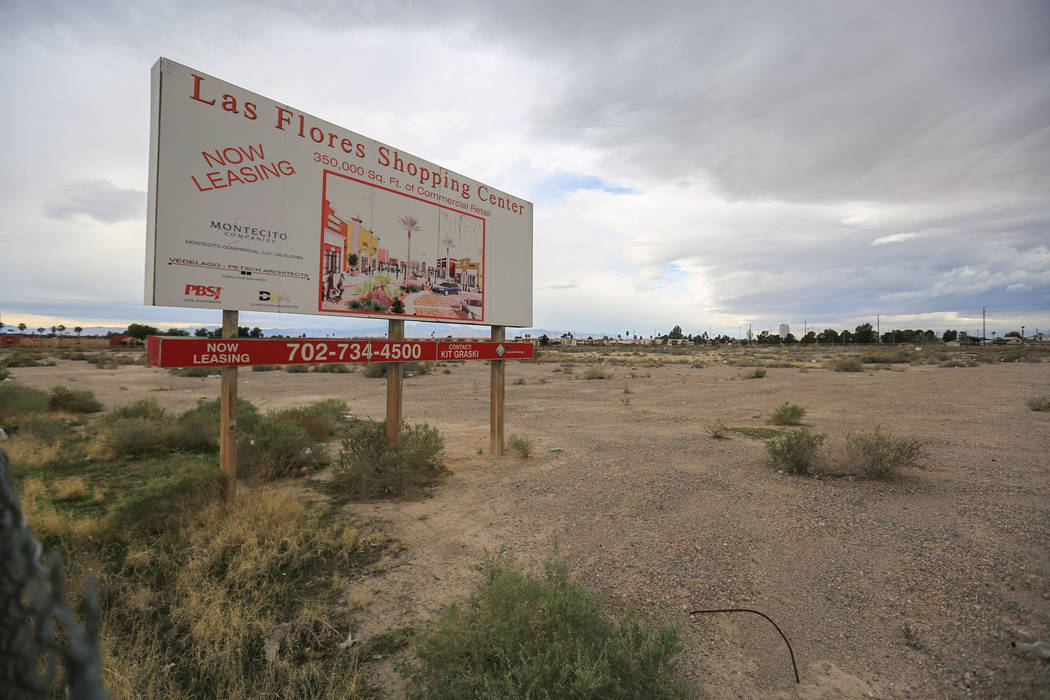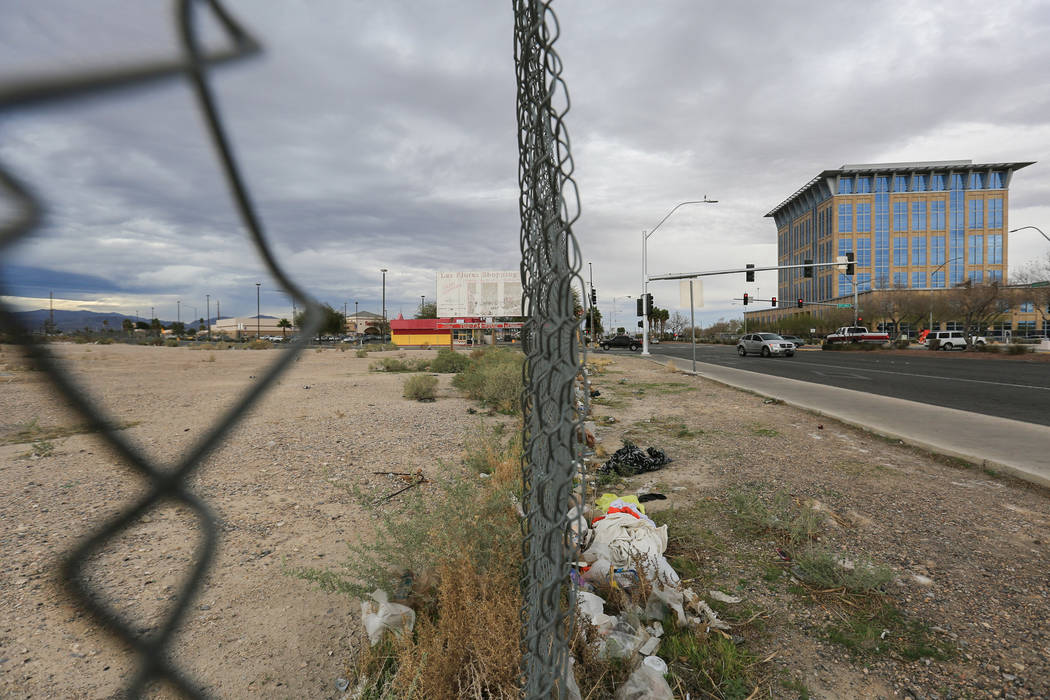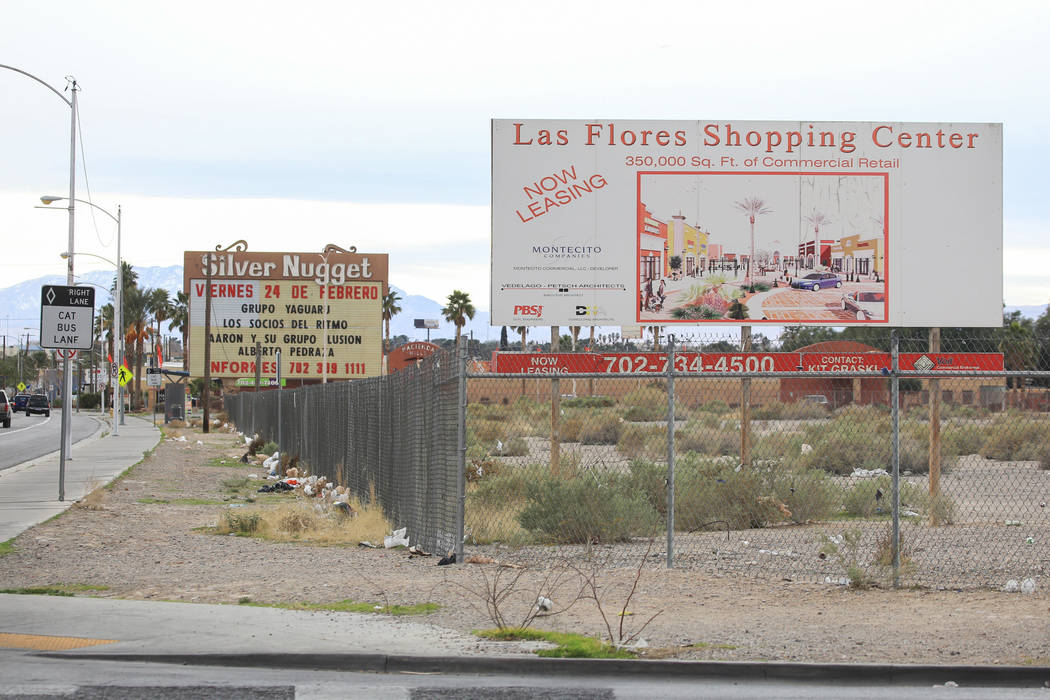 Overgrown brush sprouting from a vacant lot along Las Vegas Boulevard provided the perfect respite during Isaac Barron's youth.
The North Las Vegas councilman recalled racing bicycles, playing "war games," and tossing around a baseball in a "great big playground."
Now cleared from weeds, the 32-acre parcel across the street from North Las Vegas City Hall and the Silver Nugget Casino has laid bare. Ideas for development never took root.
"We had this prime piece of real estate on Las Vegas Boulevard, and no one wanted to do anything with it," Barron sad. "There was a time you really couldn't give away land in downtown North Las Vegas."
That changed in February, when Maya Cinemas North America purchased the land for $7.1 million, with plans for a 165,000-square-foot commercial center.
Construction could start by the end of September on the Maya Entertainment Center's 14-screen movie theater, shops and restaurants, under a plan approved earlier this week by the North Las Vegas Planning Commission.
If ultimately adopted next month by the city's Redevelopment Agency — headed by Barron — the project would mark the first significant move toward revitalizing the neglected downtown area of North Las Vegas.
"We thought it was a much needed product to bring here," said Frank Haffar, president and COO of Maya Cinemas.
"Movies are a family function, or a place where you bring a date," Haffar said. "We believe it's important to have a theater that is centrally located, and you don't have to walk through a casino to get there."
The project will mark the first venture outside of California for Maya Cinemas, which operates four theaters in cities with large Latino populations.
The company is led by CEO Moctesuma Esparza, who organized protests during the 1960s to demand equal education for Mexican-Americans living in Southern California. Prior to starting Maya Cinemas in 2005, Esparza was a movie producer known for "Selena" and "Gettysburg."
"If you noticed, the big theater chains don't usually build in Latino neighborhoods, so they have to go outside of their community just to watch a movie," Haffar said. "That's where we come in."
The two-story movie theater planned for North Las Vegas will have a large, glass-panel entry with perforated metal panels, according to renderings submitted by Maya Cinemas.
The 65,000-square-foot theater is expected to open by Thanksgiving weekend in 2018 to coincide with the release of movies that are traditionally nominated for Academy Awards.
"I think it's going to take that field across the street and really make it into something, an attraction, a destination," Kenneth Kraft, chairman of the North Las Vegas Planning Commission, said during a meeting Wednesday at City Hall.
Developers last decade sought to convert the Maya Cinemas property into a 350,000-square-foot retail complex known as Las Flores. After several stalls in construction, the plan failed to get off the ground and Dallas-based Sarofim Realty Advisors ultimately put the land up for sale.
Maya Cinemas beat out a bid from a developer who wanted to build a minor-league soccer stadium across the street from City Hall, Barron said.
"As much as I like soccer, there is still a certain amount of volatility that comes with sports franchises," Barron said. "In the long run, this is a much better deal because it's going to be a cornerstone for the downtown area."
Contact Art Marroquin at amarroquin@reviewjournal.com or 702-383-0336. Follow @AMarroquin_LV on Twitter.
Maya Entertainment Center
The two-story Maya Cinemas will be a two-story theater with 14 screens at Las Vegas Boulevard and Hamilton Street in North Las Vegas.
Plans call for building 11 retail spaces ranging from 5,200 to 12,000 square feet, along with four restaurants with outdoor dining space ranging from 4,500 to 7,300 square feet.
Source: Maya Cinemas North America