County commissioners working to keep North Las Vegas constable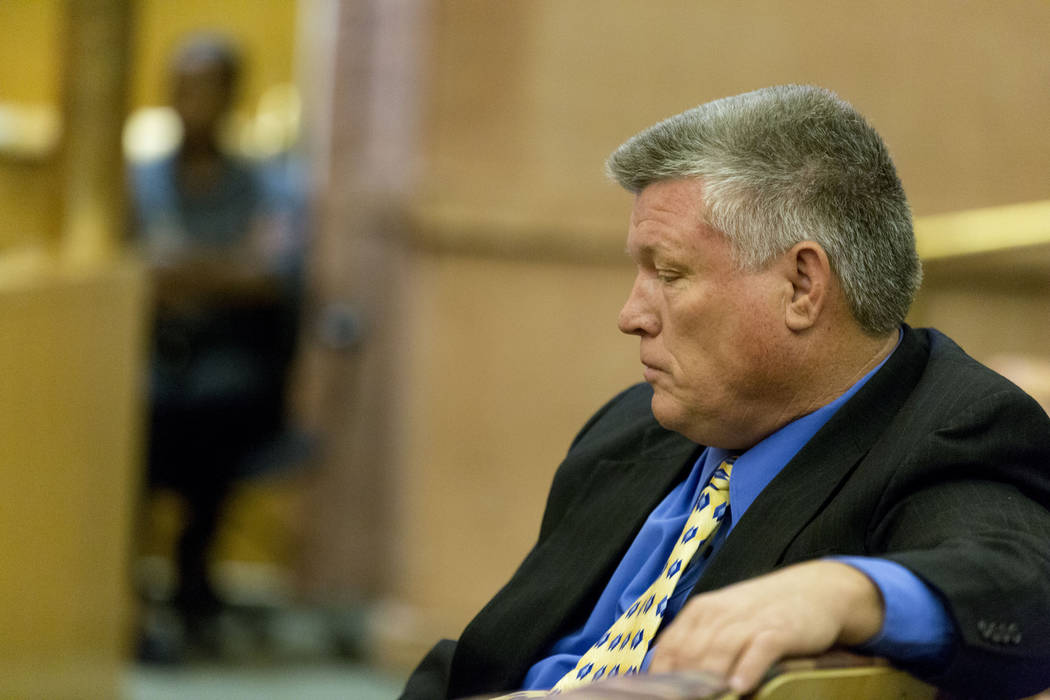 After allowing the constable of North Las Vegas to serve for more than two years without the required state certification, Clark County commissioners had an opportunity to end his term Wednesday.
Instead, the commission postponed taking any action for two weeks in hopes that Constable Robert Eliason could find a legal avenue to stay in office.
"I don't see the necessity or the hurry" to make a decision, Commissioner Chris Giunchigliani said. "We're already a year into this, and it still comes back to the public voted him in."
Eliason has served as constable since January 2015. Under Nevada law, he had 18 months to become certified by the Nevada Commission on Peace Officer Standards and Training or forfeit the office.
The deadline passed a year ago. Eliason told commissioners Wednesday that an injury keeps him from meeting the physical requirements for certification.
"My desire was, and still is, to become POST certified so that I can continue to serve the people that elected me and can continue to provide the county with a positive cash flow," he told the commission.
Commissioners asked county counsel Mary-Anne Miller if they could waive the certification requirement.
"The determination was made that he cannot perform the essential functions of the job as determined by the state of Nevada, not by the county, and the county is not the final arbiter of that decision," Miller said.
While county staff said Eliason must be removed, a majority of commissioners were reluctant to do so.
"Robert, I have your back, and I support you 100 percent," Commissioner Lawrence Weekly said. "I hope it all works out for you. I'm going to stay out on a limb with you, because I think you've been a good guy and done well by the citizens of North Las Vegas."
Giunchigliani motioned to postpone making a decision. She told Eliason that he should try to seek an accommodation from POST under the Americans with Disabilities Act.
"It's not been an issue of fulfilling the actual requirements of constable. It just simply has to do with a physical part of the job description," she said.
Eliason told commissioners that he had a pending ADA claim, but his attorney Jeffrey Barr declined further comment on the subject after the meeting.
Commissioners voted 6-to-1 to delay their decision until their next regular meeting in two weeks. Commission Chairman Steve Sisolak dissented.
"I don't think we have any flexibility" under the law, Sisolak said. "We've been talking about this for a year, and I don't see anything changing in two weeks, unfortunately."
Contact Michael Scott Davidson at sdavidson@reviewjournal.com or 702-477-3861. Follow @davidsonlvrj on Twitter.
Related
North Las Vegas City Council isn't defending embattled constable
County may oust North Las Vegas' constable next week
In other action
— Jim Gibson, 69, was sworn into the Clark County Commission. Gibson, a former Henderson mayor, replaces recently resigned Mary Beth Scow in the District G seat.
— Commissioners ratified the appointment of Les Lee Shell as the county's new Chief Administrative Officer. Shell, previously the county's risk management office director, will now oversee administrative services, risk management, elections, purchasing and information technology.
— Commissioners voted to approve new contracts with the following labor unions: Clark County Park Police Association, Juvenile Justice Supervisors Association.
— Commissioners voted to begin paying foster care agencies $62 a day for each child in their specialized foster care programs. The previous rate was $43.52 per child per day.