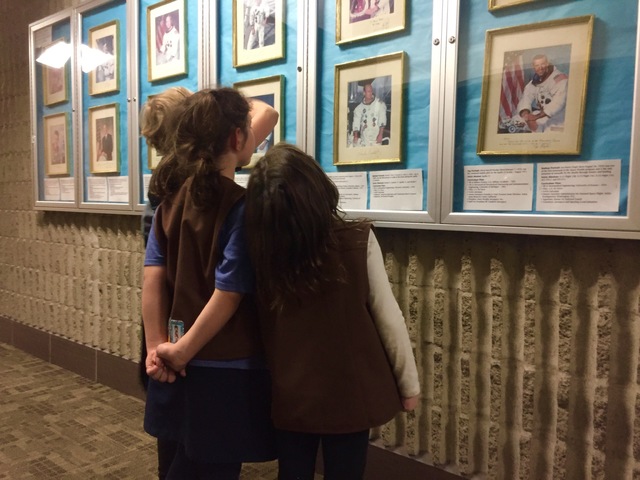 The virtual stars shone bright as children gasped and pointed in amazement on a recent Friday at Southern Nevada's only public planetarium.
An Evans & Sutherland Digistar 5 high-definition video projection system created a cosmic virtual reality in a larger-than-life, 30-foot dome inside a 68-seat theater at the College of Southern Nevada's North Las Vegas Campus.
"Wow. That's so cool," a Girl Scout said as she pointed at the ceiling Jan. 13. "It's unbelievable."
The views and entertainment were exactly what Henderson resident Lavonnie Hamler had sought when visiting the planetarium with her daughter and son.
"The show was good," she said. "I learned a lot about stars; it was nice and very informative."
During the 7 p.m. show, Nick Juliano, program manager at The Planetarium, spoke to the audience about stars and their location.
"There's only one star in the sky that's not moving: the North Star," he said as the audience stared at the night sky on the dome. "It's always in the same spot throughout the night, and it's always facing north. The reason for that is because it's directly above the North Pole."
Juliano then focused on two red dots in the night sky, one of which was Mars.
"Mars is very interesting because its surface is encased; it's entirely red," Juliano said. "This redness actually comes from something that we know here on earth, and that's something called iron oxide; you might know that as rust."
Former director Dale Etheridge opened The Planetarium nearly 40 years ago at CSN, then named Clark County Community College.
"(The college administration) really thought a town as big as Las Vegas needed a planetarium, and they found a way to make it work," said Andrew Kerr, the current director. "For the last 40 years there have been tours, public shows, astronomy nights and eclipse (solar and lunar) nights."
The next stargazing event will be during a solar eclipse Aug. 21.
The planetarium is home to the Las Vegas Astronomical Society, a volunteer organization of amateur astronomers. It meets there on the first Thursday of every month, Kerr said.
Additionally, professors use the theater for introductory astronomy courses, he said.
The Planetarium features an astronomy store filled with items such as posters, models, model rocketry materials, astronaut food, activity books, spin tops and balloons.
A planetarium reinforces common knowledge and helps educate the public, Kerr said.
"It's always important from a scientific literacy standpoint to know about earth's position in the universe," he said. "Too few people actually know a lot of that info, unfortunately."
Contact Raven Jackson at rjackson@viewnews.com or 702-383-0283. Follow @ravenmjackson on Twitter.
THE PLANETARIUM
What: Southern Nevada's only public planetarium
Where: College of Southern Nevada North Las Vegas Campus, 3200 E. Cheyenne Ave.
Schedule: Several events and shows are presented to schools on weekday mornings and to the public on weekends. The planetarium is open to the public from 6 to 8 p.m. Fridays and Saturdays, with another viewing at 3:30 p.m. Saturdays.