Free brake-light event aimed at avoiding police interaction
January 12, 2018 - 2:05 pm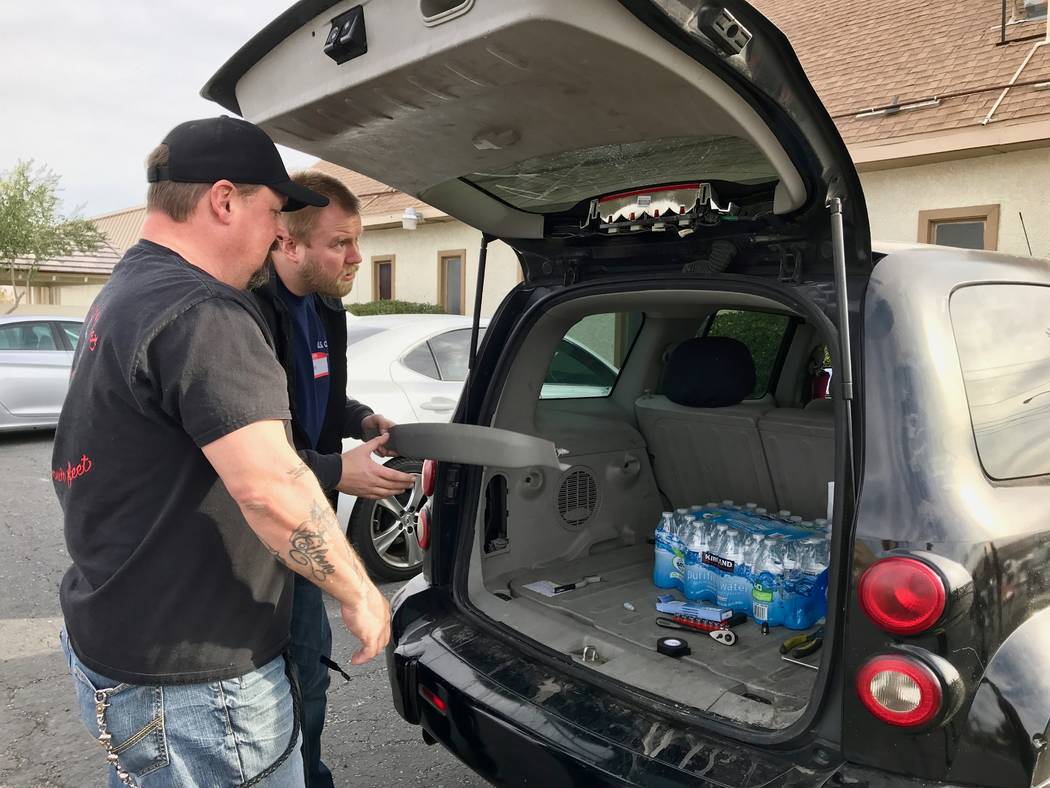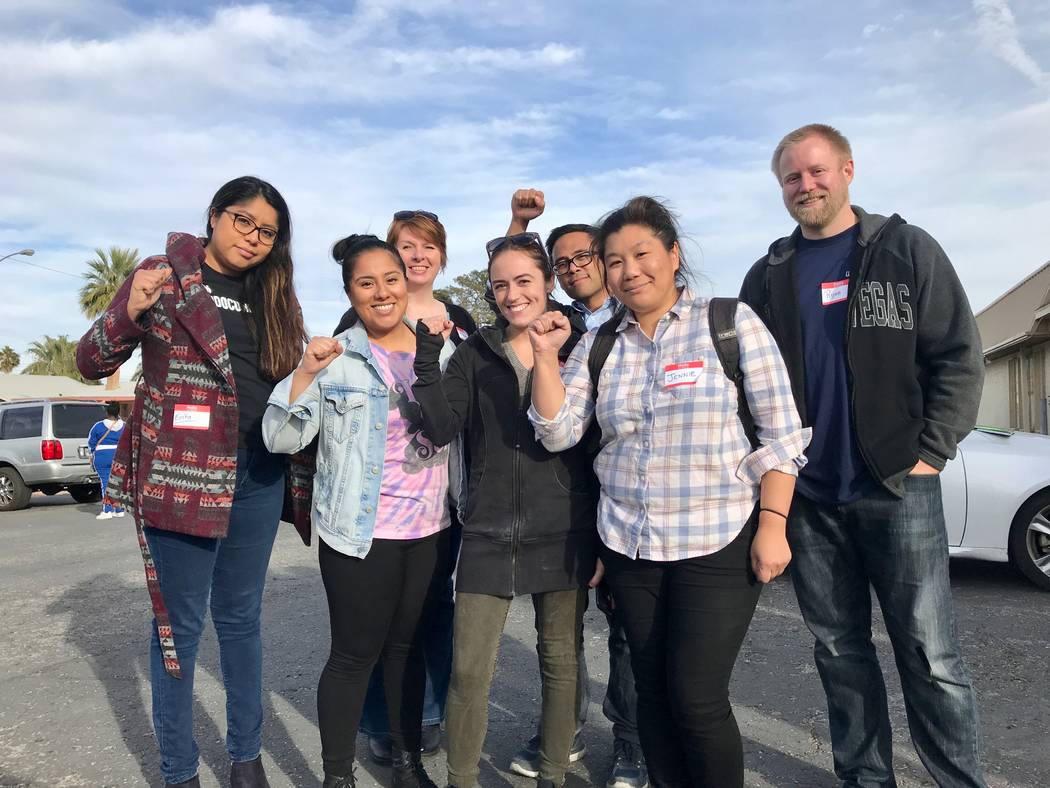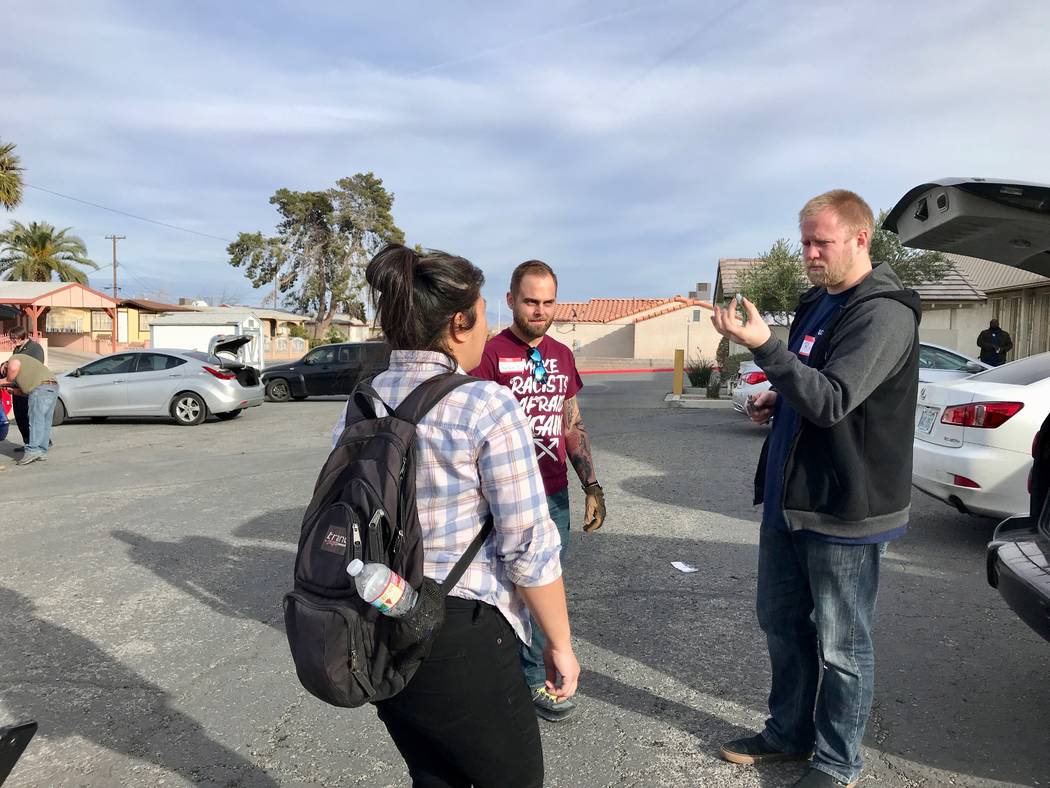 In the parking lot of a North Las Vegas church, the Las Vegas Democratic Socialists of America were hard at work promoting their vision of a just and humane society.
They were changing brake lights.
Members of the nonprofit political advocacy group, along with the Progressive Leadership Alliance of Nevada and the Faith Organizing Alliance, held the free event in an effort to prevent interaction with and harassment from police, organizers said. They changed brake lights and headlights on over 20 vehicles Jan. 6 at the First African American Methodist Episcopal Church on Revere Street.
"The clinic was envisioned as a community response to police shootings that happened as the result of traffic stops in 2016 and earlier," said interim DSA chair Jennie Yim, referring to the stories of Walter Scott, Philandro Castile and others. "It's not conceived as charity; it's conceived as a means of rallying support and solidarity and as a proactive means for the community getting together and staving off harassment and violence."
DSA has over 100 chapters and over 30,000 members nationwide. While members of the Las Vegas chapter may have been a part of the national group for years, the chapter (also the first in Nevada) was established in April.
The brake-light changing event, called "Gimme a Brake (Light)!", was first organized by the New Orleans DSA chapter in 2017.
"For working class people, the time and energy that it takes to change a brake light are in short supply — who wouldn't put it off for a while?" wrote Kaitlin Marone, a member of the New Orleans DSA, on the organization's Medium page. "And if you're unable to change it, you've got another reason to put it off. If you're a person of color, the physical danger of the traffic stop is ever present. If you're undocumented, it's possible that a traffic stop could dramatically disrupt your life, even lead to deportation."
If a person has a warrant, Yim said, that can lead to their arrest. A warrant is an order that directs law enforcement to arrest a subject and bring them before a judge. Warrants can be issued for a variety of reasons, including failure to appear in court, unpaid traffic tickets or if an individual is a suspect in a case.
"Having a warrant in and of itself doesn't usually end in jail time," Yim said. "It's having a warrant and then being stopped."
One volunteer, Briceida Castro, said she was pulled over by an officer in September for a burnt-out brake light. She had only been pulled over once before — for speeding — she said, and this experience left her shaken.
"I've been politically involved, but as far as brake lights, I don't think I really thought about it," she said.
In the light of recent police shootings, Castro said, because she's Hispanic, "(Getting pulled over) was scary, and it made me more conscious of it."
Eileen Eady, president of progressive political nonprofit Together We Will Nevada and a candidate for the Clark County School Board's District F seat, said her group has partnered with DSA for previous events, including protests against efforts to repeal the Affordable Care Act at Sen. Dean Heller's office.
The group focuses on civic engagement, lobbying for progressive initiatives and fundraising and supporting candidates.
The brake-light event was important, Eady said, because many people are intimidated by the task of replacing lights. Her husband, Wayne, asked why people couldn't simply go to a parts shop and pay to have the work done. It's more complicated than that, Eady said.
"What if you don't speak English? What if you're intimidated? What if you know the parts shop is open but you're working during those times?" Eady said. "These are important factors to keep in mind."
One of DSA's goals is the abolition of the prison-industrial complex, Yim said, or the rapid increase in the inmate population, due to what activists argue is the influence of private, for-profit prison companies. Another DSA priority is the abolition of police.
"Incarceration is a huge problem in America, especially since commercial prison systems are plentiful and increasing in number," Yim said. "What we feel is that if the goal of the police was to protect people and to keep justice, then they would be trying to work toward their own elimination."
That means an emphasis on the decriminalization of most nonviolent crime, which disproportionately affects people of color, Yim said. It also means replacing prison sentences with restorative justice models and emphasizing unarmed mediation and intervention training, according to DSA.
Until then, the group plans to hold more brake-light events throughout the valley. Dates have not been set.
Contact Madelyn Reese at mreese@viewnews.com or 702-383-0497. Follow @MadelynGReese on Twitter.
How to find out if you have a warrant:
Metropolitan Police Department: bit.ly/2iELfkY
North Las Vegas Police Department: Visit the North Las Vegas Municpal Court at 2332 Las Vegas Boulevard North, call the court at 702-633-1130 or review your case at cityofnorthlasvegas.com.
Henderson Police Department: bit.ly/2iJekhR
How to resolve a warrant:
Pay the full bail amount and close the case or receive a future court date.
Pay a set bail amount and receive a new payment plan or future court date.
If the warrant is bondable, post a surety bond and receive a future court date.
File a motion to quash the warrant and receive a future court date.
Surrender yourself to law enforcement.
Source: City of North Las Vegas, bit.ly/2qH1LbY