Indoor garden could be key to feeding needy in Las Vegas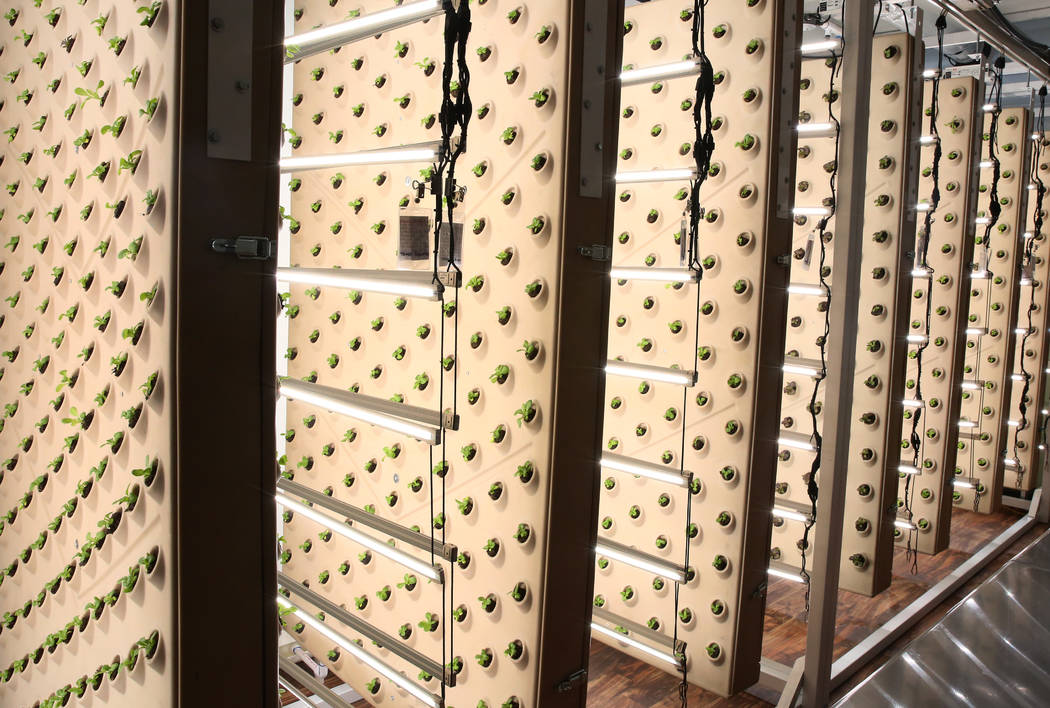 Behind a small glass enclosure tucked inside Three Square food bank's cavernous Las Vegas warehouse, Matt Hirsch sees the future of desert agriculture.
Three-thousand heads of butter lettuce, rooted in vertical panels and facing upward at a 45-degree angle, are growing toward thin rows of bright LEDs.
Cultivating these plants would be challenging outdoors because of Las Vegas's arid climate. But germination to harvest takes only six weeks inside the enclosure thanks to the artificial light, irrigation system and well-controlled atmosphere, said Hirsch, Three Square's director of volunteer engagement and agency services.
Hirsch estimated the 288-square-foot system will produce some 40,000 edible plants a year.
"You're able to utilize this technology to grow quite a lot of fresh produce in a small amount of space in a short amount of time," he said. "What you're going to get is a good-size head of fresh, farm-to-table, pesticide-free and really delicious lettuce that you would find in a high-end restaurant."
Three Square plans to use the new Bennett Family Indoor Garden to both feed and educate food-insecure people.
Create a Change Now, a nonprofit that works to fight childhood obesity, will likely partner with Three Square to bring the produce into local schools, president Scott Miller said. Once it's there, chefs will teach recipes incorporating the greens to students' families before sending them home with produce.
"It really gets kids away from the fear of eating vegetables," Miller said. "It shows them they can eat it and enjoy it."
A similar operation will happen with seniors, Hirsch said.
"What's most important to us is we use this product to engage low-income children, families and seniors in nutrition education and as a way to promote the consumption of this kind of food," he said.
The garden is named in honor of Diana Bennett, a Three Square board member and philanthropist who started the food bank's first outdoor garden. Hirsch said the first harvest should be in early November, and he hopes to soon expand the garden past lettuce.
About 20 types of greens, including arugula, spinach and kale, can be grown, Hirsch said. Almost any type of herb can flourish as well.
Not to be missed is the garden's minuscule water consumption, which Hirsch said is less than 5 percent of traditional agriculture's water consumption.
"It's extremely environmental friendly," he said. "You'll see a lot more farms like this going up in Las Vegas."
Contact Michael Scott Davidson at sdavidson@reviewjournal.com or 702-477-3861. Follow @davidsonlvrj on Twitter.