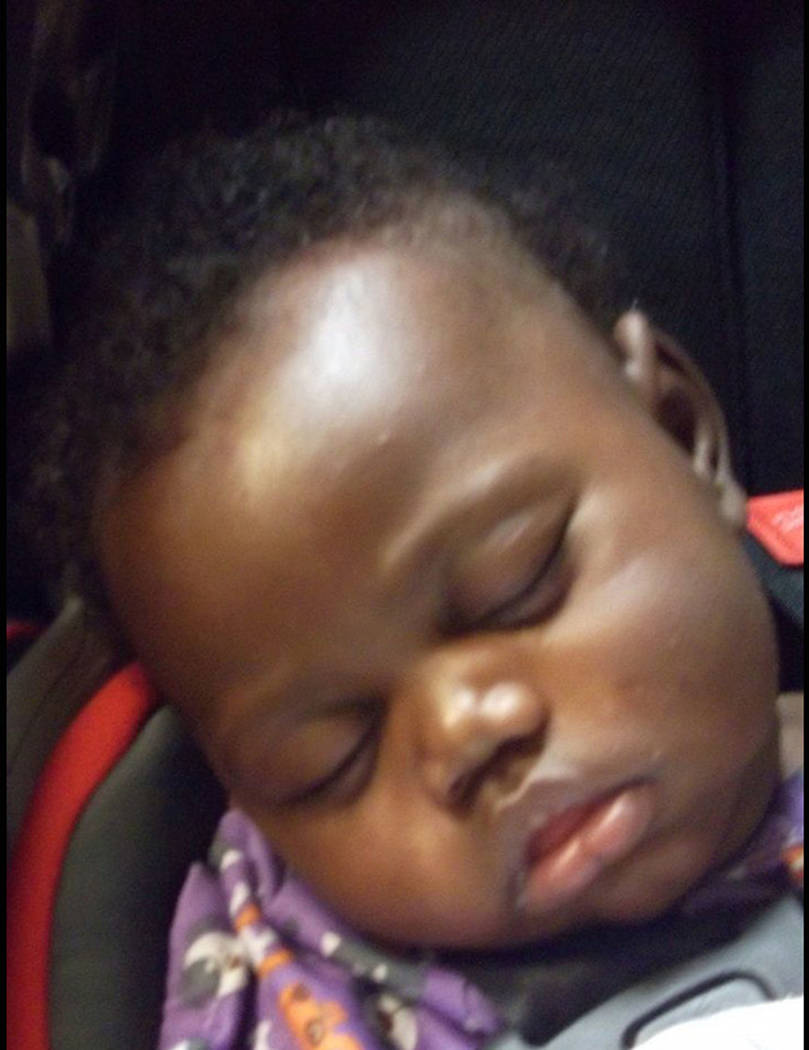 An infant was left at a North Las Vegas church Wednesday night, and she may be the missing "Baby Girl Jackson."
Officer Aaron Patty, a North Las Vegas police spokesman, said the infant, whose real name is unknown, was left about 7:30 p.m. Wednesday at the Portals to Glory Church of God in Christ, near Balzar Avenue and Comstock Drive. Police are working to confirm the identity of the baby, who appeared healthy.
Patty said whoever dropped the baby off left before police arrived, and he asked the public to come forward with any tips about who had the baby.
"We need them to call us to further the investigation," he said.
Kelvin Ray, an elder at the church, said he was in the dining hall Wednesday night when he was asked to talk to a man in the lobby.
The man handed over the baby. He did not give the parents' names but explicitly identified the child as "Baby Jackson," Ray said.
"The baby was doing great," he said. "She was crying but overall she was doing good."
Ray said the church called the police right away. It was the first time a baby had ever been dropped off at the church.
Baby Girl Jackson's parents, Nicholios Nealy, 37, and Octavia Jackson, 33, have been jailed in Kingman, Arizona, for failing to cooperate with agencies working to find the girl.
Both are charged with custodial interference. Jackson also faces two perjury charges and one count of unsworn falsification.
The latter count involves Jackson's alleged deception with representatives of child services, while the perjury charges are for alleged distortions of truth to Mohave County Superior Court Judge Richard Weiss.
Nealy and Jackson made separate court appearances Thursday in Kingman.
Mohave County attorney's office investigator Steve Auld said authorities began investigating child abuse allegations involving the couple 14 months ago. He said DCS took temporary custody of the couple's three older children on April 29, 2016.
Auld said long-term custody of the three older children — ages 8, 12 and 13 — has been the focus of protracted confidential legal proceedings that led to the discovery that Jackson gave birth to another baby at University Medical Center in Las Vegas on February 10.
Deputy Mohave County Attorney James Schoppmann said Arizona Department of Child Services authorities planned to travel Thursday to meet their Nevada counterparts to take custody of the baby.
Judge Weiss ordered that Jackson be jailed for contempt of court on April 19. Her attorney, Ron Gilleo, told another judge Thursday that Jackson had been in jail for 57 days and did not know where her baby was.
Gilleo said if she is released from custody, Jackson is willing to provide a blood draw or DNA sample for authorities to attempt to establish positive identification.
Jackson is scheduled to appear in court again Friday.
Nealy has been in custody since his initial appearance on the custodial interference charge on June 7. Judge Steve Conn ordered him held without bond because Nealy refused to sign release condition papers on that date.
Nealy asked Judge Conn Thursday to release him so he could access personal contacts and other resources to "fight my case from the American streets." Judge Conn denied his request and scheduled Nealy's next hearing for July 10.
As he was escorted from the courtroom, Nealy told Judge Conn, "You need to repent because the kingdom is ahead."
Contact Wesley Juhl at wjuhl@reviewjournal.com and 702-383-0391. Follow @WesJuhl on Twitter.
Police searching for answers
North Las Vegas police investigators learned the baby was dropped off at the church by two unidentified adults who left without speaking with law enforcement.
The department would not confirm the girl is "Baby Girl Jackson." It is working with the state attorney general's office to identify the infant.
The department asked anyone with information about a baby girl who was dropped off at a North Las Vegas church Wednesday night to contact officers at 702-633-9111 or, to remain anonymous, call Crime Stoppers at 702-385-5555.