Las Vegas-area Commodore club members bond over vintage computer system
Updated May 22, 2017 - 2:18 pm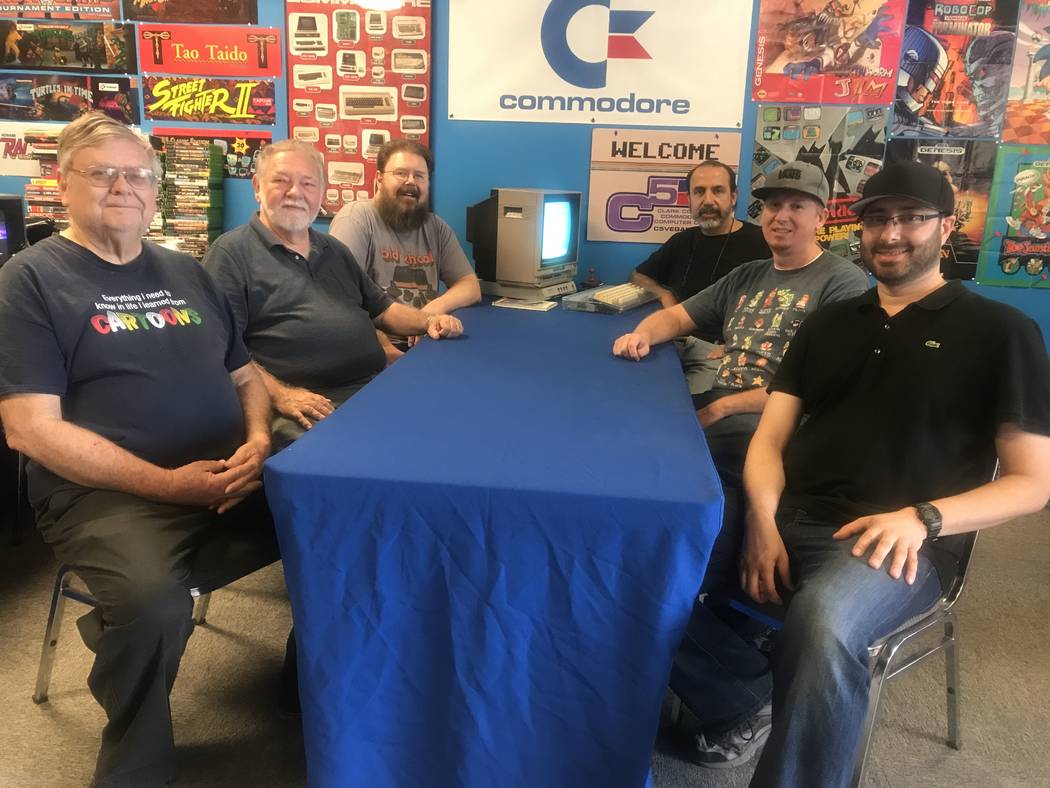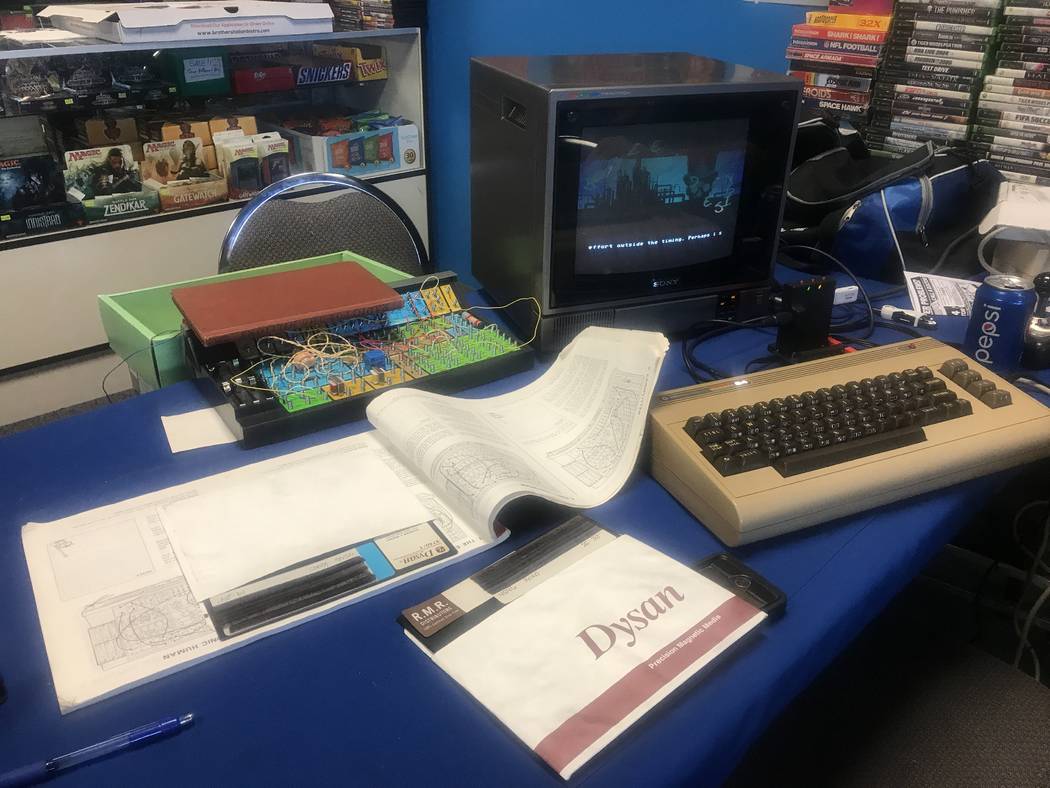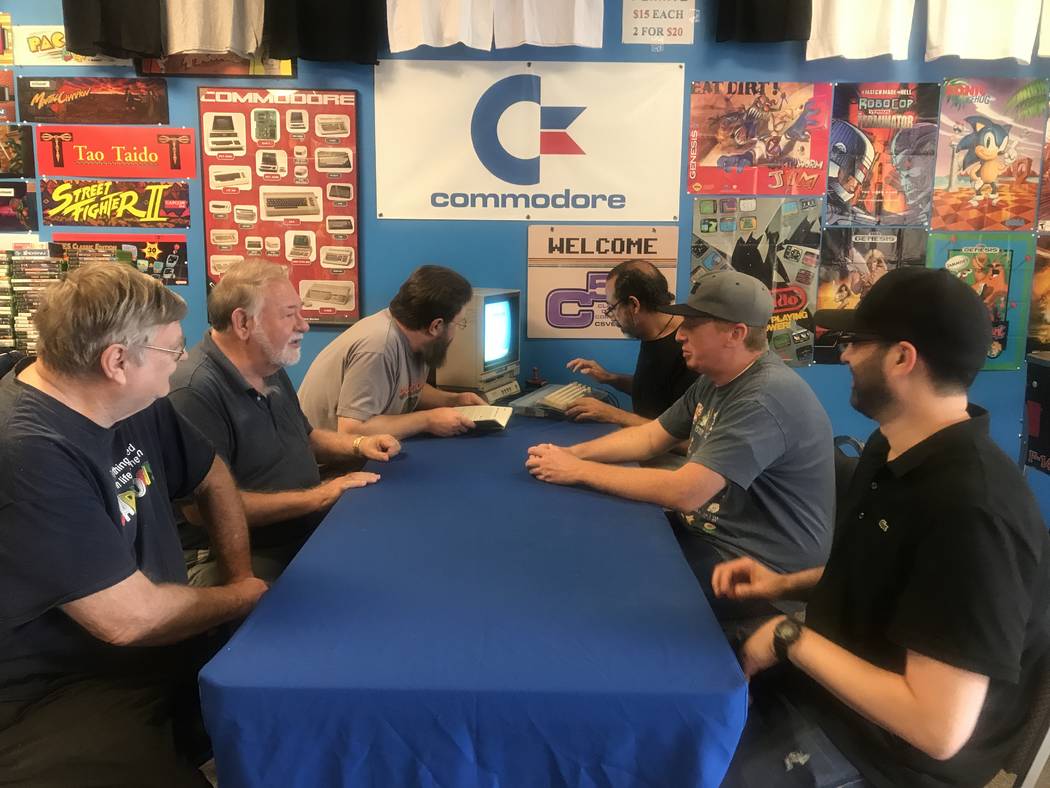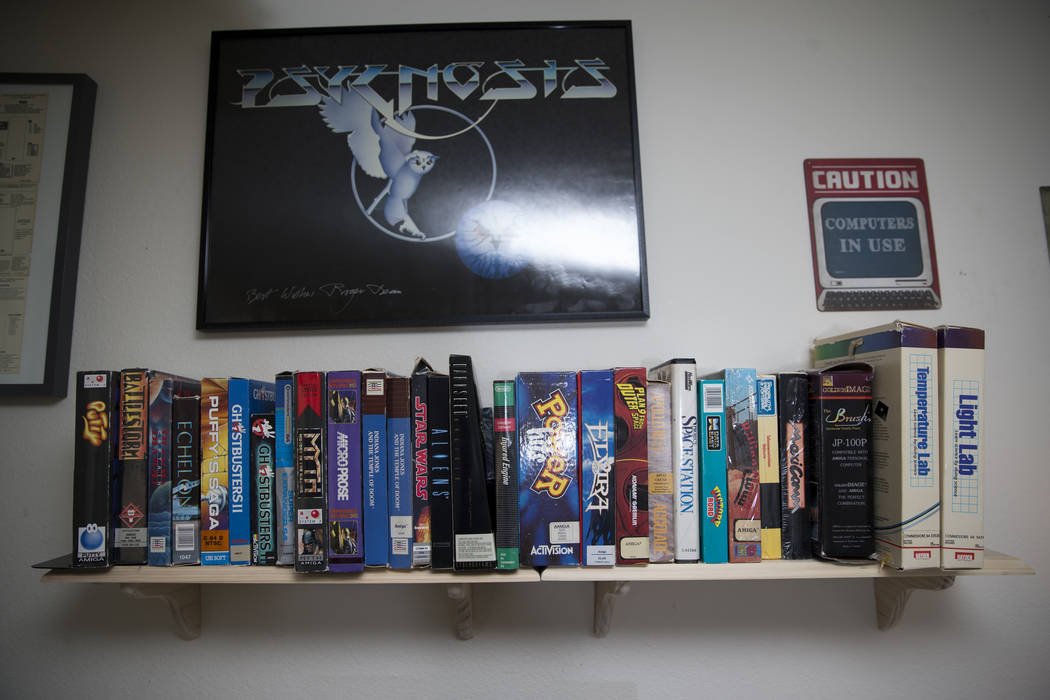 The Commodore International computer and electronics company's machines are upgradeable and still can be used, more than two decades after the company went out of business.
Once a month, a group of enthusiasts known as the Clark County Commodore Computer Club, or the 5C's, meets at vintage video game store Grand Line Games in the north valley. Members range from about 40-70 years old, and children have attended, club President Forrest Nettles said.
On a recent Saturday, club members brought unique Commodore computers and gadgets, including an Amiga VR (virtual reality) headset manufactured in 1987 and Super Sketch for the Commodore 64, which allows users to trace drawings and pictures, then put them onto a screen.
The club has been meeting since 1983 and, at the height of the technology's popularity in the late 1980s, the group attracted 200-300 members, Nettles said. For 30 years, the group met in the NV Energy building in the southwest valley. It moved this year to the game store, which one of the members owns, Nettles said.
With nearly 20 members, Nettles said, the club is the largest Commodore-focused group in the Southwest. Some out-of-state members participate in meetings via livestreaming, he added.
Nettles, 67, of Summerlin, joined the club in the mid-1980s. He left after taking an interest in personal computers but attended a technology convention and reconnected with the group nearly 20 years later.
"(PCs were a) newer format and newer technology, but it was never as much fun as Commodores," Nettles said. "The games were fun, the utilities and applications, and there's still stuff coming out for it to this day."
Club Vice President Keith Greene said some people have re-engineered the technology, "so they fixed a lot of things that were wrong with it. It's completely new hardware."
Modern games such as "Flappy Bird," which was created four years ago, have been adapted so they can operate on the 30-year-old system, Greene said. The Commodore 64 also can store music and games through a secure digital, or SD, card. Saj Awan, who has been a group member for about two years, demonstrated by playing Michael Jackson's 1982 hit "Billie Jean" on the computer.
Awan said he appreciates that vintage computers require creativity.
"(Commodores) have limitations, and that's where the artistry comes out of, because you're hacking the system," he said. "It's very primitive. It's all machine language."
Awan had an Atari system while growing up, he said. He discovered Commodores when he bought a game that had Atari functions on one side and Commodore on the other. He said he visited a neighbor who had a Commodore computer to try out his game on that system.
"I inserted the disk and I heard a digitized voice," he recalled. "I was like, Wow, my Atari doesn't talk … I have to get myself a Commodore."
Awan met Greene, who had a Commodore collection, a couple of years ago through Craigslist. After discovering the group online, they decided to attend together.
Yul Haasmann of the southwest valley has been a member of the club since the early 1990s. He said he joined because he wanted to learn the fundamentals of technology.
"Some of us want to go back to the very basics of the electronic universe in order to be able to figure out the advanced machines into things we want to do in our minds," he said. "The new generation becomes just players, but at some point there's nothing else to play because they're not building stuff. We need to fill this gap and go back to the basics."
It has been difficult for the group to make its presence known, Haasmann said.
"There are many isolated enthusiasts, but they don't know we exist," he said.
The club plans to hold its Commodore Retro Expo July 28-30 at Alexis Park Resort (375 E Harmon Ave.), featuring presentations, lectures and demonstrations. The location is pending, Nettles said.
Contact Kailyn Brown at kbrown@viewnews.com or 702-387-5233. Follow @kailynhype on Twitter.
Clark County Commodore Computer Club
Where: Grand Lines Games, 3281 N. Decatur Blvd., No. 240 (in the Red Feather Plaza)
Information: c5vegas.com
Upcoming meetings: June 17, Juy 15 and Aug. 19
Commodore Retro Expo
Information: clarkcountycommodorecomputerclub.org