Las Vegas monuments honor those in unmarked graves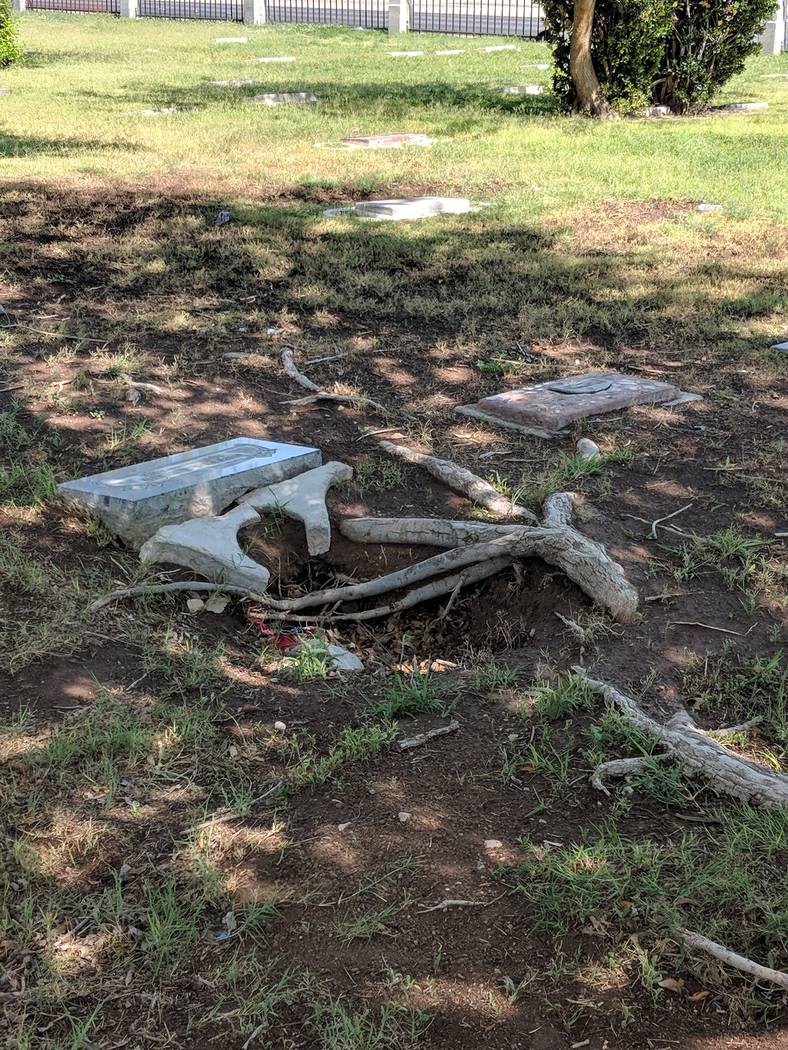 The Bench of Unknown Souls in Woodlawn Cemetery in Las Vegas symbolizes rest to Darell White.
"A lot of the people buried here were toilers — workers — and didn't have a very restful life," said White, the president and founder of the Nevada African American Genealogy Society.
The bench, dedicated on Memorial Day, sits in the cemetery's O section, the burial site for African-Americans before desegregation.
The bench and an obelisk in the Cyprus area of the cemetery, another section where a number of people are buried in unmarked graves, were dedicated in May after years of fundraising.
"We wanted to take that history and have a memorial so people could come and remember those souls," White said.
Nevada Sens. Catherine Cortez Masto and Dean Heller, Reps. Dina Titus, Jacky Rosen and Ruben Kihuen, and Las Vegas Mayor Carolyn Goodman attended the May ceremony.
According to the city of Las Vegas:
In the city's earliest years, people buried the dead in small family plots or on public land just north of the railroad-owned Las Vegas Ranch, east of Las Vegas Boulevard. Markers in the informal graveyard disappeared, and the burials were forgotten over time.
The railroad donated land in 1914 just south of the burial ground for a city cemetery, which became Woodlawn. Any early burials found outside its bounds have been re-interred within the cemetery.
Woodlawn managers chose grave sites for black citizens until 1939, when residents asked for the right to choose their own plots. The city allowed a delegation of black residents to choose a section of the cemetery exclusively for black burials and said cemetery staff would provide proper care of the graves.
It's not clear how many bodies are buried in unmarked graves at Woodlawn.
The cemetery is part of the Pioneer Trail, which marks historical locations that are significant to early Las Vegas.
One of the Nevada African American Genealogy Society's primary goals is to help members locate and document their ancestors.
"People want to know where they came from," Nevada African American Genealogy Society historian Karen Johnson said. "One day somebody's going to stumble across someone who could have been their great-great-grandfather."
On a recent walk through Woodlawn's O section, White said that now that the markers have been placed, she's turning her attention to raising funds that will pay for additional upkeep. She points out tree roots snaking among headstones and said she's seen some get damaged.
"This is a city cemetery and the oldest one," White said. "It needs to be shining as bright as the lights on Las Vegas Boulevard South."
Contact Jamie Munks at jmunks@reviewjournal.com or 702-383-0340. Follow @Journo_Jamie_ on Twitter.