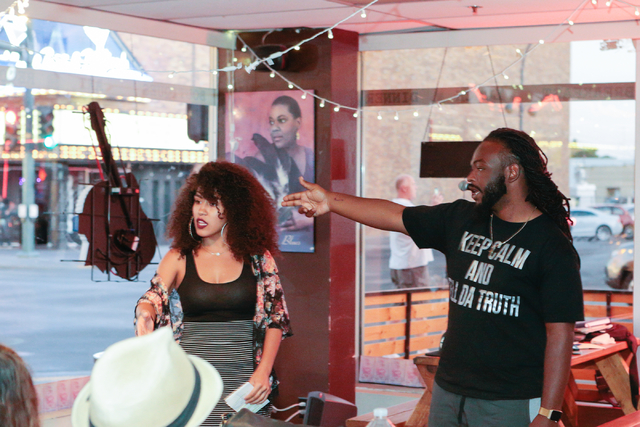 Love is giving someone all the weapons to kill you and trusting that they won't.
That's a line in a poem titled "Love Is" that Darelle "RelldaTruth" Davis and Ashley "Ms. AyeVee" Vargas performed together at a Las Vegas Valley poetry slam. Months later, they fell in love.
"We were just friends," said Davis, 26. "Everyone thought there was something before anything. … The poem was from a creative place, and we were drawing inspiration from our past experiences."
Vargas, of Henderson, added, "It just really took a life of its own and when we started performing it, it became a crowd favorite. People really feel like they can identify with the vulnerable realness of love. Rell and I were coming face to face with what we felt about love."
Spitting their truth brought Vargas and Davis closer; they'd already known each other from performing at events throughout the valley and competing together on the Battleborn Slam team in a national poetry slam last year in the Atlanta area. They later started their own slam team, The Truth Collective.
Before that, Davis created an open-mic night called "Spit Your Truth" in September 2015 under his company, The Truth Spot, which is aimed at giving creatives an opportunity to perform poetry, sing or rap.
"It's just like an honesty hour. That's why I call it The Truth Spot," Davis said. "I want people to know they can come here and spit their truth. Even if they don't do poetry, they can just get up there and talk."
Davis hosts "Spit Your Truth" the last Saturday of every month at the Arts Factory in downtown Las Vegas. The all-ages event started in a salon, but eventually the group outgrew the location and bounced around a few venues until it ended up downtown.
About five months ago, Davis added another component to The Truth Spot, with "The Truth Collective" — poetry slams held the second Saturday of every month at the same location. Contestants are scored by randomly selected judges — usually five — who are in the audience. Although the event is all-ages, competitors must be 18 or older. There are three rounds, and the winner earns a cash prize that ranges from $50 to $100, depending on how many people compete, Davis said. Open-mic performances follow every slam.
There's a $5 entry fee. "Spit Your Truth" is an open mic with free range for performances, while "The Truth Collective" slams have more regulations, requiring participants to perform original content within time constraints.
Davis said the purpose of the event is to let creatives express themselves freely.
"There's a lot of people who write (poetry) that don't know about these events and when they come, they don't want to perform because they don't know if people will accept them. … But here it's just a welcoming vibe, always."
Vargas said that before she dated Davis, she had heard about "Spit Your Truth" from other performers. She has attended the event for 15 consecutive months, she said.
"Rell's event is always very encouraging, and it's always so diverse," she said. "Not only are you having different art mediums coming there, it's just such a diverse group of people. It's nice to be in a safe artistic place where you can perform and people are going to be encouraging. I've never had any negative experiences at any of Rell's events and I think it's a testament to who he is as a person."
Tony "Smokey Tone" Muccigrosso found out about "Spit Your Truth" through social media and performed as a featured artist. Davis created a comfortable environment, he said.
"I like how open and honest he is," Muccigrosso said. "It's a safe place for everyone to express their feelings. Sometimes people share triumphs, and sometimes it's their pain. Each person is so unique, so each time you go it's going to be a little bit different."
Vanecia Boone, who goes by Vanecia B., won February's "The Truth Collective" slam.
"This is what happens when an undignified culture gets introduced to the barrel of 12-gauge situation," she recited in one of her poems, about police brutality. She performed two love poems and one political poem that evening. She was awarded $50 after beating out eight other performers.
Boone said she has been on the poetry scene for a long time, and that Davis' events are unique because of the people.
"A lot of people who are into poetry are very into the poetry world," she said. "They slam and go to slams all the time … but at Rell's event, a lot of people are new and they may not have always done poetry. It's like their introduction.It's like a stepping stone before you go into a big slam. You can learn what the audience likes and what the audience responds to, and then you can take it to those established slams."
In addition to the events, Davis has taught a class about poetry at Eldorado High School and Equipo Academy. And "The Truth Collective" held a free writing workshop in February for people of all ages.
"People don't know where to get that kind of help as far as writing," he said. "(So) just to be able to continually provide that education and to inspire, I think that's healthy and needed in this city."
Davis, a father and full-time worker, said his goal is to make a living as a performing artist, as well as a teacher. He envisions getting a permanent home for "The Truth Spot" in the hub of downtown but would like to expand to North Las Vegas.
"People tell me all the time, 'Just keep going,'" he said. "I can get only 20 people and I will still keep doing it. I don't care if I lose money. This is my passion. This is what I want to do."
Contact Kailyn Brown at kbrown@viewnews.com or 702-387-5233. Follow @kailynhype on Twitter.
Coming up
"The Truth Collective" Slam
When: 8 p.m. Saturday, April 8
Where: Arts Factory, 107 E. Charleston Blvd.
"Spit Your Truth" open-mic night
When: 8 p.m. Saturday, April 29
Where: Arts Factory, 107 E. Charleston Blvd.
Online
Facebook, Twitter or Instagram
107 E. Charleston Blvd.